Shawn Hopman of Chicago, whom I call a good friend, has been threatening to start a new label for a while now. The label, active in the early-to-mid-'00s, put out records by bands such as Integrity, Blood In/Blood Out, Slaphsot, Blood for Blood, and Shattered Realm.
The time has finally come for the first official release from Shawn's new label, Another City Records, and it's from the hard-hitting Southern California band Ill Communication (members of The Warriors, No Motiv, Diehard Youth).
The release will be a one-sided LP with silk-screened reverse, compiling the band's two previous digital EPs: Def Threats in the Hieroglyphics (2020) and Ode to the Old Gods (2017).
First, I will talk about the band. Ill Communication hails from Tehachapi, CA, which is a small city of about 12,600 that I myself used to pass through between Barstow and Bakersfield on tours. The USA is rich with great bands in small cities that are overlooked because their scene lacks name recognition, and Ill Communication is a great example.

Many of us outside of CA hear the term "Southern California" and immediately think of San Diego, Orange County, and Los Angeles.
However, outlying SoCal cities have produced incredible bands: Ill Repute and Aggression (Oxnard), Ursula (Apple Valley), Face to Face (Victorville), Restrained (Riverside), Annihilation Time (Ojai), Dirtbag (Barstow), Countervail (Thousand Oaks), and Throwrag (Salton Sea) among many others.
As is the case in small cities across the USA, the blending of a greater expanse of outside influences makes for some exciting crossover.
Ill Communication, with a name that is an homage to the 1994 Beastie Boys record, mixes a few genres of hardcore, humor, sincerity, and some wild cover art.
Sonically, I can hear a mix of Comeback Kid melodies, Disembodied diminished chords, some Outspoken breakdowns, some Death By Stereo punk verse riffs, some Down to Nothing backing vox, and some semi-snotty Dr. Know vocal styles.

It's been a 15-year hiatus for Shawn, so what happened to the aforementioned Spook City Records?
When their distributor, (Lumberjack) went into bankruptcy, Spook City was left contractually tied to a sinking ship without a functioning distributor, inventory, or money owed. This was not an uncommon end to many independent punk and hardcore labels of a certain size at the time.
Check out Shawn's recently released Nothing Better to Do Podcast interview with Mike Hartsfield of New Age Records for some more context. "I just missed connecting with bands, and helping out a culture that I believe in," says Shawn about starting Another City Records.
Another City put out a lathe cut last year of Snuffed Skincrawler/Rats of Sympathy, an EP that rips! Although not officially the first release from the new label, it was a premonition of great things to come.
Shawn updates me on the label's upcoming release schedule: "By the end of this year, Another City will release new stuff from Disappear (Ft. Wayne, IN), Snuffed (Chicago, IL), and Moral Law (Denver, CO)."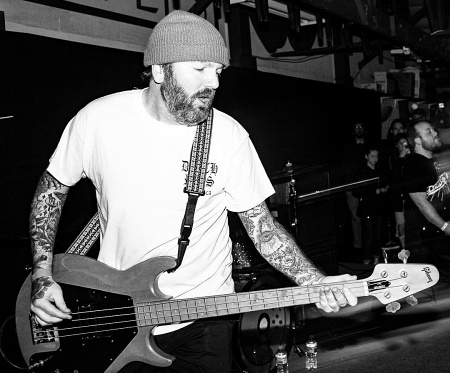 Pre-orders for Ill Communication just launched this week, and the official release date is March 19th. I have already seen the pressed vinyl, so I can attest that orders will ship quickly.
Two variants will also be released on cassette tape. A portion of all proceeds will benefit For the Children, a charity run by SOS Booking in partnership with Local Hearts Foundation.
Check out the various pre-order options on the Another City Records online store.
***
No Echo has launched a Patreon with 3 tiers offering all kinds of hardcore-related goodies to help support the site:
***
Tagged: ill communication