In Your Face, Big Sniff, Neglect, Mind Over Matter, Kill Your Idols, Sheer Terror, Madball, On the Rise... with a resume like that, you know that 64 will be a band to keep an eye on!
The Long Island-based outfit started as the brainchild of singer Marc Adams (In Your Face, The Arsons) and guitarist Gary Bennett (Kill Your Idols) The two had previously collaborated in bands like Big Sniff and John Henry.
Marc and Gary had begun trading ideas for the band as early as 2015 in a series of emails and phone conversations which finally culminated in 2018 at a local show when drummer John Lafata and bassist Scott Martin (both formerly of Mind Over Matter and currently playing in LIHC band The Great Lie) joined on as rhythm section. 64 began recording in December of 2018 and soon added second guitarist Hugo Fitzgerald, who you might know from On the Rise, Take My Chances, and the recently profiled new straight edge hardcore combo, Locked Inside.
"64 is melodic, yet punchy hardcore. To say it's an extension of Kill Your Idols, wouldn't be a stretch.", according to Gary. "The vocals make it more melodic. It also wouldn't be a stretch to say this is an extension of Big Sniff, either. Marc and I always felt we had unfinished business in regards to Big Sniff, but this is definitely where we are at 26 years later. The addition of John, Scott, and Hugo have definitely set it apart and made it unique."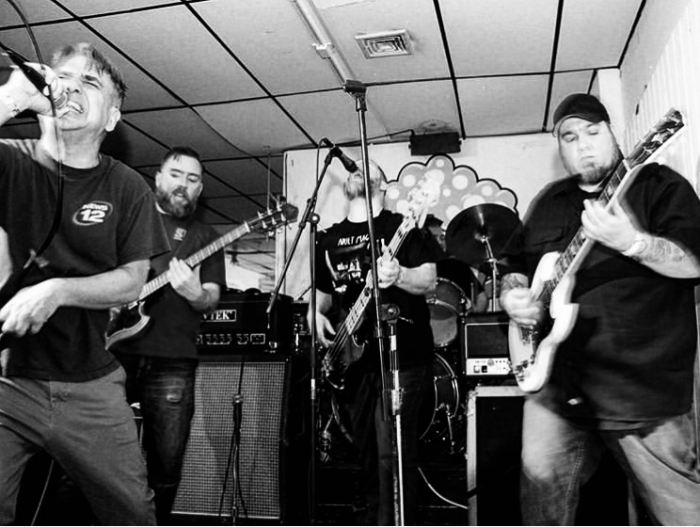 64 recently played their first show at the 3rd Annual Andy Glasser Memorial show in Bethpage, Long Island. Upcoming shows are planned with The Accüsed A.D. and Murphy's Law. Stay tuned to the 64 Facebook and Bandcamp pages for more info on their upcoming releases and say hi to them at one of the shows below.
Upcoming 64 shows:
May 23 - Brooklyn, NY @ Saint Vitus Bar w/ The Accüsed A.D., The End A.D., Darkside NYC (get tickets)
May 26 - Amityville, NY @ Amityville Music Hall w/ Murphy's Law, Antidote, Restraining Order (get tickets)
***
If you're shopping for vinyl, CD, and cassette hardcore titles, head to No Echo's partner store, Reverb LP, to see what they have available. Every purchase you make helps No Echo with site costs.
Tagged: 64, big sniff, in your face, kill your idols, madball, mind over matter, neglect, on the rise, sheer terror, the great lie