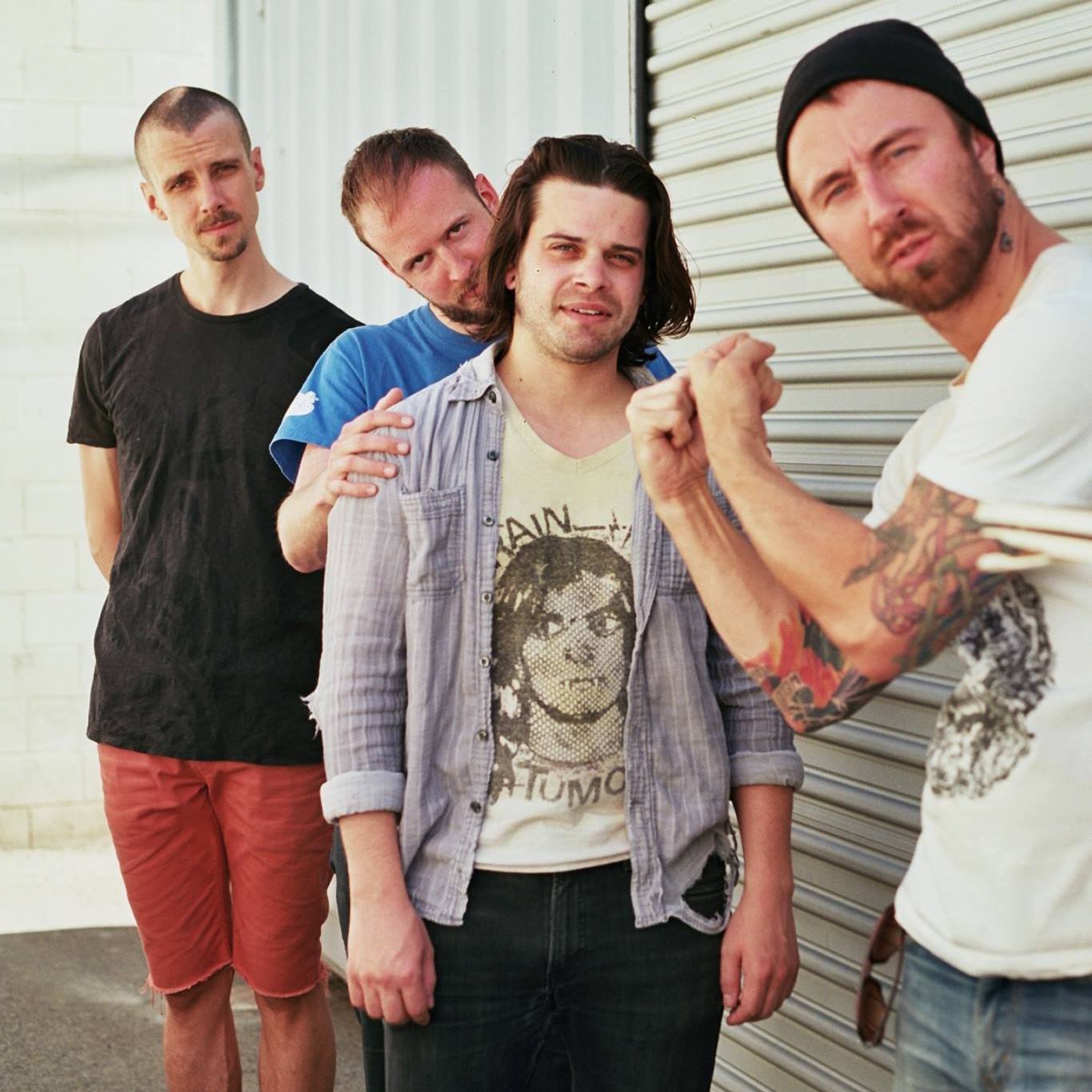 When you call your band Ass Life, it automatically tells me two things: 1. You don't mind getting negative attention and 2. You don't give a fuck, in general.
"I thought of it when I was drunk texting bad lyrics, song titles, band names, etc. I remember just thinking of a life so shitty that it's funny," says Ass Life vocalist Jason Greenly, cheeky bastard.
When I ask bassist Chad Fjerstad about what the band name Ass Life represents, he offers:

"Out the ass and into the toilet bowl. That kind of life."
Formed in the earlier '10s in Los Angeles, Ass Life features musicians who have played in—or in some cases, still play—such bands as Dead to Fall, Vowws, and The Primals. 2015 saw the release of their debut album, A Couple Cold Ones. Today, I'm hitting you with the premiere of their sophomore full-length, Damn, Dude. Check it out below and read on for some more intel on these LA rippers.
From my battered ears, when I'm listening to Damn, Dude, I tell the boys that I'm hearing some kind of fucked up combination of hardcore, rawk 'n' roll, power violence, Antiseen, and Rocket from the Crypt. "Thats a nice description of the Ass Life sound right there," guitarist Andy Hill tells me. "I wouldn't have thought Rocket from the Crypt, but thats really cool. I am a rocker and I enjoy fast bands that rip hard—bands that play fast and tight and have solos.
"The Ass Life sound is like mixing Minnesota stink-basement super fast hardcore, Finland Les Paul dirtball D-beat, rap, and trap on cellphone speakers, and UK77, glue-sniffing doo-ba doo-ba ponk." Jason adds, "I particularly enjoy any chance I get to insert some sort of '00s hardcore or nu-metal influence."
Because I'm a fellow resident of the LA area, there's a specific song on Damn, Dude that stuck out to me immediately: "No More Bakeries in Highland Park." Since that area has become one of the many traditionally historically Latino neighborhoods that has undergone a huge shift in recent years, I wondered if Andy used Highland Park as some kind of symbol of gentrification in the song, or if it was about something very specific. "The song title is literal as I live in Highland Park and I think there are too many in the neighborhood. One opened up next to my house and I don't like that particular bakery. It's expensive, the pastries are strange and kitschy, and they don't make bread or rolls or biscuits that one could cook with.
"The average price you pay for a croissant and a coffee is around $7 and that place attracts dummies who want to take pics with the food. If you see me in person I will tell you which one. Secondly, the song is about gentrification and white guilt. The lyrics reference the negative sides of gentrification in a neighborhood, and as a white boy, I'm trying to come to terms with being part of a skin color of people that really comes in and fucks up a neighborhood.
"Highland Park is traditionally a Mexican, Hispanic, Chicano, Latino neighborhood and right now its ground zero for: Property values going down, real estate being purchased for cheap, and then the property values go up and the people who were living around there are forced out to make room for hip and cool bars and restaurants and bakeries."
Jason's cover photo for Damn, Dude looks like something photographer William Eggleston would have done back in the day. It definitely captures a certain spirit to me, but I wanted to get his take on it. "I don't know many photographers. I think I was trying to emulate that creepy photographer…Terry Richardson (I had to Google "creepy photographer"). I think it accurately captures the mood."
Since both Chad and Andy are also busy with The Primals, I ask how they plan on handling the touring for Damn, Dude and all that other kind of promo stuff and Chad sums it all up in typical Ass Life fashion. "We would all love for Ass Life to tour but it has never been realistic for us yet. In fact, we haven't even been able to successfully set up a record release show in our own hometown — goes to show, our name is our name for a reason, as we are truly…collectively…living that ass life."
***
Damn, Dude will be available this Friday (Sept. 21) for download via Ass Life's Bandcamp page on a pay what you want basis. You can also stalk the band on Facebook and Instagram.
Tagged: ass life, dead to fall, the primals