Protocol's newest EP, Bloodsport, is bookended by songs exploring the racist history and present of the United States and how it affects people of color who live here.
The final song on the EP, "Divinity," explodes from the start with "DNA is my destiny, meritocracy is mythology." Backed with the sounds of raw punk, massively distorted guitars, and driving drums, the urgent message of the lyrics is exemplified by the backing sound. As the song pushes on you are hit with the chorus:
From sea to shining sea
I will bleed Blood red, skin black
Bruised and battered from the whips they crack
and lily white lies blind us from the chalk lines
Manifest Destiny
Humanized equity
Which drives home the fact that white land owners forcibly brought African people to America, not as people, but as property so that they could expand their profits. This mentality continues to persist in the United States as we see black people targeted by police at much higher rates than white people, earning exponentially less money, and their public schools are immensely underfunded. Look to the news from the past two weeks to see articles and studies written about the racial wealth gap, and racial public school funding gap to see that this is not something that is in the past, but an ongoing phenomenon that needs to be addressed and acknowledged so that it can be fixed.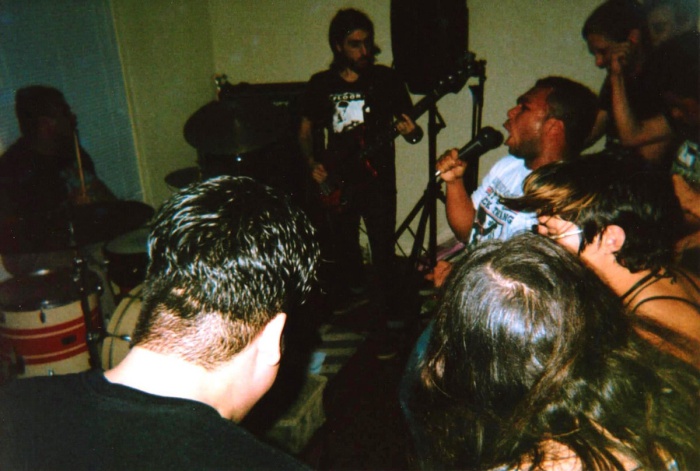 The song ends with a slowdown from the breakneck speed of the rest of the song. As it slows down the drums becomes a deliberate beat emphasizing the lyrics:
Serendipity sowed this seed for me
A petri dish determinance
Robs me of my relevance
It's my destiny
I'll take control of my destiny...
Beat my chest
Grab a gun
Hurt somebody just for fun
Smoke some dope and kill some time
All on Uncle Sammy's dime
You'll say it's in my DNA
You'll say that it's my destiny
It's in this country's DNA
The truth is you invented me.
White people have exploited and oppressed black people from the colonization of America through today while wielding the "justification" of genetic inferiority. Genetic inferiority does not exist, it was invented by white people to dehumanize, specifically for the purpose of profiting off of black people's labor. Powerful people push stereotypes into mainstream consciousness to promote their hateful agenda that only serves to make them richer.
The song ends with vocalist Ahmad repeating "The truth is you invented me" while the music trails off into electronic noise leaving the listener time to digest the lyrics and experience of the song. Protocol wants you to examine how you fit into the grand narrative our society has constructed about race and introspect if you are an active agent of change in your community. Listen to and uplift marginalized voices and expose the pervasive lies distributed in this country.
Hit up Protocol's Bandcamp page to download Bloodsport and get info on its cassette release.
Protocol will be playing three EP release shows this weekend in Florida:
March 1: Uncle Lou's in Orlando w/ Deviant, Drool, Booger, Zig Zag, Armor, The Nightmare, Channel 83
March 2: Space Mountain in Miami w/ Deviant, Jackal, Zig Zag, No Dice
March 3: The Armory in Tallahassee w/ Deviant, Armor, Blazar
*This piece was edited by Haley Gentile
Tagged: protocol