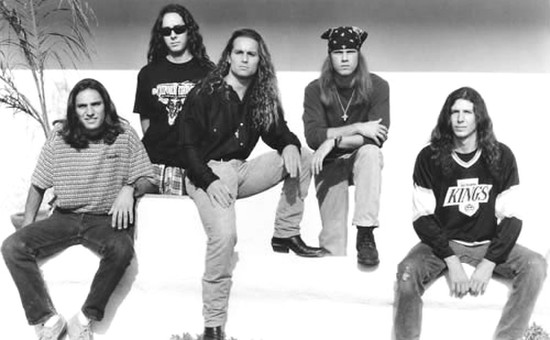 For many hardcore listeners, having their favorite bands make a huge stylistic makeover is like getting punched in the gut. They don't want it, ya see?! It's especially tough for them when that change happens within the span of an album. Sure, they probably don't expect these groups not to "mature" a bit, but they think to themselves, "Let's be reasonable here!" This stubborn attitude is especially prevalent in hardcore and punk. When the Crumbsuckers became a thrash metal killing machine on their Beast on My Back album, they lost most of the fans they made during their hardcore early days (I actually got more into them).
This all got me to thinking about some of the most controversial style transformations of the first era of hardcore...
Uniform Choice, Staring Into the Sun (Giant, 1988)
Listening to the Uniform Choice song above, it's hard to believe it was recorded by the same band who was "screaming for change" just two years prior. Singer Pat Dubar would eventually quit the influential Orange County band and form the Red Hot Chili Peppers-esque Mind Funk in 1990—along with former members of Celtic Frost, M.O.D., and Chemical Waste. After Dubar parted ways with Uniform Choice, the band enlisted vocalist Jim Viviano and went in an even more traditional rock direction. For proof of my last statement, listen to some early '90s demo stuff on YouTube.
SSD, Break it Up (Homestead, 1985)
Like Uniform Choice, SSD was one of the bigger straight edge hardcore bands of the '80s. For the Boston group's 1984 How We Rock album, they introduced hard rock and heavy metal influences into their songwriting style. By the time of their Break it Up album a year later, SSD eschewed most of their hardcore punk flavor to make room for a sound that had more in common with Rose Tattoo and Nazareth than it did with anything remotely hXc.
Warzone, Warzone (Caroline, 1989)
The fact that Warzone survived after the disastrous fan and critical reaction to their 1989 eponymous album is impressive. The record found the NYHC outfit sticking to a mainly mid-tempo style of rock that felt flat no matter where they took the arrangements. Raybeez's grating vocals only make things worse. The ultimate nail in the coffin is the constant guitar soloing (even when it doesn't fit) courtesy of Jay Vento and Paul Canade. Warzone would find their hardcore roots again in the '90s, thankfully.
Straw Dogs, We are Not Amused (Restless, 1986)
Starting out as The F.U.'s in 1981, this Boston band was part of the first wave of hardcore. By the middle of the decade, the group shifted styles, becoming more of a hard rock and heavy metal kind of thing, and changing their name to Straw Dogs. Their We are Not Amused album featured a future Agnostic Front guitarist (and publicist to some of your favorite artists), and some of the material wouldn't have sounded out of place on a Circus of Power record.
DYS, DYS (Modern Method, 1985)
Listen to a few minutes of the track I've embedded above, and then click here to hear a DYS song from two years earlier. That's a huge stylistic leap! I can't even imagine what their fans must have thought when they first heard "Closer Still," a power ballad. Singer Dave Smalley's discography eventually included albums with Dag Nasty, ALL, and Down by Law, but DYS sticks out from that pack like a dude wearing corpsepaint at an Indigo Girls show.