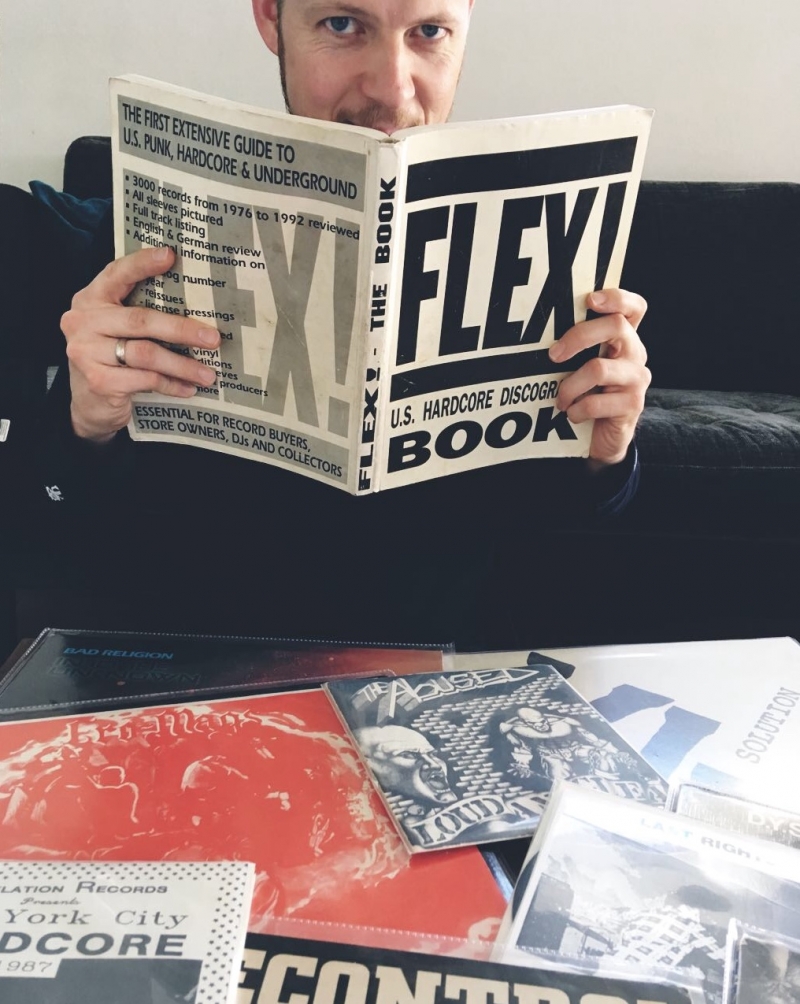 Elmar is a 37-year-old music head who works in the field of law administration in Germany. Enjoying his life in the suburbs, Elmar is a fellow husband and father of two who is also a huge hardcore nerd. I got a peek at some of his vinyl finds on his Instagram page and instantly knew he had to join the site's Record Collector club.
How long have you been collecting records?
I got in touch with vinyl and heavy music through my brother (who is 8 years older than me) at a pretty young age. It was 1992/1993 and I was 12 or 13 when I bought my first records. It was mostly metal and punk. One of the first bands that really got me hooked was Suicidal Tendencies. It was not only their music, but also their imagery, their style, the myth around them. This whole package made me dig into their discography and history. I discovered the mid to late '80s Venice scene and was on fire. All these legendary records were out of print and nowhere to get. Somehow I found an ad in a german alternative music magazine called Visions of someone selling the Welcome to Venice LP, I was too late but from then on I knew what to do. The hunt was on. Soon NYHC, sXe, and Killed by Death stuff was added to my circle of hunting targets. I think I was around 15/16 years old (1996) when I bought the first records at collector rates. Some of the first being the No Mercy LP, Chain of Strength 7", Gorilla Biscuits 7", and Warzone Lower East Side Crew 7".
Where/how do you usually find your records these days?
To be honest, I am not very active anymore. I was on a total hiatus during 2008 til 2014 and still take it very laid-back these days. I started when it was all about the Flex book, set-sale lists (in Germany mainly by Axel Hermann, Peter Partzinger, Horst Firmanty), record fairs (with Utrecht, NL beeing the one to be at that time in Europe) and trading via letters/phone calls. Then came eBay and swap boards ... I was pretty busy in the eBay game in the late '90s early '00s.
Nowadays I have an eye on Discogs (obviously) and I still visit local record fairs (often disappointing) or second hand record shops like Rockers (Hannover). I also love a lot of the current bands like Turnstile, Fireburn, No Warning, and most of the React! and Triple-B catalogs. If not pre-ordering those I shop them at mailorders like Core-Tex, Per Koro or GreenHell.
What is the most you paid for a single record, where/how did you obtain it, and what was it?
Compared to nowadays, prices were more moderate during my peak. I don't document my purchases accurately but I think it must have been either the SSD The Kids Will Have Their Say 12" or Misfits Beware 12". Both were around $200 when I purchased them. I remember the Misfits deal as a funny one. It was before mobile Internet and I was in London with my wife. I knew the ending time of the eBay auction and I couldn't be sure to make it online in time. When it was 10 minutes before the closing bid, we were still strolling around somewhere in Camden and I noticed an Internet cafe. I jumped in and got the highest bid right on time (not telling my wife how much I spent on it I guess).
If you to pick one record label you feel had/has the best track record of quality releases, who would that be and what are some key titles you love?
Hard to compare big labels like Rev or Dischord with labels with a smaller catalog like Schism or X-Claim. But I have to go with X-Claim for this one. They only had a few releases but they are all flawless classics with SSD and DYS beeing the key titles for me.
Of everything in your current collection, what is your most prized record and why?
Well, I guess there is no absolute answer to this question. It depends on the perspective.
Cro-Mags The Age of Quarrel LP would be the last record I would give away if I had to let go of my collection. I remember the Welcome to Venice LP, the VILE LP (OG press) and the Abused Loud and Clear 7" giving me the most intense thrill when I finally held them in my hands. So those are very special, too.
The deepest impact on my view on life had Shelter's Attaining the Supreme, which makes this record another special and cherished one for me. So, all of these might fit the aim of the question in different ways.
Is there anything that frustrates you about the current record collecting scene?
I am not my record collection! I think it would be sad if a side aspect of life, like record collecting, had the potential to "frustrate" me, so my answer is no. Obviously, it would be easier if prices for rare records, US postage rates, and European custom charges weren't as high as they are right now, but that's how it is. It does not frustrate me.
In the end it's "to each his own." I am more interested in the historic valu" of records than in hoarding. I am totally a "first press guy" and not interested in collecting different colors/pressings/covers. But others have different motivations and that's totally ok with me. No frustration. PMA!
Which records are still on your want list that you've had a tough time tracking down through the years?
Antidote 7" (tracking it down is one thing, paying the current price is something else), Neighborhood Watch 12", Dynamo Animal Instinct 7", Prema's demo tape.
***
Follow Elmar on Instagram.
Tagged: record collector