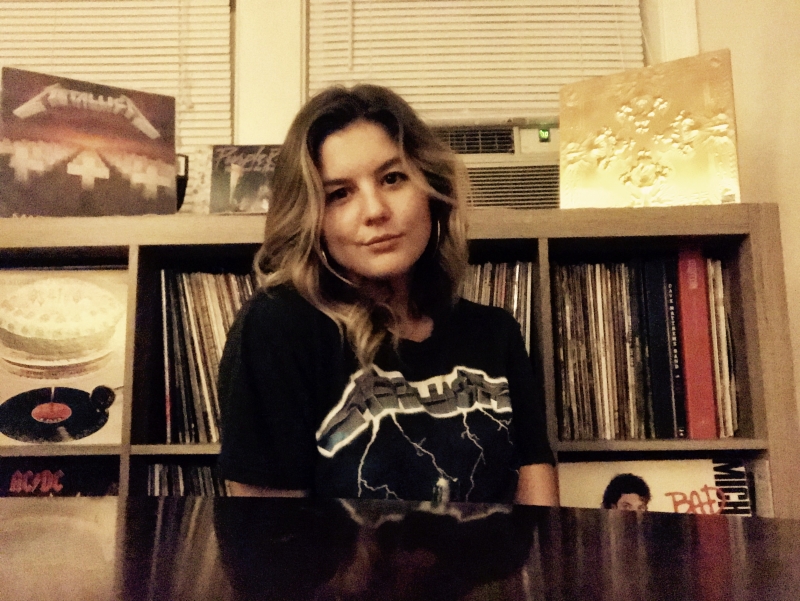 Caroline Favorite hails from the "Magic City," aka Birmingham, Alabama, where she works as a business processor for a life insurance firm. A graduate of Auburn University, she has always been incredibly interested in the history of music. Though she writes a blog, her busy schedule as of late has meant that her main contribution to the vinyl community has been her Instagram page.
Today, I welcome Caroline to the esteemed Record Collector club.
When did you start collecting records?
My obsession with vinyl started about 10 years ago when I came across a pile of records at a family friend's lake house. The first time I really heard the needle hit the wax, my life forever changed. Listening to vinyl records requires the use of all the senses, if not literally then figuratively. You get to hold the music in your hands (the sleeve(s), the vinyl, the needle when positioning it on your record) and you could even touch the grooves on the vinyl if you wanted to, but it's really not recommended, so don't do it! [laughs]. You get to see the history, the album art, the record itself with all of the years of wear and tear. You get to see the needle physically hit each groove where you then hear the sound. You can sometimes even hear the sound come from the needle hitting the groove without a speaker attached, it is a nifty thing.
Now in regards to smell, usually the age of the record will correspond with the smell. The newer ones usually smell like plastic and freshly printed cardboard and the older ones vary depending on where they were stored. With taste, I consider this both figurative and literal. The sound coming from a vinyl record can be so pure that sometimes you can even taste the sound and with that, it makes things taste better. It is almost as if you get to taste history, but please do not actually try to eat the record [laughs].
Where do you usually find your records?
I get my records from a variety of places. There are some very good record stores in my city. Renaissance Records which a sweet man and his precious wife own. They get a lot of '60s, '70s, and '80s records and mainly the genres soft rock, pop, and soul. I love to stop by after work and chat with them about the world and their memories of seeing these amazing artists. I also visit Seasick Records, which I am a record club member. Dan owns this shop and he gets all of the new releases and manages to track down the best copies of '90s, '80s, and '70s rock and roll! He has introduced me to a lot of cool music and I am forever grateful for that! He also introduced me to Bobby who owns Vinyl Conflict in Richmond, VA and I owe it to Bobby for my Master of Puppets OP and my beautiful Iron Maiden records. Sometimes, I buy my records on Amazon, 2nd and Charles, Urban Outfitters (especially lately b/c of the '90s bubble gum pop exclusives they are pressing), oh and Discogs (if the price is right). I am not a member of any record subscription services but I am always interested in joining Vinyl Me Please. In addition, whenever I travel, I love to stop by record shops and vintage stores. Atlanta's Little Five Points has been a goldmine for records at times; I also love Third Man Records in Nashville.
What is the most you've ever spent on a single record, what is it, and how did you obtain it?
My most expensive record I own, is Watch the Throne by Kanye West and Jay Z. I bought it for 90+ dollars… in addition, the reason why I took the plunge was because it is my favorite hip-hop album of all time and it was my most played record in college. I believe this pressing is worth every penny. The vinyl sounds amazing, the packaging is flawless, and the material on the album is the best of the best. I bought this for myself after I reached 1000 followers on Instagram/started my blog/birthday! I listen to it a lot when I am doing my ab workouts at my house, but I always listen to the album on my Apple Music when I am at the gym. Other contenders: …And Justice for All, the Elektra original press. I paid 70 bucks for it. Ride the Lightning, the Elektra, technically repress b/c Megaforce first released the record but in November of that same year Elektra took over the band, I paid 50 bucks on eBay for it. 30 bucks for original press of Eat a Peach, Sticky Fingers (with the zipper), and Master of Puppets.
What is your most prized record in your collection?
My most prized record collections are as follows:
My Metallica Collection – I own the Remastered 2015 pressing of Kill 'Em All, the Elektra 1984 November re-release of Ride the Lightning, the Elektra original press of Master of Puppets. I consider MoP the greatest thrash metal album of all time with Slayer's Reign In Blood a close second. I also own the original 1987 pressing of …And Justice for All and the repress of "The Black Album" which I was extremely skeptical of but it turned out to be perfect.
My Led Zeppelin Collection – I consider Led Zeppelin my favorite band of all time, and all of my Led Zeppelin records have literally found me. I did a post about this a few weeks ago. But I own all of the 1977 pressings of Led Zeppelin I – III, the Untitled Album, and Houses of the Holy and the original Swan Song pressings of Physical Graffiti, Presence, and In Through the Out Door.
My Grateful Dead Collection - I received about 15 original pressings of a few Grateful Dead early studio albums and live albums. A lot of them are not in the best condition but it is incredibly awesome that I have such valuable records that I got for FREE!
Most Prized Record of All Time - Hmmm…this is a hard one. I am probably going to have to go with my original press of Prince's Purple Rain record. My cousin's husband gave it to me after his father passed. I have it framed right by my front door, and it reminds me of the kindness and support that my loved ones have for my record collecting passion and me. In addition, it is a fantastic record and one of my favorite records of all time. The songs are timeless, just like my collection.
What frustrates you about the current record collecting scene?
A few things frustrate me about the current record collecting scene. One main concern is people's lack of understanding of the vinyl record. The upkeep, the storing, and the buying of vinyl records is not a simple task. You must clean the records every few months. They collect dust, particles, and fingerprints. When you clean the record, you must "follow the grooves." Also, a lot of people don't realize that you have to store the records upright and side by side. Stacking the records on top of each other will cause warping. In addition, you must store them in a cool and dry environment. The type of needles and record player you use are also incredibly important. Certain record players (due to their mass-producing and lack of precision) can cause the record to not play right and it can cause damage to the record, especially older and more delicate records. When you buy records, you must inspect them completely. You really need to know which surface marks will disrupt play. To some people this process seems exhausting and inconvenient, but to me it makes the art of record collecting even more rewarding! Another frustrating thing about collecting music and being interested in so many different genres is how expensive my hobby is [laughs]. Honestly, if I take care of a record then the price of it increases over time.
What are some records you've had a tough time tracking down?
Since I love to collect the original presses of albums, I have pricier albums on my "want-list." I would love to own the Australian Albert Production first presses of AC/DC's Bon Scott-era records (each one probably costs about 100 to 150 a piece). I really want the Limited Edition Across the Universe, Almost Famous, and Empire Records soundtracks (which all are my favorite movies). I managed to find the Limited Edition Dazed and Confused soundtrack for 30 bucks a few weeks ago! In addition, I want the original UK presses of the first five Led Zeppelin albums. The first Megaforce pressings of Metallica's Kill 'Em All and Ride the Lightning albums, the first Elektra pressing of "The Black Album." Oh, and the Master of Puppets box set they just announced on the Metallica website. Last but not least, Original US Geffen pressings of Guns N' Roses' first four albums. Some simpler finds: The Wild Heart by Stevie Nicks, 1999 by Prince, and Tupelo Honey by Van Morrison!
***
Follow Caroline on Instagram, and head over to her blog for more record-related stories!
Tagged: record collector