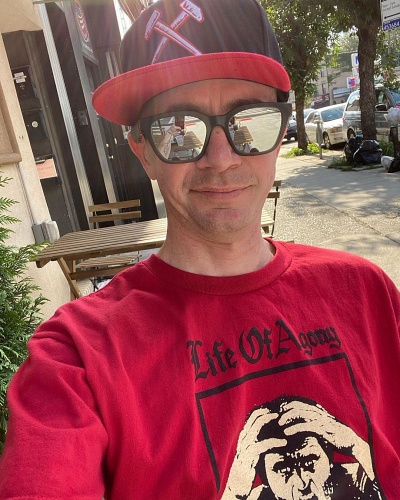 Currently, Bobby Grinewich works as an Elementary Special Education teacher in Queens, NY. He was the vocalist for Buffalo hardcore band Subject to Change in the early '90s, and Brooklyn-based outfit, Headwrek, from 1996 to 2002. A few demos came out of it, but nothing more than that.
After they split up, Bobby did solo stuff with some friends, and a couple of members of Headwrek. He even did a few songs with Sam Collin, who was the vocals for The Young Republicans (Porcell's first band). This can all be found at Bobby's website.
Since Bobby and I are always chatting about records (especially Cro-Mags The Age of Quarrel variants), I thought it was time to profile him here.
How did you get into collecting records?
I've been collecting records, tapes, and compact discs since elementary school, but about 7 or 8 years ago I discovered Death Waltz Recording Company and that really re-ignited my love for vinyl again.
What was the first record you bought with your own money?
1984. Fat Boys. I still have it. It's shot to hell, but I still have it!
What is your collecting philosophy? What do you collect and why?
My philosophy is to have fun with it. I like to make collections within collections. For example, I've collected all of Amy Winehouse's 12 inch singles and they all had to be first pressings. The jackets on those were pretty flimsy, so finding them in NM was pretty tough. I'm doing the same thing with Iron Maiden's 7 inch singles, all UK first pressings ending during the Seventh Son era. This one is a little challenging because I look for a specific label with Eddie on it. I'm almost done with that one.
When it comes to specifics, I like to collect soundtracks and scores, hardcore, punk, NYHC, hip-hop, alternative, and a whole host of other genres. If I really like it, I'll try and get every variant. Not only can that get expensive, but you may never be able to complete it because of an elusive test pressing or some mistake like a printing error and that then becomes become frustrating. This is supposed to be fun and relaxing! Not stressful!
Where do you find your records for the most part?
Sometimes I'll find myself in a real record shop, but mostly online with eBay, and Discogs. I've even found some real gems on Depop. I prefer Discogs because you're dealing with collectors for the most part. With eBay, you never know what to expect.
We all have one record that we sold that we completely regret, what is yours?
I have never sold a record. Yet. Though, about 15 years ago I did sell my copy of Suffocation's Reincremated demo tape and I was fortunate enough to find it again about 5 years ago. Same exact labels, so I know it was the real deal. I also was able to get it for nearly what I sold it for, so that was cool.
What do think about the values of rare punk records skyrocketing? Do you think the bubble will burst?
Fair market value is decided between two people when they agree on a price. If the price is high, so be it. I don't think the bubble will burst any time soon, but if it does, watch out! I'm going to clean up!
What's the most you ever shelled out for a record?
My first big purchase was $350 for a first press Skinhead Glory. Not too long after that I made a deal of $1700 with an original owner for first pressings of Can't Close My Eyes and the Rev Together comp. Can't Close My Eyes came with "We Just Might" crossed out on the lyric sheet, the sticker, and a family picture of a young Ray at the dinner table! The original owner had said that pic came with the record. Complete and NM.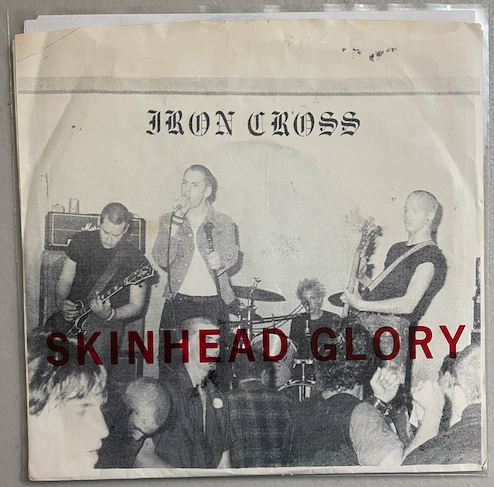 Name a record or records you can't live without?
I would have to say Can't Close My Eyes and Together for sure. My Cro-Mags The Age of Quarrel misprint with the Run-D.M.C. label is also pretty special. That one is still in the shrink and the vinyl is NM. The more I think about it, I can't live without any of them. I guess that's why I haven't sold anything yet.
On a side note, I have many tapes and CDs as well that I couldn't live without.
What are the top records on your want list currently?
I'll take a Warzone aborted press, clear, and green press too while we're at it. Side By Side test pressing is up there, Bullet first and second pressings. But most of all right now my top want is a white 12" test pressing of American Pride by Youth Defense League. It's the only one I need in my American Pride side-collection and it has been impossible to pin down. Like I said earlier, it can be terribly frustrating.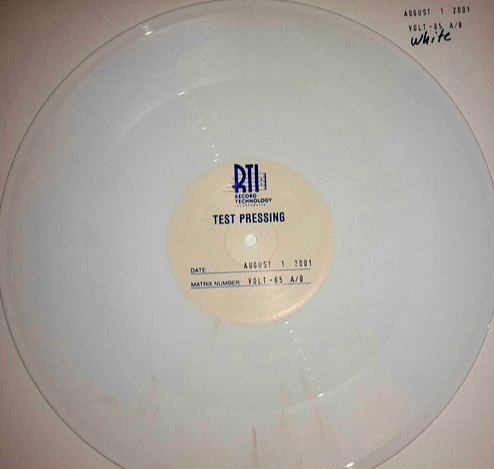 Is there anything that really bothers you about the record collecting scene?
The scene is great. I have met a lot of really great guys through collecting. You, Mike D., and Veith from Norway, just to name a few. What really bothers me are some of the users on Discogs. I hate it when they comment on an album and say "this is wrong and needs to be fixed." Then fix it! They're making comments on records they don't even own! What's up with that?
What do you foresee for the future of vinyl and collecting?
The fact that vinyl still remains relevant after the invention of the cassette, CD, digital media, and streaming says something. As long as the interest and demand is out there, collecting will become even more exciting. As hard as it is now to find 30 to 40 year-old VG+/ NM records, imagine how it will be 20 years from now!
Do you plan on growing old with your records or do you have an exit strategy?
No exit strategy here. I'll just continue collecting as I do, maybe tweak it a little here and there, or think of new side-collections to go for.
What's a record or genre in your collection that might surprise the readers?
If you know me, you know I listen to everything. That said, Southern Gospel from the '60s and '70s might surprise a few.
***
Follow Bobby on Instagram.
***
Help Support What No Echo Does via Patreon:
***
Tagged: record collector