Some bands mean business. Others just want to talk shit. Denver's FAIM seem like they're all about the former.
After dropping a scrappy demo in 2017, a wicked sounding 7" the following year, and demonstrating significant maturation in their songwriting on a split with Discourage and LIFT last year, FAIM have clearly been building towards something.
What this something is may not have been transparent from the start, but after hearing their debut LP, Hollow Hope, the upshot of their momentous climb should be clear.
FAIM has come to kick sexist, racist, xenophobic, and queerphobic ass and chew bubblegum, and having just swallowed said gum, those who they set their sights on better hope they're insured.
The band's operating clause of the on Hollow Hope can be read plainly in the track "Division Ave." The song serves as a sonic flood gate for the brash, cold-clock of the first half of the album and the slippery, chemical fire of the latter half, slowing down enough in its outro to make room for a sample of James Baldwin defending himself from an accused lack of patriotism.
In this vignette, we hear the master words smith echoing many of the sentiments he voiced in his 1963's The Fire Next Time, namely that if the United States and the Christian Church want to demand his loyalty, they need to not treat him like their enemy. "Division Ave" blows past your years with a gust of heat like the wind coming off an onrushing brushfire.
After giving Mr. Baldwin the floor and allowing the tense guitar feedback that pools beneath his indictments to simmer and roil, these sonic manifestations of dismay begin to boil over on the scalding foment of "Promises Kept." The album's title track continues in this vein of bitter contemplation as chords and vocal melodies arrow-head through Modern Life is War-esque phases and drop into Super Unison evoking seismic plummets. It's enough to make you weep with terror and anticipation.
Early tracks like "Rain City" and "Sleep" blitz a scorching path of power violence and fastcore, cork-screwing through pit-wind ups in a way that brings to mind the phenomenally pugnacious Punch, and spiritually of the downtrodden psychic deprivation of Weekend Nachos.
These initial tastes of blood will keep you swimming up-stream along the thin-irony ribbon left behind the downtuned, acetone guitar and bass, and throat distending bark of singer Kat's vocal delivery, through to the main courses of "Downstairs at the Middle East" and closing track "To the Moon and Back."
Both take on a trembling, tense, and post-hardcore approach to purgative catharsis, standing their ground against the injustice of the world and it's ally, the dragging inertia of time that takes its toll on individual bodies and collective political action alike.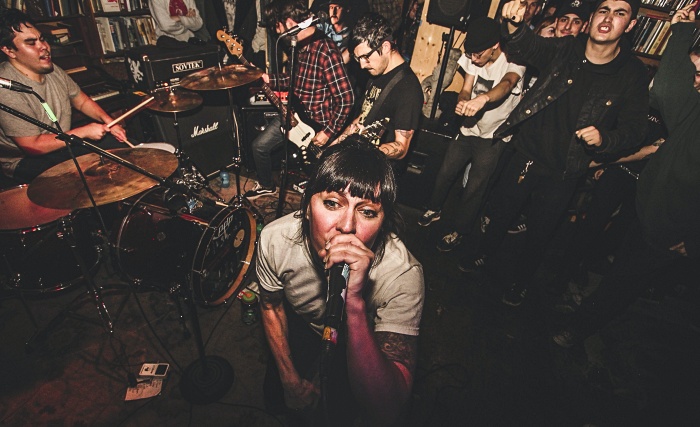 Along the way, you will be invited to take big, ragged bites out of racist bullies on the thin blue line shredding "Bastards" and steal the resolve in your guts on the convulsive, perspiration lubricated, haymaker hurricane "Back on the Wall."
You might feel like you've been put through the wringer by this Hollow Hope, but I guarantee that if you can make it through all ten pummeling tracks, then you are the type of person this album was meant to inspire.
Now, just imagine what FAIM would do to someone they didn't like. If you are unfortunate enough to be the target of their outrage, then there might not be much left of you after an encounter with the band, then jam stains and matted clumps of hair, collecting in the floor drain of some basement that doubles as a DIY community space.
Hollow Hope might be their album's name, but from what I'm hearing, FAIM is far from hopeless. In fact, I believe they've just begun to fight.
Get It