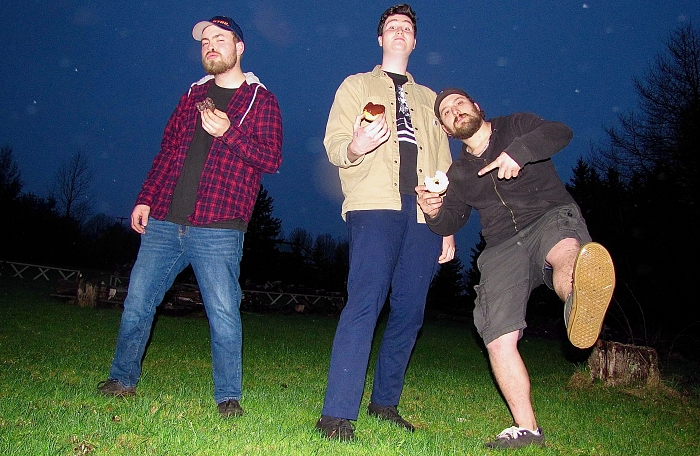 Baited is a new punk band from Charlottetown, the capital of Canada's Prince Edward Island that recently appeared across streaming outlets via a 2-song release called MouthBreather.
"We started Baited in April of 2022, [bassist/vocalist] Tyler [Turner] and I have been playing in different bands together since 2017," guitarist/vocalist Liam Farrell tells No Echo about their formation. "We met [drummer] Andy [Adams] through my time playing bass in a band called Waking Apollo.
"Tyler and I wanted to start from scratch with a new hardore punk project and started writing songs in our bedrooms, melding ideas and riffs from previous years that never saw the light of day. We loved that Andy played drums with aggression and asked if we could send him our ideas.
"Two months later we played our first show at Baba's Lounge, Charlottetown PE, a staple in punk music in PEI. We love playing with one another and we love playing live, we have become best friends."
Most of you reading this are probably as clueless about Prince Edward Island and its music community as No Echo is, but Liam is here with some helpful information.
"The scene seems to be doing well after COVID. Bands such as Knull [Hey, No Echo has covered them before!] have really inspired us to start playing again as they bring great mosh pits and crushing riffs. The indie scene here is thriving but for punk and metal the scene is small.
"Another band that inspired us is Paratoomb. They are a death metal band that I also play bass for and friends of the band Tanner Peardon is the ringleader of the project. It's great to see friends getting back to what they love to do!"
***
Look out for Baited's full length EP coming out on October 21st.
***
Help Support What No Echo Does via Patreon:
***
Tagged: baited