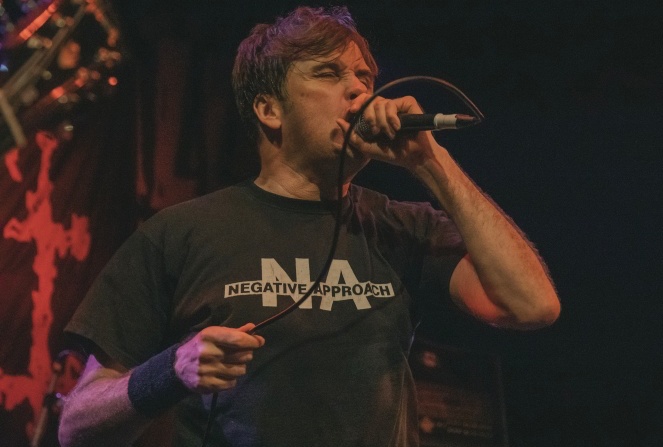 I'm hard pressed to think of a relatively underground band that's had more of an impact on extreme music than England's purveyors of grinding metal, Napalm Death. Bands from all over the spectrum of metal and even punk have turned to the British/American outfit as a source of inspiration. Who can blame them?
Napalm Death has been operating consistently for 40 years, releasing 16 studio albums so far and consistently changing the game of extreme music with each subsequent record. Not to mention their Guinness World Record for shortest song, "You Suffer," which made a quite humorous appearance in an episode of HBO's Silicon Valley.
The band has survived through quite a few personnel changes, but even after multiple decades, Napalm Death still kicks ass. Their most recent album, 2020's Throes of Joy in the Jaws of Defeatism, is still a shining example of how the group has crafted extreme music over their long tenure.
Twist the knife (slowly) as we take a look at 5 awesome Napalm Death covers.
Regional Justice Center, "Instinct of Survival"
Hardcore/power violence juggernaut Regional Justice Center has been taking the underground by storm, with a pretty hefty discography collected in the band's 4-year existence. The brainchild of Ian Shelton, RJC has been blurring the lines between mosh parts and blast beats perfectly, while penning lyrics shining a light on the injustices of American life, especially on the band's debut full-length album, World of Inconvenience.
With that said, it's no surprise Shelton elected to cover "Instinct of Survival" for the band's Demo II 7-inch flexi, released by the incredible fastcore label To Live a Lie Records. The massive walls of distortion from the original Napalm track from Scum are still intact, with RJC trudging through the track with a grimaced snarl.
I find it interesting to hear a Napalm Death song through the filter of what is ostensibly a hardcore band, because the average metal fan may not think it would work as well as it does.
Agoraphobic Nosebleed, "Control"
While Napalm Death made a name for themselves with their lyrical focus on racism, animal rights and world issues, Massachusetts-based drum machine grind pioneers Agoraphobic Nosebleed steered their ship in a different direction, focusing more on the underbelly of society in a similar fashion to another band that utilized drum machines, Big Black.
The current iteration of the band is a virtual all-star team of extreme music, touting current and former members of Pig Destroyer, Isis, Enemy Soil, Drugs of Faith, and Scour. Surprisingly, ANb picked the intense Napalm cut "Control" for the Earful of Shit compilation, released in 1995 by Chaotic Noise Productions, run by Jason Hodges of grind kings Suppression.
The track later appeared on the double-disc collection, Bestial Machinery. This version is nasty. There's no other way to put it. From the distorted and manipulated vocals to the huge-sounding drum machine, the abbreviated track is an absolute punisher.
Mortician, "Scum"
Staying with drum machine-based metal bands, Yonkers horror hounds Mortician are no strangers to going as fast as possible as well. On record, the Mortician brain trust of vocalist/bassist Will Rahmer and guitarist/songwriter Roger Beaujard program various blast beats and caveman riffs to complement their wide arsenal of horror movie samples, highlighting the gnarliest splatter flicks known to man in the samples as well as their lyrics.
Found on the CD release of House by the Cemetery, "Scum" is a song that almost seems like it was written to be covered by Mortician. The song was also a live staple for the band, appearing in three separate live sets on the From the Casket compilation.
While Napalm Death has little to do with the slasher films of the 1980s, Mortician channels the spirit of the godfathers of grind and crafts the song to fit in perfectly with their cache of ignorant riffs and lightning fast blasting.
Insect Warfare, "Caught... in a Dream"
Texas is a wild place, especially the Houston scene. To an outsider, it seems that much like my native Pittsburgh, many of the heavy hitter bands are made up of the same core group of musicians constantly churning out great music. Being connected to bands like Hatred Surge, Impalers, Power Trip, and Mammoth Grinder, it's no surprise that Insect Warfare is a high quality extreme metal band.
They're definitely one of my favorite Houston bands, who also wear their Napalm Death influence on their sleeve, crafting a maelstrom of broken glass and rusty nails. This is most evident with their cover of "Caught... in a Dream," a Scum-era deep cut that doesn't seem to get the attention it deserves.
Closing out the band's Evolved Into Obliteration release, Insect Warfare fiercely saws down the track, drenching it in their own signature sound of blasting drums, razor sharp guitars, and crushing low/high delivery in the vocals.
Capitalist Casualties, "From Enslavement to Obliteration"
As a self-professed fan of power violence, I have to say I was pretty disappointed in myself about not diving into the work of Capitalist Casualties until after the death of vocalist Shawn Elliott. The band left behind an impressive discography, with nearly a dozen releases and a litany of splits with bands like Discordance Axis, Macabre, Lack of Interest, and fellow power violence progenitors, Man Is the Bastard.
Found at the end of the Slap A Ham compilation, A Collection of Out-of-Print Singles, Split EP's and Compilation Tracks, CapCas fly through the Napalm original "From Enslavement to Obliteration" with unmatched ferocity. It's a real treat to hear a band that has such a widespread influence like Napalm Death covered by a band like Capitalist Casualties, who helped shape their own subgenre in a similar way.
Speaking of recorded tributes, Rotten to the Core Records recently released a great tribute to Capitalist Casualties that any fan of power violence should own.
***
Help Support What No Echo Does via Patreon:
***
Tagged: 5 killer cover songs, napalm death