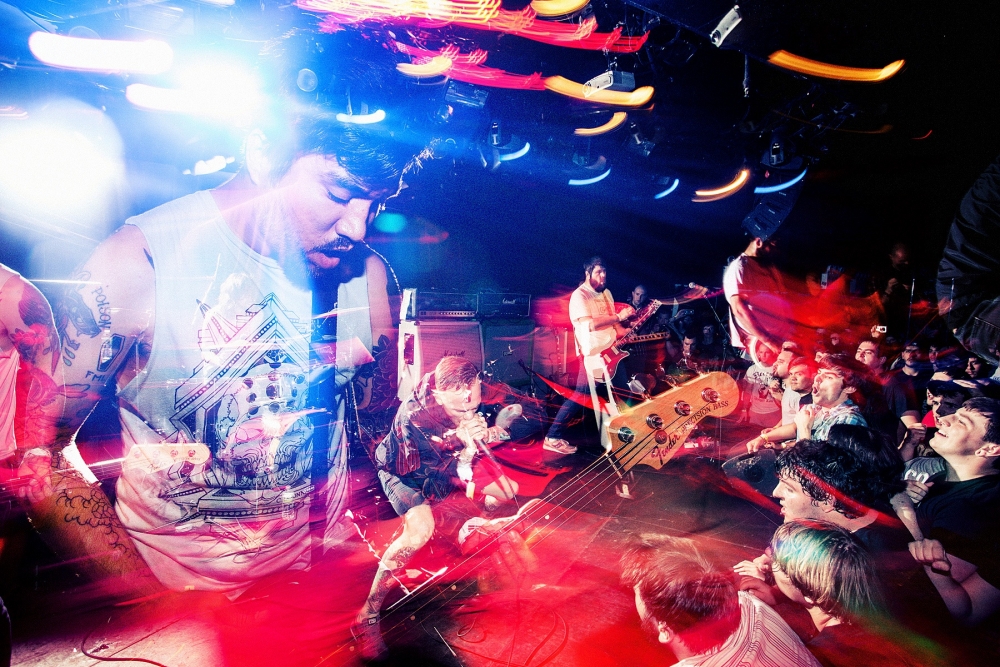 I first crossed paths with Nate Newton back in the mid-'90s when he just started the band Jesuit. At the time, I was in Black Army Jacket and our guitarist, Andrew Orlando, released Jesuit's first 7" on his label, Reservoir Records. We were both big fans of Nate's previous band, Channel, a metallic hardore band from Virginia Beach. Throughout the years, Nate has carved out quite a life for himself as a musician. Since Jesuit, he's been a member of Old Man Gloom, Doomriders, and Split Cranium.
Since 1999, Nate has been the bassist of Converge, one of the most influential and successful bands to come out of the hardcore scene of the '90s. Through such critically acclaimed albums as Jane Doe and last year's The Dusk In Us, his thundering bass has helped shape, deconstruct, and then rebuild their sonic attack back up. I must say that I've been proud to see Nate's success and I know he's appreciative of it as well.
A few days ago, I chatted with Nate while my two young kids were running around the house. Being a father himself, he understood my juggling act, and we managed to make it through the phonecall. We spoke for over an hour, but with so many musical projects to cover, we only touched the tip of the iceberg here. We'll definitely have to do one of these again.
I've known you for years now, but since I always go chronologically, let's start with a bit about your upbringing.
Well, I was born in Virginia Beach, VA in 1975. My father was a firefighter and my mom worked at a shoe store when I was born, and later on worked at a surf shop. My dad is a surfer, which is a big part of the culture down there anyway. For the kids like me who were born and raised in Virginia Beach, it's about surfing or skating. Living in New England now, it's more of a little league kind of thing for kids. The kids who migrated to Virginia Beach with their parents for the military, they were the ones who weren't into the whole skating and surfing culture, but everyone else was.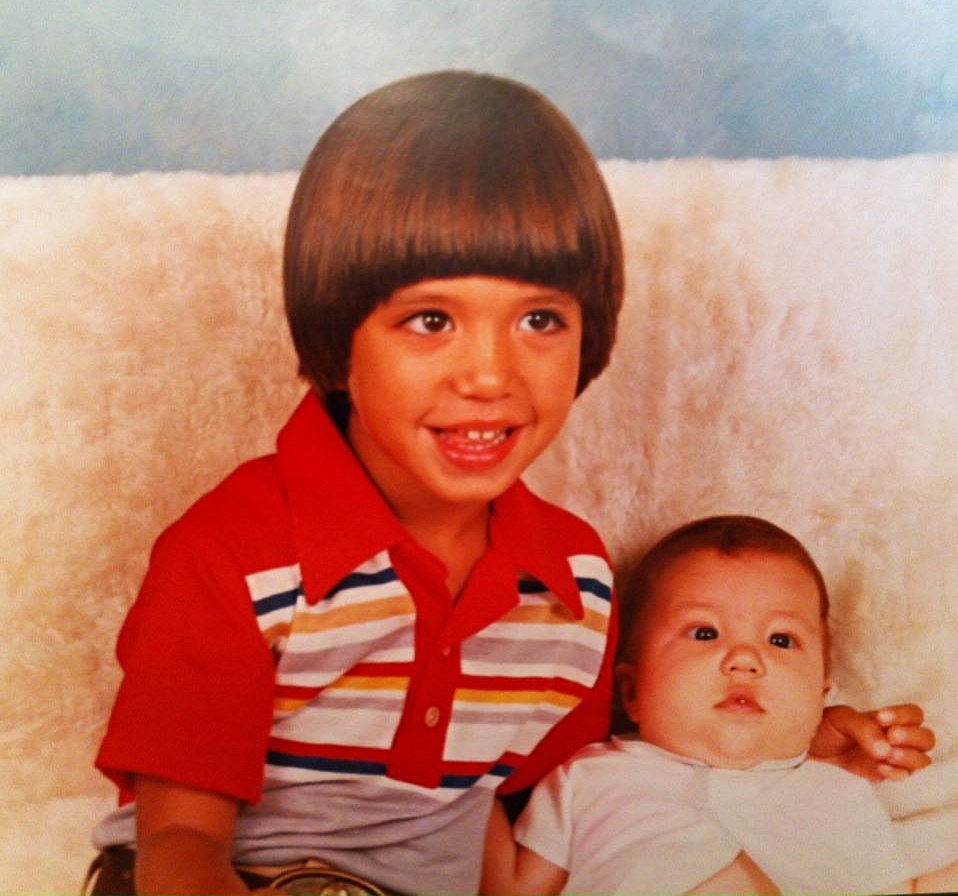 You mentioned your father being a firefighter. Was he strict?
Not really, actually, both of my parents were pretty cool. Yeah, maybe because of the whole surfing thing and the overall culture at the time, but he wasn't strict at all. My parents were both 19 when they had me. My dad comes from a family of firefighters and civil servants. My grandfather was the Chief of the Norfolk Fire Department. My uncle was a firefighter and then a fire inspector. My other uncle is a police officer and then joined US Customs. So, yeah, I broke the pattern [laughs].
What kind of music did you indentify with first as a kid?
That's a tough one, man. I guess it would have been punk music. You see, I kind of came at punk through multiple avenues. When I growing up, MTV was still in its infancy, and they played all kind of weirdo new wave kind of stuff. New wave was like my backdoor to punk rock, I guess. On top of that, my parents had a pretty cool record collection. They had stuff like Lou Reed and David Bowie. I mean, David Bowie's Diamond Dogs album, who's gonna see that cover and not pick it up? Also, my mom was a Ramones fan and even took me to see them when I was 12. I guess you put that all together and it makes sense that I got into punk.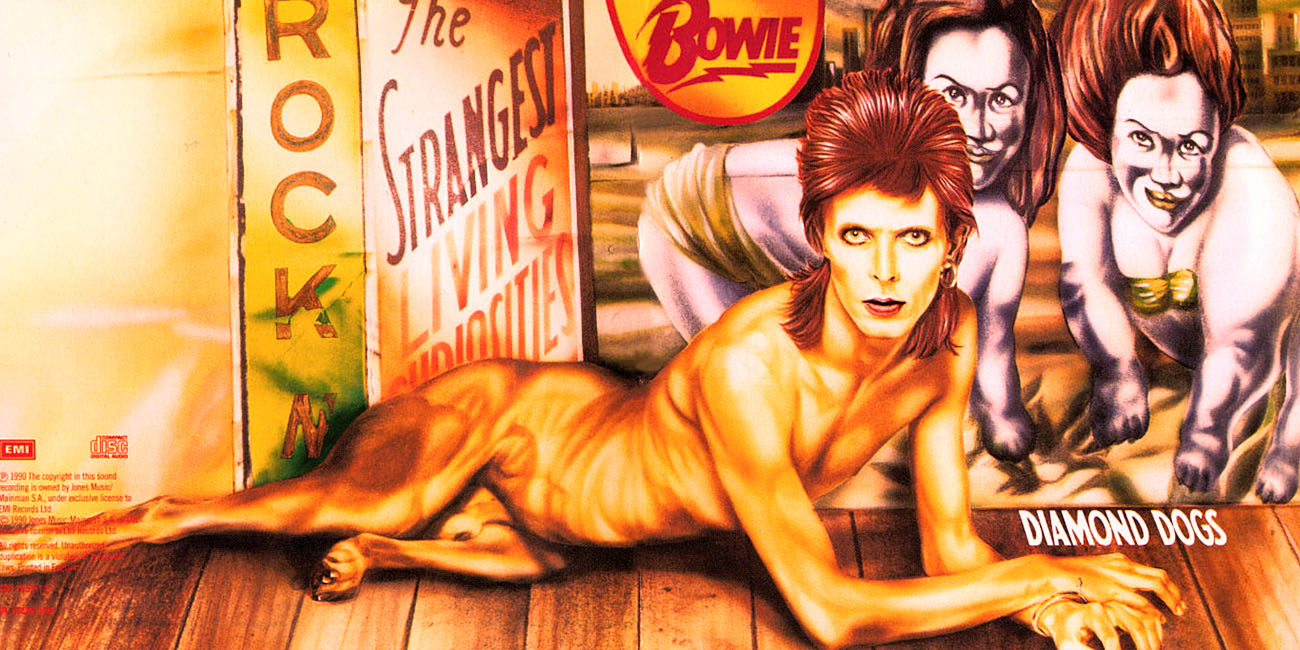 We're the same age, but like most other people I know, I was into heavy metal way before I got into hardcore.
Yeah, I was into punk before metal. That seems like the backwards way to get into hardcore, like you said, when I think about people our age. Later on, I would find out about bands through Thrasher magazine and the whole skateboarding scene. My grandfather passed away when I was very young, but he was a country and western musician. I didn't know him. But he was into all of the classic country and rockabilly stuff, so those records were always around in my house growing up. The first record I ever owned was Marty Robbins' Gunfighter Ballads. That's why when MTV started playing the Stray Cats when I was a little kid, I was like, "This is awesome! It sounds like those rockabilly records but these dudes are crazy-looking!"
What would have been the first heavy record you owned?
One of the first punk records I ever bought was the first Skate Rock! comp, but that didn't have much or any metal on it. So, I guess it would have been Metallica, or something like that. We called metalheads "grits" in Virginia Beach because they were gritty [laughs]. But when I was coming of age, like junior high, the metal kids at my school listened to stuff like Skid Row and shit like that. I probably listened to harsher metal than those guys did, even though I was still more of a punk. But yeah, the first really aggressive metal thing I listened to was probably Metallica. I remember my friend got a guitar and he wanted to learn what the hardest stuff was to play, so he went to Metallica [laughs]. That drew me in. Then I discovered crossover stuff like D.R.I. and The Accused, and I was like, "Ah, there you go! I'm into this now."
What was the first band you played in that actually got out there and did some shows?
I started a band with some friends from high school and kids from my neighborhood called Lift. We recorded some demos and played some shows. Let me just say that we were bad! [Laughs] We had this bass player kid who was way into funk. Our drummer was the school Morrissey freak. In like 1990, he was the guy who would travel around to see Morrissey, and I remember he had scraps of his shirt on his wall that he had ripped off of him [laughs]. The singer of Lift was a surfer and skater who was also a Smiths fan and, you know, generally into the same kind of stuff I was into. The Dischord Records bands cast a heavy shadow where we grew up, so we all agreed on Shudder to Think and Fugazi, you know, that kind of stuff. I remember I would try to work in more hardcore-sounding riffs into our sound. In our minds we probably thought we sounded like Fugazi but we definitely did not sound like Fugazi! [Laughs] There might have also been some rapping, but it was probably unintentional rapping. None of it is out there... thank god!

Well, the next band you played in was Channel, and that's the one where I first became aware of you. How did that project get going?
The singer of Lift, Jason Shipman, started Channel with me. We weren't happy playing the Lift stuff and then realized there were other people around that also loved the kind of shit we did.
Was Channel the first metallic hardcore band in Virginia Beach?
Of our era, probably. But Virginia Beach already had a rich history with punk and hardcore by then. There was a great thrash band called Over the Top that put out two demos that were fucking killer. There were a ton of great hardcore bands from Virginia Beach. But yeah, I don't think there was a band that was specifically doing what were aiming for with Channel at that time.
The first Channel 7" was released by Stillborn Records, Jamey Jasta from Hatebreed's label. How did you hook up with him?
The first real Channel show was at the Kingshead Inn with Jasta 14 and Dive. I met Jamey that day because he was the singer of Jasta 14. He had just started Stillborn Records and once we finished our set, he was like, "Dude! That was sick! I want to put your record out!" That was pretty much it.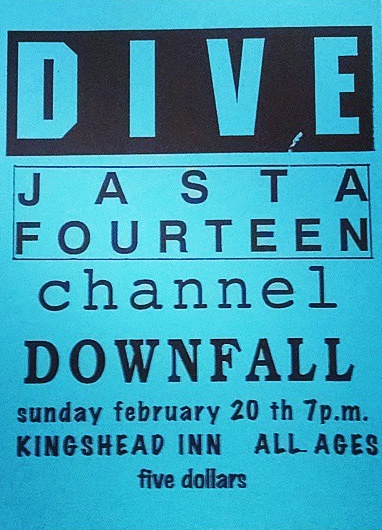 Why did Channel break up?

I guess it was creative differences and people growing apart and not being friends anymore. We did a couple of tours and went once on a full US run. Everything on that tour was a shit show [laughs]. Everything that could go wrong went wrong. Not everyone is cut out to be in a touring band and you really find out whether or not you like someone when you're sitting a few feet from them for weeks at a time. So yeah, that made the band implode. That's when I started to do Jesuit.
Yes, let's get into the beginnings of Jesuit.
Brett [Mathews], the bassist of Jesuit, he was not a hardcore dude. He just started showing up to shows because he was friends with the guys in this awesome death metal band called Incarnis from Virginia Beach. Anyway, I used to trade tapes with a guy named Ryan Muldoon who was in Incarnis. I knew him since elementary school. So there was a bit of intermingling between the death metal and hardcore scenes in Virginia Beach at the time. Well, Brett started a band called Frame 313 with a couple of the guys from Incarnis. They were fucking heavy! I don't think they ever released anything, but Channel put them on some shows. But Channel and Frame 313 started to peter out around the same time, so Brett and I started Jesuit together after that.
I remember Ryan and Incarnis from my death metal tape trading days! I'm pretty sure [my former bandmate] Dave Witte knew him as well. Such a small world!
Yeah, he's great. I learned about [Dave Witte's former band] Human Remains through Ryan and Incarnis. Okay, back to Jesuit. So, a little after Brett and I started jamming on the Jesuit stuff, George, who played guitar in Frame 33 and Incarnis started jamming with Brian Benoit, who had been in Channel with me, and that ended up becoming the band Canephora. But that was all when Jesuit was starting to happen.
Many years later, Jesuit got back together for some reunion stuff. How do you feel about the Jesuit stuff these days? Are you happy with the discography?

Yeah, I think Jesuit was a little more creative than Channel. We wanted to take more risks. The musicianship was probably a little better. I think we had a little more of a succint vision and sonic idea of what we were aiming for, compared to Channel. You know, we had this whole fucking idea of being this antagonistic kind of band. [Laughs] It was like we didn't want anyone to like us. We would play shows in our hometown and specifically try to get people to hate us. But yeah, I'm really happy with that Jesuit stuff.
The cover art for the Jesuit discography that Magic Bullet Records (now known as Dark Operative Digital) was done by none other than Florian Bertmer, a well-known artist who has also worked with folks like Agoraphobic Nosebleed and 16. I love that cover!
I had known Florian for years before that even happened. [Laughs] He got my phone number from the Channel 7" and called me right after we had broken up. I think he was still in high school at the time. He was like, "I'm this weird German kid and I love your band. Let's trade some stuff!' [Laughs] We ended traded some tapes and shirts and became pen pals. He would send me these drawings he did that were total Pushead worship. I obviously thought they were rad. So, when I joined Converge and we were getting ready to go out on our first European tour in 1999, Jake was trying to put together some merch. I told him that I had a whole stack of Florian's drawings and he loved them. I wrote Florian a letter to ask him for permission and then he called me and let us use his drawings.
For the discography, the cover art idea was something that he had envisioned for Jesuit back in the '90s. He even started sketching it back then but never finished it. When I brought up the idea of doing the Jesuit discography, I reached out to him and he was really into it. It was building off of a concept we had talked about years before that. It's cool but if I were starting a band now, I would probably use different artwork.
Why is that? Like I said, I love that cover.
I love Florian's artwork, and I'll always want to work with him, but conceptually, I would do something different now. It's a hard thing to explain. I wouldn't blame anyone for seeing that artwork and thinking it was blatantly misogynistic. And to an extent, it is. That's probably what I wanted at the time, in 1997, or whatever. I was in a fucked up and weird place in my head at that time. I'm in a different place now, so if someone presented that cover concept to me today, I wouldn't be into it at all. Look, I felt it was the right way to represent that band at that time.
How did you meet the Converge guys?
We did our first together when I was in Channel. It was an East Coast run, I think around 1994. I had actually already met the guys from the time we played that show with Dive and Jasta 14. Channel then drove up to Massachussetts with some other bands from that area and Jake [Bannon] and Kurt [Ballou] were both at that show.
At what point did you become truly comfortable in Converge. What I mean is, when did you feel like you could contribute more and have your voice heard as a member?
I felt that right away. When I first played with Converge it was a fill-in kind of thing. Then I did some other shows with them after that, so I was like, "I'm already playing all these shows with you, I might as well be in the band." I was still living in Virginia and I would drive to Boston for practice. [Laughs] I was so stupid. But I never had a problem with making myself comfortable and having my voice heard [laughs]. I'm sure the other guys would agree with that, and probably weren't happy at the time with it [laughs].
Knowing you from years ago, I know you're very outgoing. How does you're personality mesh with the other guys in Converge?
When I started touring with Converge, and being around them so much, I think it was a bit of a shock for them. Virginia Beach has this very specific sense of humor that is based around insulting your friends and tearing them down [laughs]. That's how you show your love for each other. So, when I got in the van with the Converge guys, I just started roasting them [laughs]. I was genuinely being an asshole. Vicious! I remember all of the guys being like, "What the fuck is your problem? Why would you say that?" [Laughs] But that's what my friends back home did.

Converge's Jane Doe album is considered by many people in the hardcore/metal world to be something of a modern classic. Did you feel like you were onto something special when you were recording it?
We felt good about the material. [Drummer] Ben [Koller] had just joined the band, and for the first time we felt like we could really flex our creative muscles the way we wanted to. [Laughs] That sounded really cheesy, but it was the first time we were able to actually accomplish what we were conceptualizing. We were like, "Fuck yes! This is really sounding like the way we want!" I don't think we really cared what people thought of it. I mean, I can't speak for the other guys, but maybe Jake would agree that we had this attitude that we were gonna do our thing and we didn't care if people liked it or not because we were gonna do it so well that people have to respect it. [Laughs] I don't know if that happened or not, but that's what we felt at the time. Conversely, those songs are very different from each other. I remember sitting in the van and talking to Jake and worrying that the album wasn't cohesive. It sounded like a bunch of stuff that didn't go together. I guess we had to do some Tetris-like stuff to make them go together [laughs].
What did Equal Vision Records think about Jane Doe when you turned it in?

I don't think the people at Equal Vision got it. I don't even think they liked it. But who cares? You don't need your label to like what you're doing. You just need the label to put it out and get it into stores. I remember the super-thick booklet Jake made for that album. He turned in this 28-page booklet and the label said, "No fucking way!" But Jake was adamant about it and fought them. Ultimately, he made it happen. Jake had a vision of how to present the music as this one cohesive package, and he was right about that.
The album cover for Jane Doe has become so identifiable. Throughout the years, it's become something like the Crimson Ghost for the Misfits.
I remember Jake and I would have these conversations about how bands not having visual identities during that period. Everyone was using these college fonts and live photos, or whatever. It was all bad computer artwork. We would say, "When we were young, you didn't have to see the band name, you knew it was a Black Flag from the cover art." Same thing for the Misfits. We wanted to bring that back. It was something important to Converge, even before I joined the band. But on Jane Doe we felt like we were finally releasing something that truly represented us, so it only made sense that we visually compliment that.
It's funny that you mentioned the Misfits, because I remember when we first made the shirt with just the face on it, I was like, "Dude! It's like the new Misfits shirt!" [Laughs] I was fine with that. If there's a band I'm happy paying homage to, it's the Misfits. All that was intentional. Bring back that back to hardcore. You want people to see the t-shirt you're wearing and know what you're into. When we were kids in the '80s, the punk shirt you wore was like flying a freak flag. You were proud of it. "I'm here, where are my allies?"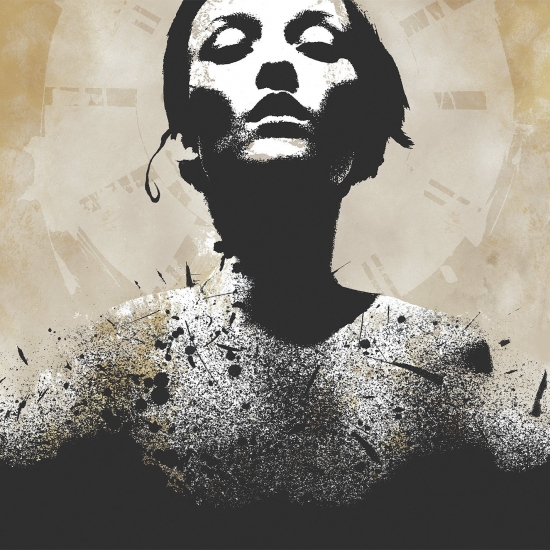 Like me, many people from the hardcore scene were surprised when Converge signed on with Epitaph Records since you were so much heavier than anything they had on their roster. How did that deal go down?
[Epitaph Records owner and Bad Religion co-founder] Brett [Gurewitz] wanted to sign us, and yeah, we were surprised he wanted to sign us as well. You know, Brett's a really an interesting guy, and a genuine lover of music. I may not like everything he's put out over the years, but then again, I can't say I've liked everything any label has put out. Brett has always been a very good of being able to see what the next musical wave is gonna be. He's definitely put out some bands on Epitaph since we've been on the label where I'm like, "What the fuck?" [Laughs] But he was right! They sold more records than we did, that's for sure!
Well, Epitaph has proven to be really supportive of Converge for so many years now, which is a rare thing.
They're always tell us that they're impressed by us because we never ask them for anything. We literally will ask them, "We want to put out a record and have it out by this day. When do we have to hand it in to you?" [Laughs] It's always that easy. I think they've realized that we've built this little ecosystem around this band. The first time we met with Brett and I remember being blown away by the building the label was in, and there were employees there [laughs]. But Brett said that he was a musician who ran the label from a musician's perspective. He said, "All I wanna do is make it so that you can continue what you do." That's it. We knew it was the label for us. All these years later, we've never had a fight with them about anything. They have supported us 100%.
The last time I saw you was when Converge toured with At the Gates in 2014. Before that, it was when you opened for Dethklok and Mastodon in 2009. Did you find that a lot of the more "metal" fans didn't get what you guys were doing, or did it go smoothly?
Well, those tours had do very differently distinct crowds. First off, At the Gates are obviously a metal band, but those guys are very into punk and get it. Dethklok are really nice people, but their crowd didn't get it. With At the Gates, not everyone knew us, but because of the nature of what that band does, people were open to us. [Laughs] Dethklok's fans hated us! It was palpable. You could see the hate in people's faces every night of that tour. A lot of those people had never seen or heard anything like Converge. We would come out on stage and it would sound like a tornado and people were like, "What the fuck is this garbage?" The doors would open every day and the kids would run up to the front for Dethklok and wait through all of the opening bands.
It was insane to me that I would be watching High on Fire every night to people who were just indifferent. High on Fire, man! People were just angry at all of us for ruining their time [laughs]. For the first week or so of that tour, I was so fucking angry. "Don't they fucking know who we are?" It was just my fragile ego talking. The it dawned on me a couple of weeks later, why am I angry. Who cares? I was getting to play music every night. But you know, I've met people through the years that told me that the first time they heard of us was when we did that tour.
Shifting gears here, I wanted to ask you a bit about your family life and how it intersects with Converge. When it came time to starting a family, did you think that the other guys in the band might be worried about your commitment to touring, and the band in general?
By the time we all started having kids, we had been band for many years and had figured out how to make it all work. So it didn't seem all that threatening. Ben was the first person in the band to have a kid. For me, the seal had been broken because of that. "If he could do it, then I can." As far as my wife, we didn't think we could have kids, so it was a total surprise to us. We were both just like, "Shit, how do we do this?" [Laughs] I guess everyone is like that when they're going to have their first kid. We're lucky because we have a lot of close friends around us with kids that are the same age.
Alright, man, I think I've taken up enough of your time here. We have to do another one soon to cover all the other stuff you've done. So, for my last question, if you had to play someone hardcore who has never heard it before, which record would you play for them?
I'd probably put on Minor Threat's Filler record. I think that one sums it up right away. Let's see... maybe the Bad Brains' ROIR tape. It would be like, "Listen to this and come back in an hour!" [Laughs] To me, that's the foundation on what hardcore was built from.
***
Converge's latest album, The Dusk In Us, is available via Epitaph Records.
Tagged: channel band, converge, doomriders, jesuit band, old man gloom