The assumed credo of Nashville bruisers Orthodox would likely run counter to their namesake. Let It Take Its Course, their upcoming sophomore full-length and second for Unbeaten Records, will shatter expectations of genre orthodoxy.
After their 2017 debut offering, Sounds of Loss, left a wake of shattered eardrums with its mangling of hardcore and all things metalcore, the Tennessee band is no longer hiding in plain sight. In the runup to the new LP, they've garnered attention from the likes of both Kerrang! and Revolver.
In much the same way Vein, Seeyouspacecowboy, and Knocked Loose all recently levelled the fuck up with hyper focused and sharpened variations on their previous releases, Orthodox clearly isn't content simply updating and mangling nü territory. While there's more than a smattering of late '90s/early '00s worship, the proceedings here feel both far more organic and livewire than a number of their more contrived forebears. There's something in the adventurous, all-in nature of this record that keeps things decidedly DIY and crucially relevant to hardcore.
The straightedge provocateurs in Orthodox have always managed the heaviness of fellow Nashvillians Chamber or their crushing contemporaries Vatican, Sanction, Roseblood, Foreign Hands, and Thirty Nights of Violence, but this time they've bolstered their arsenal with substantive panache.
While still peddling Grade A punishment and panic chord abuse akin to their triumphant debut, they've incorporated an altogether more multi-faceted and nuanced approach. What's sure to set this pack apart is Adam Easterling's standout vocal delivery, which incorporates an oft-unheard articulated flair and covers disparate terrain. Oftentimes vacillating quickly between "mosh first, ask questions later" gruff barking, the dreamilke breathiness of Chino Moreno, the performative anguish of Jonathan Davis, and the plaintive singsong of the '90s alt radio waves, there's a commanding confidence all over this thing.
Though I've seen the word "arty" carelessly tossed around as pejorative within the realms of hardcore's stodgier classicists, Let It Take Its Course is an achievement both thematically and sonically.
Prior to pressing play on the opening salvo, I couldn't help but draw visual side by side comparisons to Daughters' 2018 curio cum masterpiece, You Won't Get What You Want After learning the album was an inspiration, the unsettling sample and noise pastiche of opener "Remorse" makes more sense. As the increasingly upsetting rumble and static gives way to the riff on "Obsinity," it's clear the comparison ends there. In much the way their previous long-player explored the anticipation of grief, remorse won't buy you additional time to prepare before devolving into this tightly structured chaos.
Guitarist Austin Evans shines brightly from the first note, dropping consecutive whirling riffs that feel as human as they do mechanized, employing a Gojira-like ability to embrace that unique duality. In addition to paying homage to the French Sea Shepherds, the lockstep nu-metal groove also flashes its teeth in the opening minute. Comprised of drummer Mike White and bassist Shiloh Krebs, the down-tuned grooves drop bass as if it truly is the "heaviest matter in the universe." I even hear flourishes of Carbomb, another crew pushing metalcore to it's furthest reaches, albeit without the laser gun effects. Their laser scopes are hellbent on destruction from word one.
I'm not gonna lie... "Why are you here?" opens like 1998 never relinquished control of the airwaves. Though this is likely to cause some consternation among the more rigid of listeners, it feels as if Mudvayne grew up listening to Madball, who incidentally toured with Korn and Limp Bizkit (don't @ me and attempt to set it off). It plays as a perfectly placed early album track, blasting relentlessly between seemingly endless, steroidal drum fills and guitar squeals before fading into insanity. Proceeding song "Leave" starts with a crushing and momentary guitar followed by the Code Orange-sanctioned moment of silence.
When sung, "The lord giveth and I taketh away" is an absolutely killer clean moment, giving the listener a quick beat to discern between the mechanical beatdown and whirring mania beneath it all. Underpinned by pure damage, they snuck what sounds like the bleating plea of a damaged machine to adorn a truly bonkers riff.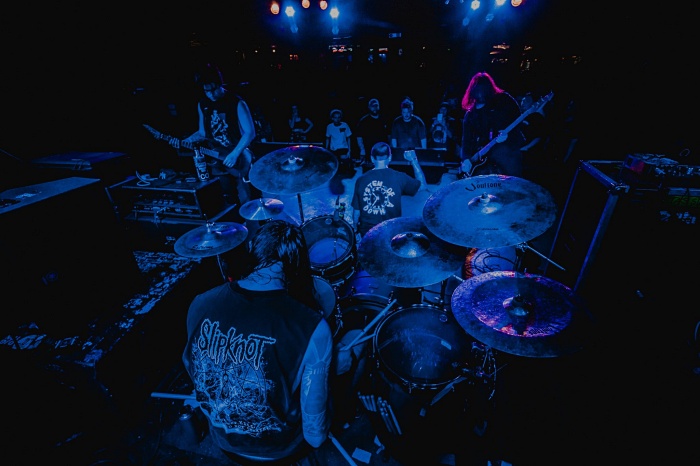 As is the case elsewhere on the album, there's a vibe of obviousness and eventuality to song transitions. "I Can Show You God" plays it somewhat straight and almost po-faced until about the midway point. Here it shapeshifts from a raging windmill into an almost playfully bizarre moment right out of the System of a Down playbook. The many moods they embrace bely a band willing to toy with if not completely dismantle convention, and the inversion of the entire track is an admirable risk that ultimately pays dividends. There's a vocal shift where Easterling brazenly embraces Korn(y) elements, daring his contemporaries to attempt to follow the leader.
Subsequent tracks "Cut" is another surprising moment, barely getting aloft before evolving into the cleanest, most radio-ready song of the collection. With plaintively sung vocals and a mid-paced backbone, this would be found on the dials during your drivetime commute alongside "Bleeding in the Blur", were the world a just place. Playing to their strengths as a band unafraid of ear-friendly melodies, they manage again to subvert expectations with crushing ease, as it quickly segues into a brutal back half. In all honesty, mixing the two shouldn't work so readily but it does so smashingly. Yet, here they manage to shoehorn pop sensibility and endlessly melodic earworms into what're essentially hardcore songs.
"Look at me" essentially implores you to do exactly that. Baiting the listener with a cold open that's at its core straightahead metalcore, demonically low bass, and flurries of guitar that're somehow only made by a party of one, this is the standout for me. There are even moments that feel like Roots-era Sepultura but with hardcore gang vocals. Again, the cleans are impeccably placed, squarely between 4/4 drums and molasses thick bass atop an attack that pulls its dirt from Alice In Chains.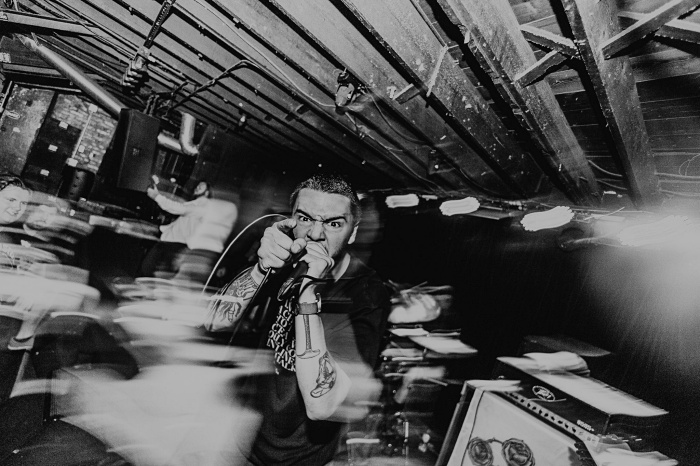 For anyone unbothered by hooks, fear not, as the featured breakdowns here are unparalleled by most, but as a signpost, previous album vocal guest Bryan Garris' Oldham crew comes to mind. As another late album highlight, they saved some of their biggest riffs for (almost) last. "Then It Ends" is a morass of hardcore-tinged barking, backing vocals, and a bouncing groove that adds to the increased volume of its end passage.
As far as even later album highlights go, few are more envy-inducing than, "The Presence" which is a masterclass in slithering bass and staccato guitar punishment. After Easterling's vicious scream punctuates the entrance of tech-death wizardry, the bass slinks around like a dysrhythmic mess. Lyrically, "what do you hope to see?" is repeated ad infinitum until it hits a wall of icy guitar and martial snare drums. Killer moments, the both of them.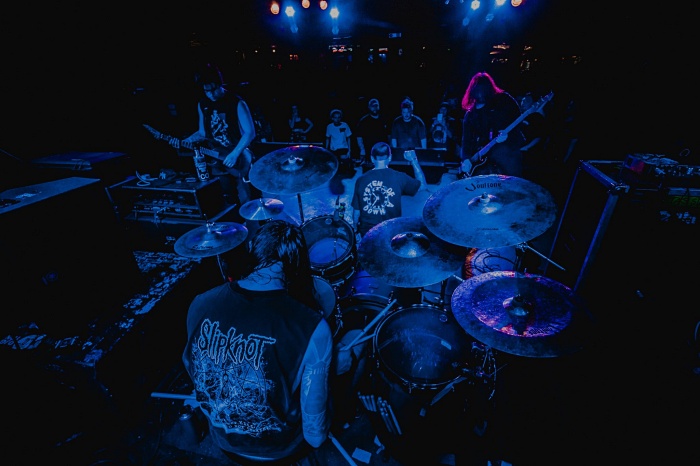 Thematically, "Wrongs" takes full advantage of the album's "far afield" ethos, launching itself down a rabbit hole of unexpected fuckery by way of a piano ballad. Plainsong and earnest, it begins a slightly lovelorn, gothic torch song that promises nothing more than the serenity that comes at the end of degradation. Waiting for me to tell you how brutal it gets afterwards? Keep waiting, because that's a wrap, folks. "The wrongs I do for you…" feels akin to an admission of guilt that flips the script on the bemused or sheepish lover, revealing that a killer has been lurking beneath the veil the entire time. It's perhaps the perfect metaphor for the album… for every moment of humor, a tragedy beckons. For every admonishment, there's forgiveness.
The band is soon set to devastate audiences the country over, as they're pounding pavement from Feb. 13-Feb. 22 as part of the Root of All Evil tour alongside fellow heavy hitters Spite, Varials, I Am, Unity TX, and Dealer. Cop the album, pour over the anguished lyric sheet, and scream yourself hoarse. They're coming your way regardless.
Get It
Tagged: orthodox