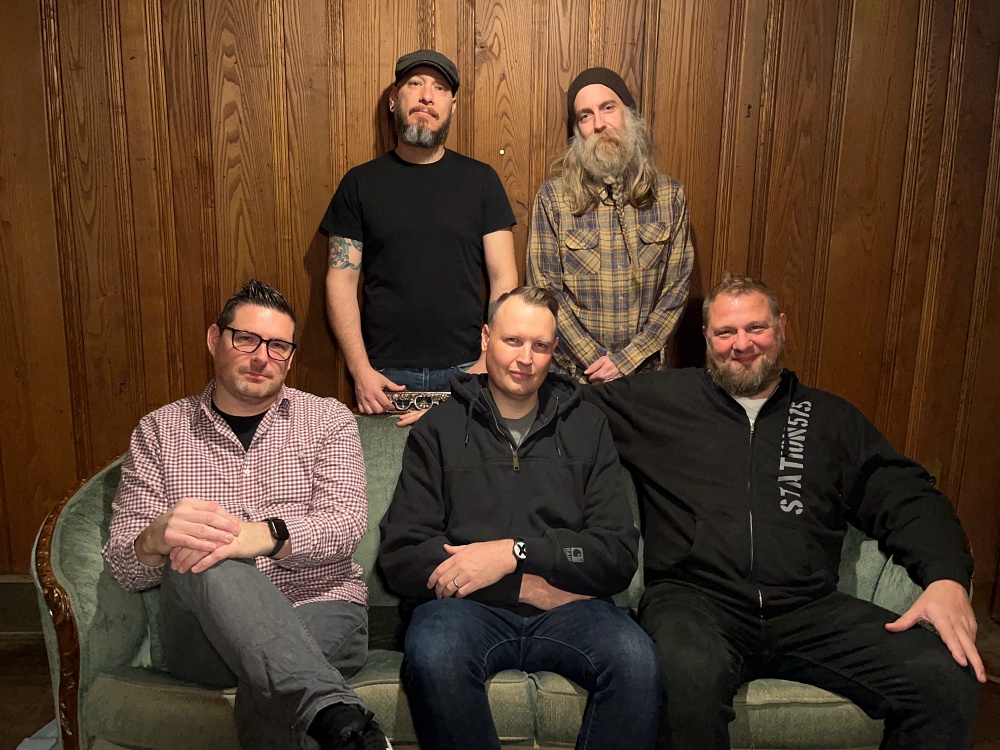 The topic at hand here today is Buried Lights, a post-hardcore quintet based out of Detroit, Michigan that No Echo recently stumbled upon. "Buried Lights' former drummer, Josh [Bosley], and I played together in Coalition (Fight Fire With Fire Records) many years ago and reconnected in late 2019," vocalist Daniel Sluka tells No Echo after reaching out to learn more about the band.
Daniel continues: "Josh pitched the idea of starting a new project drawing from late '80s and early '90s melodic DC hardcore. Getting back into a band had been on my to-do list for years, and this was my chance to get to do what I missed so dearly."
"Josh had heard that [guitarist] Mike [Derrick] from Empathy (Conquer the World Records) may be interested a project like the one we were attempting to start, so he texted Mike straight away. We had our first practice as a 3-piece a few weeks later. "[Bassist] Phil [Kinney] was recruited to play bass by Josh, as they had just worked on a previous project called Slow Read.
"Next, we created a Craigslist add for the guitar spot. I was sure this was a hopeless effort, but I was wrong. Paul [King] from Transcend (Doghouse Records) contacted us with a handful of demos, and Buried Lights were born.
OK, now that we've got the Buried Lights origin story out of the way, check out the band's recently released self-titled debut EP:
"As a group, we all have a ton of respect for the musicianship of Dag Nasty, Embrace, Unwound, Jawbox, and Seaweed," says Daniel about Buried Lights' shared influences.
Guitarist Mike also chimes in with his thoughts on the subject:
"We came together under the idea of mid to late '80s Dischord/Revolution Summer. Obviously, we all have many other musical influences. We've all been around long enough to have our own thing going into the mix."

Next subject up is Buried Lights' songwriting approach. Dan explains: "Lyrically, I was influenced by my long hiatus from music. I had not played in a band since Coalition and Jailbreak (Broken Glass Records) broke up in 2004, but it was always on my to-do list. 'Living in Theory' speaks to this, as well as portions of the other tracks. As a collection these songs present a more interior view of life. The newer songs we are rehearsing are more exterior facing."
Daniel tells me that Buried Lights are in the process of writing a new record and getting ready to play shows, but before we end our converstation, he tells me a bit about some of the other bands from the Detroit area No Echo readers should be checking out right now:
"Temple of Void are no secret after recently signing to Relapse Records. Though they are more of a doom/death band, I totally hear Alex and Brent's hardcore roots in the riffs and low-end as both played in Coalition. Epic stuff, seriously!

"Warhorses are so polished and challenging to place in a certain genre. It's as if shoegaze and new-wave were shaken up in a test tube. The result are boundless sounds filled with moods and hooks. Great for road trips and rainy days!"
Buried Lights on social media: Facebook | Instagram | Bandcamp
***
Help Support What No Echo Does via Patreon:
***
Tagged: buried lights