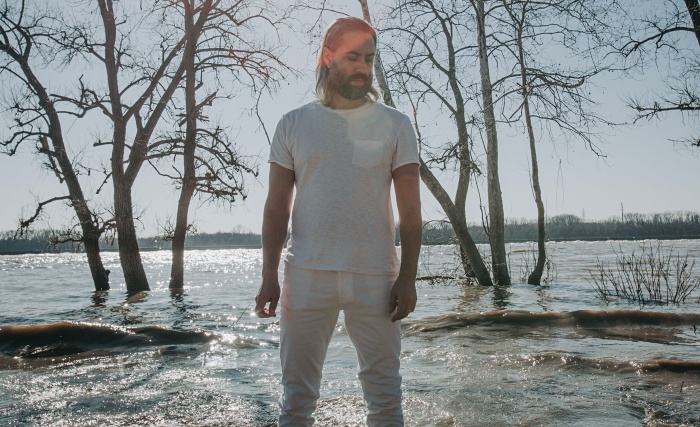 When I first started doing these interviews, I wanted to talk to people who started out in the punk/hardcore scene that also went on to be in major musical acts. Growing up in Louisville, Kentucky in the '90s, we had a pretty diverse music scene, and a lot of people that went on to make some classic albums ie: Dave Pajo, Will Oldham, My Morning Jacket/Jim James).
One of the great early bands was Raze, a combo that featured future members of Elliott and VHS or Beta. They were definetely one of the more talented bands of that era. It makes sense that those guys and Mark Palgy went on to be in demand musicians, keeping their roots deep in Louisville while also traveling the world and putting out amazing albums.
With Mark, I get to contuine a theme with the bass guitar. The instrument is what you make of it. You may just wanna hang out with your friends making music temporarily, or you can take the instrument seriously and play it forever.
Introduce yourself to everyone.

Hi, I'm Mark. I drive a Jeep.
How did you get into playing bass guitar?

I started playing guitar at 12 and was obsessed with learning Zeppelin and Sabbath, etc. I never really considered learning bass until Craig Pfunder and some friends needed a bassist for what was later going to be VHS or Beta (I think I was like 20).
I just knew I wanted to play with those particular dudes and figured, ok bass guitar it is. I played up high on the neck like a guitar and distinctly remember the guys being like "uh can you play some of the lower notes?"
Do you play other instruments?
I like to think I can play drums. Others would disagree.
Does your family support your musical pursuits?

Yes, I have always had a supportive family who wanted to see me succeed but also recommended a "plan b" just in case. My wife is an emphatic supporter as well, as she is a fellow creative and artist, thank heavens. Having a supportive partner is essential.
Typically, how do you write your parts for your bands?
In the dark ages (the '90s and early '00s) we would jam in a room for hours and record it all. We'd either know then and there we made something cool, or look through the recordings later and go, "Damn, that was super cool," and try to recapture the vibe. These days (ironically, still the dark ages) it's much easier to record from a home studio setup. Each situation has its advantages — like back in the day we always wished we had better equipment with effects and stuff and these days I wish I could just play in a room with friends and flesh out the ideas.
How do you record your parts when you're not at practice?
I've always used Cubase so it's the easiest way for me to quickly get an idea down without drowning in technical difficulties. Though I'll be adding Pro Tools to my rig soon.
When you're picking, do you upstroke or downstroke more?

Downstroke way more.
What bass players have influenced your playing the most throughout the years?

When we were truly going for the disco-punk thing, I was heavily influenced by house records. So, it would be a short sample of a disco song ("Music Sounds Better With You," for example) that would be very repetitive. I was in effect trying to emulate a '70s sample by playing it sort of punk rock style with a pick. I didn't even really know who was playing on what sample a lot of the time.
Today, I still love John Paul Jones and Geezer Butler overall. And obviously Bernard Edwards from Chic who's influenced literally everyone and everything.
Are there any drummers who have changed the way you play?

I've had the pleasure of playing with various drummers from various backgrounds and I always get a kick out of their individual styles. Hard to say. I always liked the sloppier style where they'd lay back in the pocket. That always makes me play into the song more. Drummers are funny — you gotta love 'em. They all have similar personality traits: like they're true workers getting the damn job done! Setting up the hardware, learning the damn parts to a tee.
Drummers are the ones who get truly perplexed when the singer gets mad at the guitarist or whatever silly drama can sometimes arise. They're like the sensible dads who just wanna rock and then figure out tour profit margins on a spreadsheet.
I was stoked, and super jealous you started playing with Jake Shears (Scissor Sisters). How did you land that gig?

VHS or Beta opened for Scissor Sisters during the Night on Fire campaign (around 2004/05). They were huge in Europe and enjoyed some success here in the states. We had a great time on that tour. Fast forward to 3ish years ago and Kevin Ratterman (Elliott, Jim James, TwinLimb) asked Craig Pfunder to play session guitar on Jake Shears' solo album (since they were already friends from that tour way back) which was scheduled to be recorded at La La Land in Louisville.
After the session, Jake asked Craig to be his musical director and live guitarist. A few months in, there was a scheduling conflict with the original touring bassist, so Craig called me up and asked me if I could do the North American tour. I said hell yes. That record is so good and so inexcusably underrated. It made me such a better player.
A lot of it was in my wheelhouse, but a lot of it wasn't, so I was forced to learn a bunch of great material in a pretty small time frame that really pushed me to get better. I'm so happy I get to be a part of the traveling circus that is the Jake Shears band.
Do you miss living in New York?

On the whole, I don't really miss it. It's great if you're in the right headspace and time in your life, but it can become too cumbersome. The cost of living, the small apartments, the noise. There is no way I could have survived the COVID-19 situation there. I'm so glad to be back in Kentucky. I see this as my forever home and I've never really loved it as much as I do now. It's beautiful and you can really stretch out here.
It gets a bad reputation, but that's ok with me because I'd rather the city stay as it is and not get too gentrified too quickly so it loses its character. If you know how amazing Louisville is, then you know. It's that simple.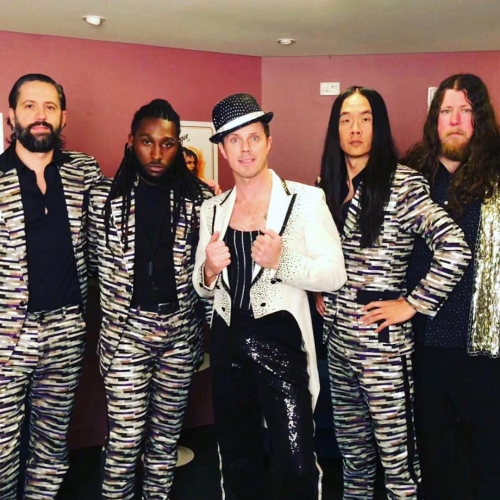 Do you want to live anywhere else?
If we left Louisville I think it would be to leave the country, unfortunately.
What are you up to in your personal life?
I met a Kentucky girl in NYC and got married. The best damn decision I ever made. Moving back with a local has made it fun and exciting and just made sense. Through her, I've discovered my love of cooking, so we spend a lot of time cooking new things. It's a great way to unwind after a long day with no cellphones and just conversation.
Do you have any new music projects coming up?
Yes. I started a solo project called DE4THRACE. I'm about to put out a video and a full length. I've gone back and forth whether to release it slowly, but I just decided it doesn't really matter. It's all very dark atmospheric psychedelic electronic instrumentals, so the audience is hopefully older bearded rock dudes like me. All 300 of us. My dream is to work with a like-minded director in horror movies.
I love what Colin Stetson did in Hereditary and Johan Johansson who scored Mandy. These are the 2 pinnacles of modern horror in the last 10 years. Absolutely genre-defining legends. This feels like my calling outside of performing live music, which these days......ugh.
Can we ever get another VHS or Beta show?
Craig and I always go back and forth, but we've been leaning towards yes recently. Time will tell, but we've been working on material and it sounds super awesome and I hope it sees the light of day! Obviously we've had to put lots of that on hold, but once things return to whatever we decide is the new normal we will complete something.
The Louisville music scene is a diverse, and talented scene. Do you think you have a Louisville sound to your technique?
I think the current scene is way too diverse to have a "sound." In the '90s it was all indie rock all the time, but these days you have hip hop, EDM, metal, and just about everything under the sun, so I don't think the city has a particular sound anymore. It's a great time to be back here because of that!
The younger generation doesn't seem as concerned with musical genre boundaries and that's super cool to me.
Do you have any words of wisdom for someone picking up a Bass guitar for the first time?
Go to law school.
***
Donate a few bucks to help with No Echo's operating costs:
***
Tagged: bassist spotlight