Jon Gusman is an acclaimed punk/hardcore vocalist, drummer, painter, publisher, and multi-media artist originally hailing from New York. He is either currently or has been a member of Rule Them All, The Fight, Restless Spirit, Dead Last, Soda Bomb, Car Chase, Founders, Guilty Party, Ward Number Six, T.O.S., $TEP UP 2, Y.O.D.A. You Only Die Alot, Mount Doom, Detriment, and Pillars of Ivory.
Gusman singlehandedly owns and operates The Cauldron of Burgers, which functions as an ever-evolving comic book universe, quarterly 'zine, publishing company, podcast, record label, etc.
In addition to his newly-minted Cauldron of Burgers label imprint, Gusman recently launched his own prog rock-leaning one-man band, Jon The Movie, and self-released his debut solo EP, A Glimpse That Made Sense.
Late last year, I got a chance to chat with Jon Gusman—the man, the myth, The Movie himself—about Jon The Movie, as well as Restless Spirit, Dead Last, Rule Them All, The Fight, The Cauldron of Burgers, and much, much more.
How many bands, projects, etc. are you currently a part of and what are you actively working on or preparing for release?
Currently, I most actively play drums in Restless Spirit, do vocals in Rule Them All, and do everything as Jon The Movie! I, also, play drums for a band called Dead Last. Recently released, I played drums for the Pillars of Ivory part of the split they did with Wicca Phase [Springs Eternal]. I run an art entity called Cauldron of Burgers as a home for all of my visual work. At this immediate second, I am, also, a freelance animator!
What exactly is The Cauldron of Burgers? It's many things, if what we're lead to believe is correct.
Cauldron of Burgers is a home for all of my personal work, whether it be visual or audio. It is, also, a full comic universal timeline that is constantly developing. My visual work revolves around painting and cartooning. One hand usually washes the other with that; I've always been a self-starter.
With that, I learned very early on with my first leaps into the art world that my style is not really "called for" in contemporary anything and I'm very different from the people who could be classified as such.
I took it upon myself to not waste time trying to get the attention of higher-ups who don't care about what I do and cut my teeth developing my own island. I didn't want to answer to anyone; I wanted no outside influence or industry trying to tamper with my vision. I only wanted to connect with the people who are into art for nothing other than what it is.
In 2021, I fully established Cauldron of Burgers as an independent publisher and published seven books: Quest for Materiality, which is a 3-issue comic and four quarterly personal art book 'zines. This year, I've opened up the quarterly 'zine to be a full-blown art magazine full of artist contributions and interviews. It's subscription-based and, as we speak, I'm working on the March 2022 edition!
Who/what is Jon The Movie and what can you tell us about A Glimpse That Made Sense?
Jon The Movie is my one-man weird rock band. For my birthday in 2020, my girlfriend took me to see the Frank Zappa documentary [ZAPPA]. Zappa is one of my biggest influences for everything I do and this documentary completely broke my brain while, simultaneously, putting a fire under my ass. As a teenager, I was obsessed with Rush and Dream Theater. I listened to them so much that 10-20-minute songs full of complicated compositions felt like 3-minute songs to me and during the Pandemic, I re-connected with my love for prog rock in this same way.
For about three years prior, I was teaching myself how to play guitar and had made some attempts at doing a one-man recording project. The one that ended up getting released was under the name Car Chase.
At some point in 2021, I figured my skills with all the instruments I could play were developed enough and rather than gradually work my way towards a one-man prog band; eventually, I jumped the gun, challenging myself to write a 10-minute composition. I sat on my bed hashing out this song whenever I could and, eventually, the song, "Quest for Materiality," was finished. I needed a name to put the song out under and Car Chase, at the time, was to be dedicated to any other lo-fi rock songs I recorded.
Initially, I was going to name the project The Jon Gusman Experience, but felt it was too serious while, somehow, being way too sarcastic. After some thought, I remembered an old joke I used to do if I found some kind of recurring happening in my life. I'd say, "yeah, that would happen in Jon: The Movie." I sat on it for a few days and braced myself for the roasting I was going to get from my friends on it.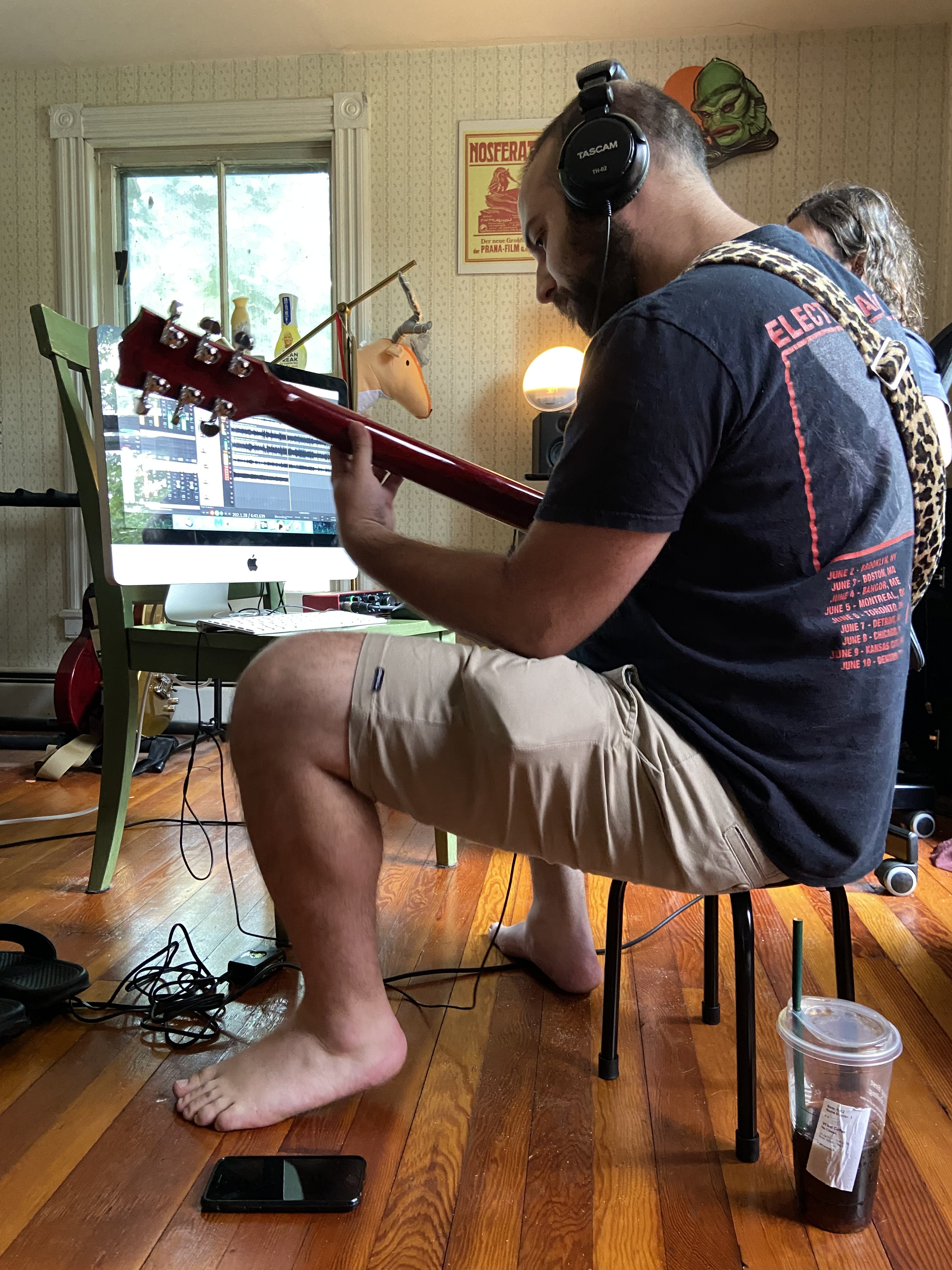 Luckily, they spared me. In fact, a lot of feedback I got on the track was so gratifying. The song itself was inspired by the 3-comic series I was simultaneously drawing at the time, not really in a "Coheed & Cambria" sort of way, but more a compositional type of way (three acts, three different moods.)
Since I was 17, I've dabbled in recording and always ended up being the guy in the band that would record the demo because we [couldn't] find anyone who'd want to do it/we couldn't afford it. I really love tracking records and listening to it all come together, but much like a lot of my work, the style is special to me! So, what sounds cool to me might not sound good to someone who pays me to record them, so I never pursued recording more than documenting my own ideas.
When I really committed to this project, I figured it's the perfect opportunity to break out the mics and go ape shit! Big thanks to Chris Rini for mixing and mastering this release!
How does the album art and J-card art for the cassette tape release of Jon The Movie's A Glimpse That Made Sense relate to the storyline heard within said project?
When it comes to my own personal work, I try to make it so one hand washes the other. There's so much thought put into anything I release. The album art has so many pieces of so many paintings I've done in the past while, also, references many mornings when I'd sit at the diner, thinking of my next step and having glimpses of my future that felt very obtainable. They were little glimpses that made sense.
The comic strip in the J-card uses a character named The Scholar that I painted at the end of 2020, who is integral to The Cauldron of Burgers Universe. He's sort of this "ever-watching eye" type character. In this strip (without giving too much away,) The Scholar explains what is next for Jon The Movie, which will be one of many stories happening on the Cauldron of Burgers timeline. The whole J-card comic idea was, actually, Nick [Acosta's]! He proposed it and I was like, "you can do that?"
How does music inspire art, art inspire music, and music and art inspire life?
Music, for me personally, inspires visuals and takes me out of my own body for a bit. Art creates a doorway to express visuals, feelings, and ideas. They both are a perfectly valid reason to get out of bed and follow [your dreams] to the fullest degree despite what the world wants you to think.
One of your many projects, Restless Spirit, recently released a new album, Blood of the Old Gods. How was it recording that specific project with your band during the COVID-19 Age?
So, I re-joined Restless Spirit after quitting in 2017 to go back to college. I finished school in December of 2020 and pretty unexpectedly, re-connected with Paul [Aloisio] & Marc [Morello]. Before I knew it, we were in a room jamming again and before I knew it, again, we had an entire full-length finished. It was over the course of a month.
Sitting in a room playing with those guys again didn't feel like we were making up for lost time, it truly felt like it was the absolute perfect divine time for us to be sitting there. The songs just poured out of us.
Recording them took very little time and we even expedited the PR process so that we could have the record out by the end of 2021. Everything came together so organically that we were almost waiting for the other shoe to drop, at some point (playing in small bands kind of conditions you to think that way.)
It's still smooth sailing [and] the response to Blood of the Old Gods has been so incredible. We've gotten to play some awesome shows, so far, and are planning more as we speak. Look out for us in 2022!
How did the upcoming Kill Your Idols/Rule Them All Split for Flatspot Records initially come together?
It was just another thing that came together pretty simply. One day, Richie [Amour] (guitar) texted the [Rule Them All] (RTA) chat and said, "shot in the dark here, but we should do a split with Kill Your Idols." We were sharing a practice room with their current drummer, Anthony Corallo, at the time, so in passing, we asked him. He presented the idea to the rest of them and they were, surprisingly, down!
We then told Ricky [Singh] over at Flatspot [Records] about the idea and he was, also, in. Kill Your Idols is a collective favorite for the band and, not only is it an honor to be added to their list of insane splits, but, also, to be a part of their first piece of new music in 16 years. LIHC!
You're a member of both The Fight & Rule Them All, correct? Have the bands ever thought about teaming up to record music together as... Fight Them All or even Rule the Fight?
Basically, yes. I'm a member of The Fight whenever Dillon [Perino] is away on tour. Since the Pandemic changed that for everyone, they haven't needed me to fill-in, but if the world opens up again, I'm sure I'll be back to that part-time punk life!
The band I mentioned [earlier], Dead Last, is basically the Fight Them All band. It's got Scanlon and Dylan [Tobia] of The Fight and Richie [Amour], Andy [Laurino] & I from RTA. The sound is, also, a pretty good mix of both our bands! Streets of Hate is putting out our demo at some point this year, but there is a promo [tape] out on their Bandcamp!
Speaking of which, what can you tell us about the recording and creation processes behind Dead Last's recently released EP, Where Do We Go from Here? on Streets of Hate?
It was pretty relaxed, honestly! We've been talking about doing a straight-up hardcore band for years and gave the band the code name "Chicken Foot." So, it was like, "when are we going to start writing for Chicken Foot?" That inevitably became a running joke until it happened. We had a few practices and wrote some songs, but there was, usually, sometime in-between those practices.
So, the next practice would be spent re-learning [songs and], then, writing some more. We, eventually, recorded the demo [EP] in our practice space with Anthony Corallo (Sheer Terror, Kill Your Idols) in, basically, a day.
I really love this project because it's gimmick-free and everything I like in a hardcore band! Not only that, but it is, literally, the Fight Them All [The Fight + Rule Them All] band. Not only do we share members, but the style of the band is a perfect combination of both bands' sound.
What else are you currently working on, prepping for release, or would like to mention that we have yet to cover here?
Currently, I'm just keeping busy in whatever way I can. The Cauldron of Burgers quarterly 'zine is a huge priority for me. You can subscribe to it and have it delivered to your door every three months over at Patreon.com/CauldronofBurgers.
On that note: I'm working at operating totally off of the Cauldron of Burgers website. That includes updating my store and the gallery and reinforcing that umbrella of independence I've been talking about through this entire thing.
Social media has only proven, over the last few years, that it doesn't give a shit about the small artist and it got very old feeling like the things that used to work, no longer do. It's, also, a humongous distraction and even with the amount of stuff I'm involved with, I can definitely afford to deviate away from that.
There were times last year that I felt I was grabbing from the reserves of my creative juices because I was handling so much business stuff on top of meeting personal deadlines. I have some projects in-the-works that free me up from all of that, which will, hopefully, lead to a much larger body of work. I hope you convert to "The Burger Head" way.
Check out CauldronofBurgers.com! Thanks for having me do this!
***
Help Support What No Echo Does via Patreon:
***
Tagged: dead last, jon gusman, pillars of ivory, restless spirit, rule them all, the fight