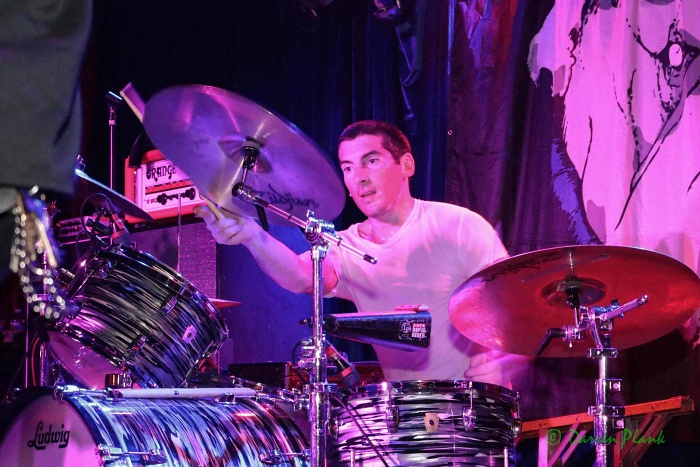 Anthony "Tone" Corallo is a drummer from Long Island NY. We've been friends since 2005 when we briefly played in the band Disnihil together. Most notably, he's been the drummer for Sheer Terror for the last 11 years.
Here are some of the other bands he's been in: Provoke the Human (he was 14 at the time), then Sick of Talk, Disnihil, The Commuion, Concrete Cross, Sleepwall, Polygon, SSSP, The Agent, Sheer Terror, Kill Your Idols, and Faithless.
Tone's also filled in for Deep Pockets for a show, Somerset Thrower for a couple shows, and Backtrack for 2 tours and a 4-show West Coast run.
In addition to being a sick drummer, Tone is also a recording engineer and runs a DIY label called Chronic Death Records. Tone and I always talk records and collecting in general so, here's his take.
How did you get into collecting records?
Once I got into punk and hardcore, it came naturally. There were so many releases that were vinyl only, and at the time, vinyl was super cheap compared to CDs as far as full-length albums went. My receiver I had at that time had a record player attached to it, wasn't very good sounding.. but that also helped with starting to buy records for sure.
What was the first record you bought with your own money?
First record I ever bought was the Leftover Crack Rock the 40 oz 7 inch, in August 2001, off eBay.. still have it, same eBay name as well.
What is your collecting philosophy? What do you collect and why?
I mainly collect punk/hardcore, metal, indie rock stuff, and rock in general. I think that's vague enough to cover mostly what I tend to get. If I enjoy it, I get it, whatever it is. I always collected CDs when I was really young, so I've always enjoyed actually owning the music from an early age before everything was easily downloaded.
My dad gave me my first CDs: Jimi Hendrix Experience's Are You Experienced? and the first Led Zeppelin album. I would keep them in an old briefcase he gave me, and that definitely started me collecting shit, and then shoving it all in the briefcase. I was probably about 5 or so. He always played music in the house.
We all have one record that we sold that we completely regret, what is yours?
I never really sell much of my stuff, to be honest. I regret not buying tons of stuff when it was all way cheaper at WFMU, the local Long Island record fair at Massapequa, or some shops. Vinyl dals are definitely harder to come by now, but I still find some.
You are the drummer of Sheer Terror and now Kill Your Idols (RIP Vinnie Value). How did being in bands that tour help shape your collecting? What were your favorite out of town shops to hit while on the road?
Being on tour and collecting is pretty fun. Ever since Will Tarant (Chainsaw Safety Records, Animal Crackers) drove Sick of Talk around on our first weekend in 2005, that probably started it off. He took us to Reptilian Records in Baltimore.
My favorite shop is Disk Union in Tokyo, and theres like 3 I would hit constantly if we had some down time or days off. I'd take the train and walk to each one.
I've gone to Japan 3 times. I have gone twice with Sheer Terror, and once with Backtrack. Every time I come back from Japan, I have a super-heavy backpack.
King Kong Records in Osaka was also cool, and I've been there a couple times. I also work as a stage manager—or whatever you might call it—for Glassjaw sometimes, so I'd Uber to record stores or walk to them.
I went to Extreme Noise in Minneapolis for the first time on the last tour Glassjaw did with Quicksand in 2018. I cant remember all I got, but I definitely got a GBH Sick Boy 7 inch. I found a sealed dead stock copy of Dinosaur Jr. Without a Sound on a Disnihil tour while we were in Columbus, OH in like 2007 or so. That might have been from Used Kids Records.
I got Motörhead Hammered at Twist & Shout Records in Colorado. There are some great spots in California. Vacation Vinyl was awesome, but they closed down. As the Record Turns, Headline, Amoeba.. it's endless.
Talk about your label, Chronic Death. Any new releases coming up? How does being a collector shape your approach to the label?
I co-released the Sheer Terror/Eyehategod split 7 inch back in November, and that really started it back up for me. Those went pretty quick, so I was able to get the Kill Your Idols 12 Inch LP going a couple weeks after I got the 7 inches.
It has the Kill Your Idols 12 inch EP on it, which hasn't been in print in over 20 years, plus 4 comp tracks, and 4 unreleased rehearsal tape tracks from 1996 that have their original drummer, Ron Grimaldi, on them. I'm hoping to post them for sale on or around March 5th.
I definitely approach the label as I would want it to be handled as a record buyer. I pack the records well, make a few colors, etc.
For the Kill Your Idols LP, its a small run, 350 total, 3 colors, 1 of which will be for Generation Records, and silk screened covers done by my friend, Rich Samis. I enjoy doing it again, so I'll attempt to continue it. I have a few ideas for the next couple of releases.
What do think about the values of rare punk and hardcore records skyrocketing? Do you think the bubble will burst?
As mainly a buyer, I'm definitely not thrilled about the prices, but it is what it is. I wish I bought more shit years ago for way cheaper. I'll continue to get what I can though. I dont think the bubble will burst because those records are becoming more and more scarce, so I think they'll continue to rise in value, sadly.
What's the most you ever shelled out for a record?

350 bucks for a second press Negative Approach 7 inch. It was worth it
Name a record or records you can't live without?
This is a difficult question, so I'll make it long winded, but small in comparison to everything out there:
Cows, Sexy Pee Story, Peacetika, and the Chow 7 inch
Hammerhead, Into the Vortex
Unsane, Scattered, Smothered & Covered
Circle Jerks, Group Sex
TSOL, Dance With Me
Helmet, Aftertaste
Power Trip, Nightmare Logic
Higher Power, 27 Miles Underwater
Government Warning, No Moderation (Brandon Ferrell still smokes everyone on drums, and the drums on Waste Em All are insane.. RIP)
Negative Approach, Tied Down and 7 inch,
XfilesX, NBC Mayhem
Think I Care, 7 inch on Dead Alive Records
Annihilation Time, II
Laughing Hyenas, You Can't Pray a Lie
Black Sabbath, Sabbath Bloody Sabbath
AC/DC, Highway to Hell
Hüsker Dü, Candy Apple Grey
Midnight, Satanic Royalty
Poison Idea, Feel the Darkness
Quicksand, Slip
Slayer, Reign in Blood
Motörhead, Overkill
Direct Contol, You're Controlled
Violent Minds, Violent Minds 7 inch
Agnostic Front, Victim in Pain
Killing Time, Brightside
Rocket From the Crypt, Hot Charity
Hot Snakes, Suicide Invoice and Automatic Midnight
The Night Marchers, Allez! Allez!
The Stooges, Fun House
Reagan Youth, Youth Anthems for the New Order
Lubricated Goat, Plays the Devil's Music
Bad Religion, Suffer
NOFX, So Long and Thanks for all the Shoes
Wipers, Is This Real? and Over the Edge
Celebrity Murders, Demo 2003
Kill Your Idols, No Gimmicks Needed
Somerset Thrower, Godspeed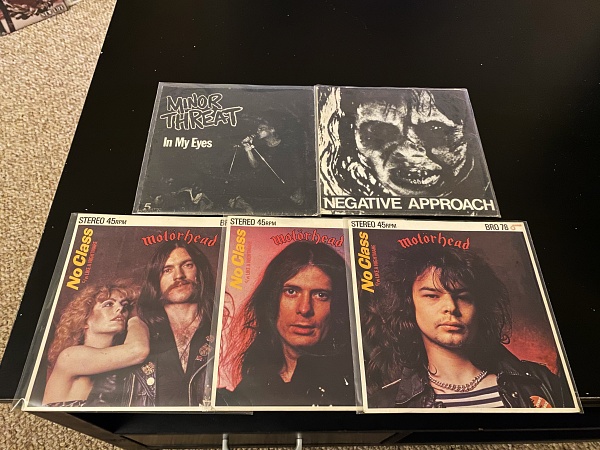 What are the top records on your current want list?
I'd love any of the OG presses of the Minor Threat Filler 7 inch, a first press Negative Approach Tied Down, Process of Elimination compilation, Wipers OG Over the Edge, and Youth of America, Die Kreuzen self-titled LP, Rocket From the Crypt Tattoo 7 inch, Septic Death split, any Fatal Erection pressing of Poison Idea's Pick Your King, and The Worst 7 inch and Expect the Worst.
I probably won't ever get many of these, but I do want them..
Is there anything that really bothers you about the collecting scene?
I'm still mad my friend Craig (aka Crog) grabbed the Get it Away LP I was about to buy for 10 dollars about 15 years ago or so. [Laughs] That still bothers me.
Some things that bother me about me are people buying tons of copies of stuff to flip, the taxes that you need to pay now on eBay/Discogs, and stores holding back the limited copies of stuff to sell later on eBay/Discogs. Anyway, it's all good, it is what it is.
What do you foresee for the future of vinyl and collecting?
I think it'll continue to grow, theres more stores popping up, and tons of people that do conventions, more plants opening, etc. It's definitely pretty cool, and I'm happy about all that. I'm psyched to hit some conventions soon. I've found so much cool stuff at conventions. There are people selling their whole collections at them, and you find sick stuff for a decent price like that.
Do you plan on growing old with your records or do you have an exit strategy?
I plan on keeping them for the long haul, but ya never know, I guess. I have zerp plans to get rid of everything. I'll leave them to someone in my will or some shit, or be cremated with them all [laughs].

What's a record or genre in your collection that might surprise the readers?
I would say, Don Bikoff's Celestial Explosion, an all-acoustic instrumental record from 1968. It was reissued by Tompkins Square Records in 2013. I probably got it around then. Someone from Infinity Records was playing it at the store and I really dug it.
In fact, Im gonna hit a weed pen and put that shit on later.
***
Follow Anthony on Instagram, and hit up Chronic Death Records to see what he's got up for sale (including cool boot shirts).
***
No Echo has launched a Patreon with 3 tiers offering all kinds of hardcore-related goodies to help support the site:
***
Tagged: record collector, sheer terror