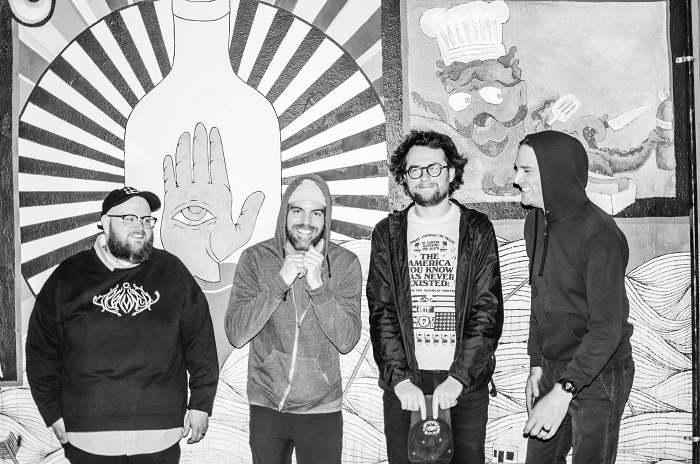 Meet Serrate, a band based out of Asheville, North Carolina. As far as their style goes, the quartet mine influence from the sonic worlds of skramz/screamo and hardcore, resulting in a sound that blends viciousness with melody.
Serrate features musicians from such bands as Old Flings, Harsh Realm, and Just Die!, and they are gearing up to release their demo. Bitter Melody Records (Divine Sentence, Indecision) is championing the band and is offering the demo in a limited edition cassette.
Today, No Echo not only has the exclusive premiere of their demo, but we also chatted with vocalist Brandon Gaddis and guitarist Matt Evans to get the skinny on their group.
How did Serrate come together? Did you all know one another from previous bands or other connections?
Matt Evans (guitar): The band came to fruition around mid-2022. I had an inside source that a City of Caterpillar show was happening at a local venue in Asheville and saw that as an opportunity to start a new band that would fit on the bill. I had some riff ideas that had been floating around in my head for quite a while so I just needed to find some friends to help me flesh out the ideas. Those friends ended up being Brandon Gaddis, Dave Reinhardt, and Thomas Mims.
Dave is one of my longest/best friends. We played together in a punk-hardcore band from Asheville called Just Die!, which released a few records and did a bit of touring back in the day. Dave played with Brandon in a band called Asherah, and Thomas played bass in a short-lived band with me and Dave called Empty Ritual.
Thomas was also in a really good band called Weak Wrists (and a current awesome band called Harsh Realm) that our other bands would play with in the past. The band coming together felt equally natural and exciting. Everyone seemed to be on the same page at the start of the band, in terms of what we wanted to accomplish, musically.
Since some of you have played together in previous bands in different styles, how did you all come to form a screamo band in 2022?
Matt: At the time of forming, we knew which bands we were hoping to emulate. Many of those bands would fall somewhere in the spectrum of "screamo." Brandon's vocal delivery helps us keep our roots in some form of the genre.
As a guitarist, I don't like to be limited to any certain course of acceptable or standard riffs. I've always been a fan of interesting tunings and time signatures which, for me, are often found in the genre—even if not openly blatant in this collection of songs on our demo.

Thomas and Dave have a wide variety of experiences and influences that translate well to "screamo."
Some influences are obvious when listening to this demo like Majority Rule, but what were some of your other influences on the new band and this demo?
Matt: When we started, we wanted to write music that would fit in the Ebullition discography. When writing the original riffs, I was listening to a lot of bands that I've listened to since my late teens/early twenties.
Bands that were constantly being cycled when we started writing Serrate songs were Moss Icon, Orchid/Ampere, Zao, Deadguy, Coalesce, and of course Majority Rule (as well as the rest of that scene). We are also inspired by Twin Peaks, which is present in our live show if you get a chance to check it out.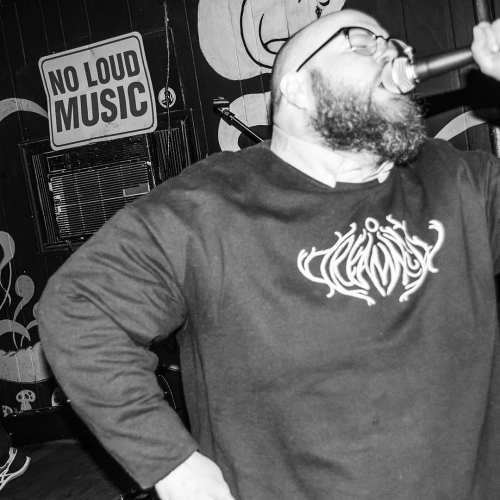 What themes are you exploring in the lyrics of this band?
Brandon Gaddis (vocals): Lyrically, all these songs are based on a series of very traumatic events that happened in my life. This was me taking a look back at my mental health over the past decade. Searching for a sense of purpose, questioning relationships, and ultimately a conversation with my Mom after a failed attempt at taking my own life. These songs were my way of healing.
How is the scene in Asheville now? How has it changed in the last few years?
Matt: Asheville is located in the mountains of North Carolina and is home to a couple of liberal arts colleges which results in a constant influx of new folks with new ideas and bands. Asheville is also marketed very heavily by a local tourism board which results in constant growth, for better or worse. I mention both the colleges and the marketing because they both contribute to this large melting pot of musical output.
On the one hand, there is a crop of punk, metal, and indie-influence bands, and on the other is a stable of confident jam, rock, and funk bands.
When I first moved here in 2005, the scene was heavily dominated by punk and punk-influenced metal bands. Most of those folks have moved on. The scene is usually made up of transient-minded folks, so band members are coming and going. We have quite a few venues, which helps and we have some really great members in the community that keep the train rolling.
Any other bands from Asheville that people should be checking out?
Matt: Absolutely. There are a ton of excellent bands in the scene. Some bands that I like that folks should be willing to check out: DShK (d-beat), Busy Weather (gritty pop-punk), Harsh Realm (blistering death metal), Oblivion Throne (ripping speed thrash), Cave Grave (just dropped a tape), Corpse Dust (self-proclaimed "music to gouge your eyes out to"), Secret Shame (excellent post-punk/indie), Jon Charles Dwyer (for all the sad folks out there), Kerosene Heights (very catchy emo), and Bask (riffy rock-metal in the vein of Baroness).
There are so many bands to mention, and I already hate myself for not including them all.
Tell us about the material on the demo, and the recording process.
Matt: We wrote this collection of songs over the course of the first near-year of being a band together. To us, it infuses a myriad of influences (as mentioned above) which at times sounds like crust, punk, screamo, and metal.
To completely listen to the demo, you only have to devote 9 minutes of your life, from start to finish. The songs were tracked in March, at our friend Alex Altgilber's home studio, then mixed and mastered by our friend Alex Farrar at his studio, Drop of Sun.
We are extremely stoked about how the demo landed, sonically. Our friend Grant [McCracken] offered to release the demo on cassette through his label, Bitter Melody Records—a label which we have all worked together with in the past through various bands.
Besides this first demo dropping what's next for Serrate in terms of new music, tours, etc?
Matt: Once the demo drops, we are hoping to play more shows locally and regionally, around North Carolina, South Carolina, Tennessee, and Georgia. We are constantly writing new music. We are all fans of music, particularly the type of music we play, so we hope to be able to indulge in any opportunity that comes in our way.
If you would like to stay in touch with the band or connect with the band about any topic or for booking, we can be contacted via email at [email protected] or on Instagram at @serrate.nc.
***
The Serrate demo is available on a limited edition run of 100 clear cassettes with white imprint directly from Bitter Melody Records.
Tagged: serrate