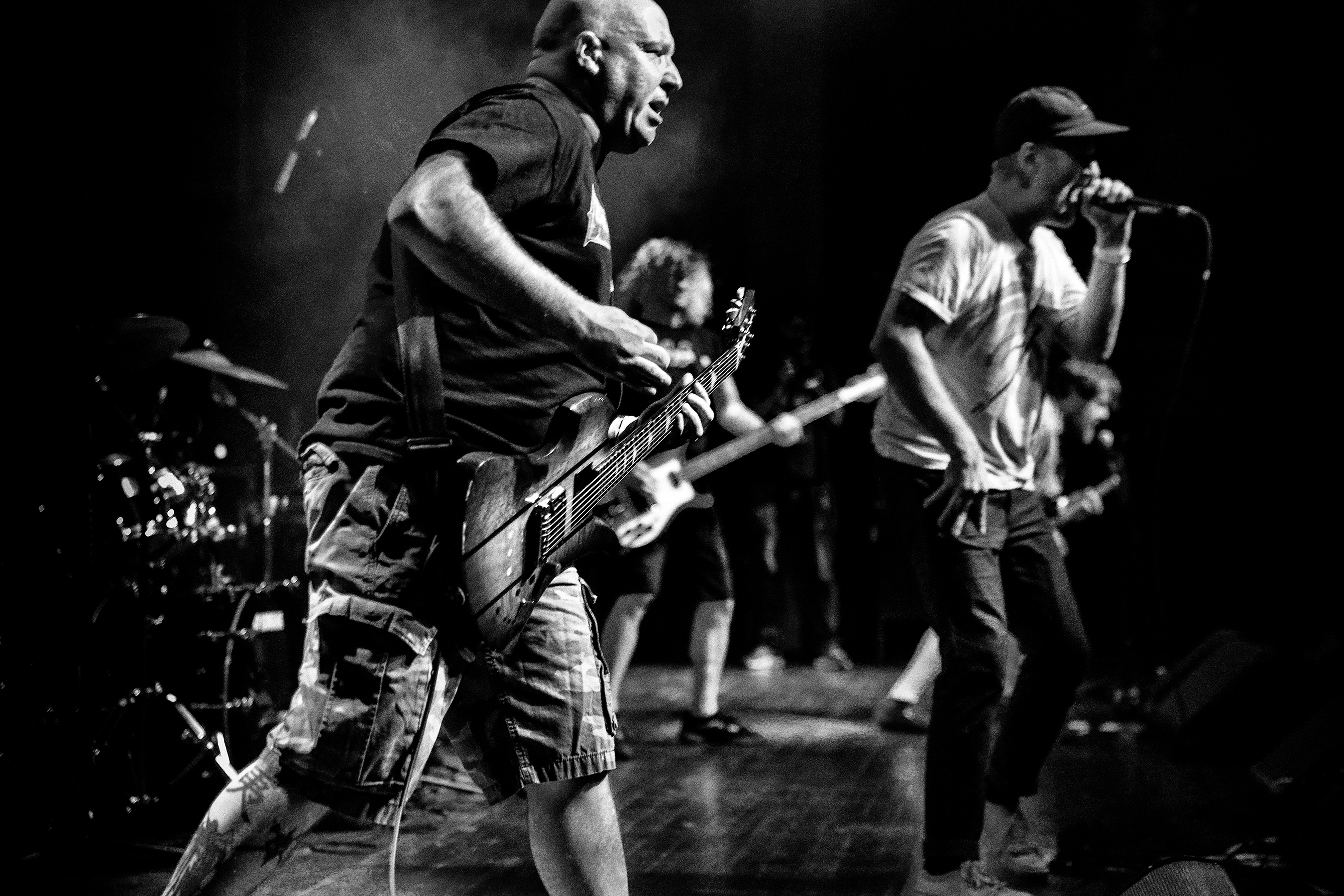 There's been a lot to be excited about recently for fans of Deadguy. Firstly, the influential '90s band reunited for both the East and West Coast editions of the Decibel Metal & Beer Fest at the end of 2021 (see photos here + here).
Now, the group has partnered with longtime friend Tom Bejgrowicz of Man Alive Creative (Scream With Me: The Enduring Legacy of the Misfits) on the release of a 7-inch release of a previously unreleased Deadguy track called "Body Parts" recorded with Steve Evetts (Sepultura, Human Remains) during the 1994 sessions for their White Meat EP.
In addition to the limited edition vinyl, Man Alive Creative is releasing Deadguy Reunion Service Manual, a 28-page zine, designed, signed, and numbered by Bejgrowicz, featuring all-access photography of the Deadguy's first-ever reunion show day in September 2021.
I spoke with Bejgrowicz, along with Deadguy singer Tim Singer (he's also a talented graphic artist, but more on that later) and drummer Dave Rosenberg about the two new projects, revisiting their early material, and the band's influence on the heavy music scene throughout the years.
Tom, since one of the two Deadguy songs featured on this 7-inch most people have never heard is "Body Parts," how did the band react when you said that you wanted to release it all these years later?
Tom Bejgrowicz (Man Alive Creative): They reacted by asking me if they could hear it! Both Tim and Dave were shocked that anyone had an alternate version of "Die With Your Mask On," let alone that I had the unreleased song. I sent them the tracks, of course, but also made it very clear that I wanted to release it with them. I felt like a gatekeeper for those two songs, you know, and they were totally open to that idea from the get-go.
Dave Rosenberg (Deadguy): We knew that we had recorded another song but none of us had a copy. I had given one to Tom B way back in the day and thanks to his collector-insanity he found it—along with that initial recording of "Die With Your Mask On," which I had entirely forgotten about.
Tim Singer (Deadguy): To be honest, I forgot that "Body Parts" existed until Tom shared it with me. My recollection is that we were writing a ton songs and practiced quite a bit, and that was one of many tunes we wrote in a tight window of time.

Tom: Going through my emails from April 2020, Dave wrote: "Tim said you had an alternate version of "Die…" and that other song (name long forgotten) that I don't think I have anymore." After I confirmed for him what I had, he said, "Goddamit! I knew we had another song! Me and Crispy thought it might be our collective imagination."
And while that may seem funny or odd to some people, their not remembering the song made total sense to me because it was recorded 24 years ago, was never released, life moved on and what musicians sit around listening to their own band?
Looking back, Dave and I lost touch at some point but we hung out quite a bit in the '90s—culminating with the band contributing their version of "Horror Business" to my Violent World: A Tribute to the Misfits record in 1997.
At some point Dave gave me a straight-from-the-studio cassette of the "ruff mixes" that included all five songs they tracked during the sessions for what yielded their debut, the 3-song White Meat 7-inch in 1994. I've had "Body Parts" and the nuances of this early version of "Die With Your Mask On" memorized for a quarter century so when the chance to pitch all of this to the guys came about, I was all over it.
Everything had to be ultra-limited and totally fun. This release is totally unexpected and will catch a lot of folks off-guard. I love that.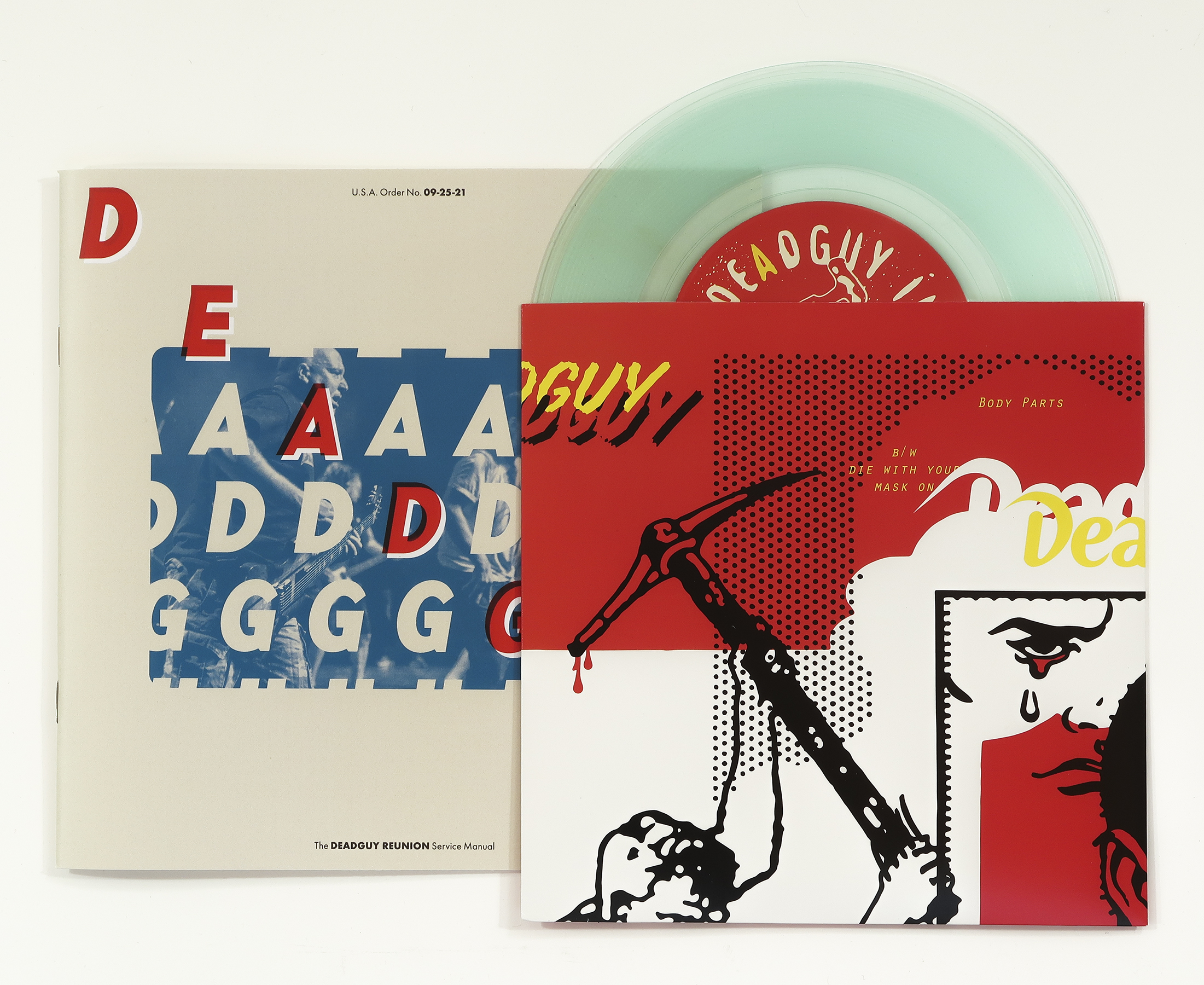 The obvious question here would be why didn't Deadguy end up using "Body Parts" back when you originally recorded it? Also, how did it feel listening to it all these years later?
Dave: "Body Parts" was one of the early songs we wrote and we weren't really sure that we were going in that direction musically so we decided to leave it off and come back to it later, which we never did. In a somewhat bizarre twist, I was taking a summer "Advanced Jazz Appreciation" class when we recorded the first 7-inch and I took the songs into school and had the whole class analyze them as there weren't any obvious contemporary parallels.
That Rutgers class likely has no clue that they participated in this madness all those years ago. I can honestly say that no one liked it but they thought the song structures were interesting and a bit out there/avant-garde in relation to other heavy music. "The Extremist" and "John Dear" were the overall most formed "songs" and "Druid" was so nutty that no one knew what to think.
"Body Parts" definitely shows the path taken from the very early, pure noise to being able to write a song—which is interesting as I listen to it now. I'm pretty sure we forcibly used the DOD "GRUNGE" pedal on the bass, much to the chagrin of our producer, Steve Evetts.
Tim: As a design nerd, I was digging Barbara Kruger at the time ("I shop therefore I am") and I wanted to sort of give her some props as she was a big influence on me in terms of my approach to design and even lyrics.
Her aesthetic is married to language and personal politics in a way I find very punk. I believe Crispy felt the same way and we may have even discussed it back in the day.
The cover art for the new 7-inch is classic "Tim Singer" in its feel. What can you tell me about the process and how he approached the project?
Tom: Tim was going through all of the old t-shirt artwork to prepare some fun stuff for the reunion shows and he came across some great stuff that he leaned on. This is older material so teaming up imagery from back then with the music was an appropriate combination. It was important for me to involve him because his design style is so identifiable and it set the tone for Deadguy's entire look and feel to this date.
Taking it a step further, once I saw Tim's design and layout, I chose color vinyl variants that would team nicely with it. The translucent Seaglass that's bundled exclusively with the photography zine is a beautiful complement to the single's bold red and yellow. The translucent Yellow edition is a lock to match the packaging directly. Straight and true.
Tell me a bit about the zine and how that came together. Since you're a designer/photographer, I imagine putting these two projects together has been a great joy?
Tom: Designing an album, book or zine featuring my own photography is about the best it can get for me creatively speaking. For the zine, the last thing I wanted to do was to emulate Tim's style so I made it my own with a nod to Tim's love of Emigre, a legendary type foundry from the 1990s. I used two Emigre typefaces in the layout that only type nerds like he and I would pick up on. And yes, he picked up on it immediately.
The limited edition photography zine concept was on the table from the very beginning because our discussions involved their reunion shows. Naturally, with this being April 2020, the shows—and their timetable with COVID in play–were a big question mark. We waited all of that out and I was able to spend all day with the band from soundcheck and backstage through the end of their first-ever reunion set that night in Philadelphia.
I love that the zine comes with music from their first recording sessions and brings it all home 28 years later. Something old, something new—all in one.
And, if I'm being honest about the show, I had to stop myself a few times from taking photographs during their set for one reason and one reason only; to revel in the sonic pummeling they were delivering. The guys rehearsed a lot prior to the reunion and I was losing my shit several times over during the set. I may be well into in my third decade of working in the music industry but I'm a fan first and foremost.
Were you guys aware of the impact Deadguy had on people back during the original run? Or did that hit you much later? From my perspective, as a fan of the band and active participant of the hardcore/punk scene throughout the years, the impact was certainly felt.
Dave: There were certainly many, many bands that ripped us off… I mean, took influence from us! The reality is that we had no real idea on the level of impact and it's quite weird and humbling that anyone liked anything that we did. It's not like the goal was to create bad music but there's no question that it's an acquired taste. In many ways we were lucky that when we played together that's what came out—it could have been a whole different band!
There are so many great bands that no one ever hears of so it's always surprising when we get this level of appreciation. I'm certainly glad that we helped to define a genre—too bad it wasn't one that brought great wealth and fame.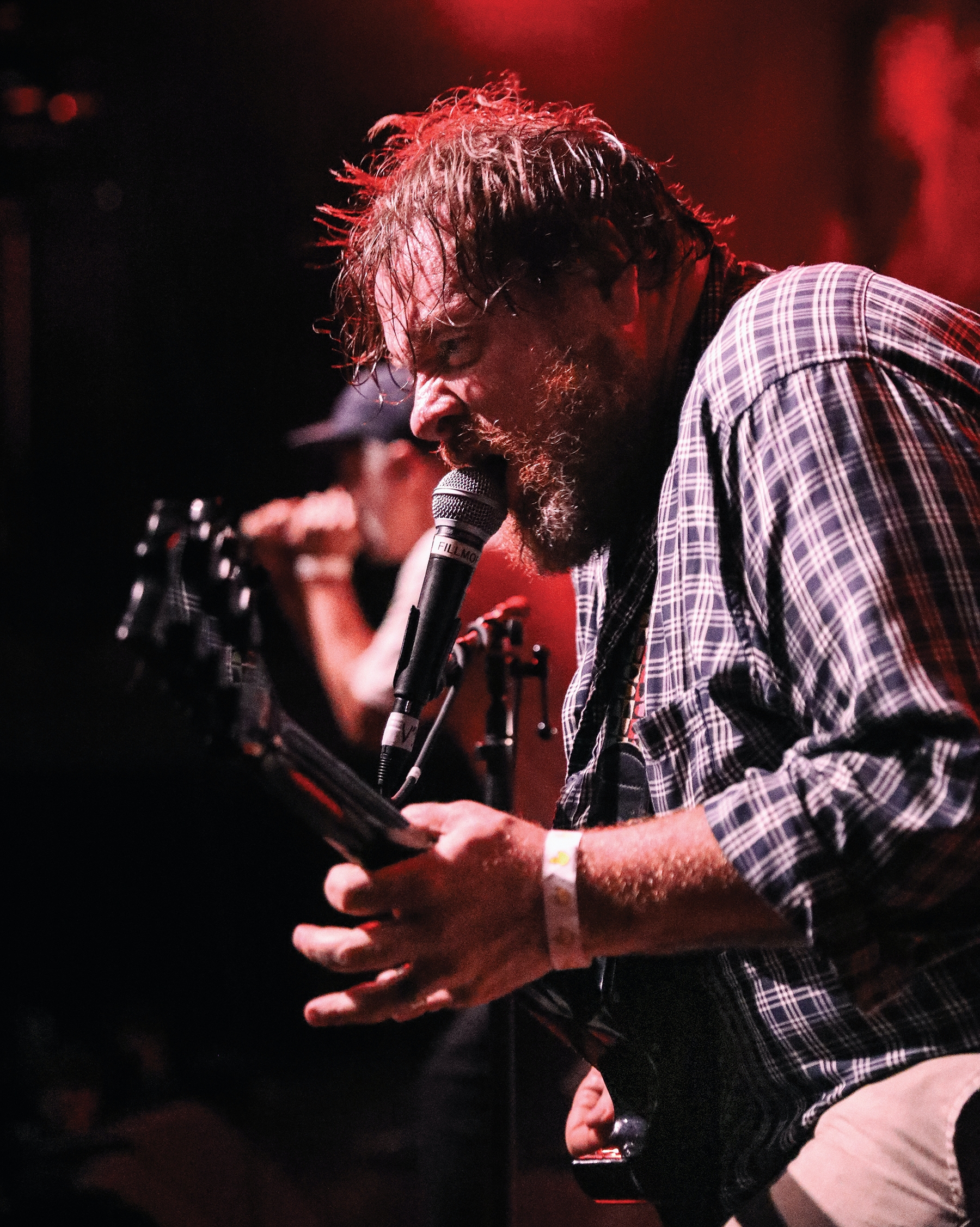 Tim: It hit me much, much later. It may have been Decibel that brought it to my attention more than 10 years after Fixation on a Co-Worker came out when they interviewed us for their Hall of Fame thing. And people have a habit of sending me pics of "famous" people wearing Deadguy shirts. But if you think about it, we existed for a short period of time and we all kept busy making new music so I don't think we were in a place where we would necessarily reminisce.
That said, we knew we were different than a lot of the schlock that was out there at the time. And in our own sarcastic, wise-ass way, we knew we were better than everyone and wanted to crush all bands. We felt like we delivered live for the most part and left our mark. But we also knew we weren't selling out arenas—but we did sell a ton of shirts!
Dave: I definitely credit Albert Mudrian and the dudes at Decibel for letting us know that we had such an impact and bringing it to light. When you're young it's so hard to tell in the moment that something is meaningful—not just to you but to anyone else. And we were all a little bitter—we knew we had something but we just couldn't get it to the level we wanted to.
A big part of why we started playing again is because we feel like there is unfinished business. We always had more in us and now we have the motivation and understanding of each other to go do it.
***
Head to Man Alive Creative to pick up copies of the Body Parts 7-inch and Deadguy Reunion Service Manual zine.
***
Help Support What No Echo Does via Patreon:
***
Tagged: deadguy