For as long as I can remember, punk, hardcore, and metal music have been part of regular listening habits. With that in mind, it's easy to get in a rhythm of listening exclusively to what is already familiar.
While I have experienced weeks like this in the past, it's discovering a band like Si Dios Quiere that reminds me why you keep your eyes and ears open at all times. From the announcement of their first EP, A Hell Like No Other, I was curious before I'd heard any music, and the curiosity paid off immediately when I listened to the band for the first time.
As 2022 gets rolling, Si Dios Quiere is coming out in full force with an EP that can't be missed and is a definite highlight for the new year.
Sol y Guerra or "Sun and War" is the title of their latest release through New Morality Zine, and you'll hear it here first. As the band shared with me, their influences broadened a bit on these four new songs and have led to the band sounding incredibly tight and energetic.
I could see them easily getting a packed room at festivals like FYA, Sound and Fury, or Break Free festival into a complete frenzy with songs like "Desperate Measures" and "When the Laughter Dies."
With no time for ambiguity, Si Dios Quiere is a band that gets to the point of taking on real-life topics like the effects of gentrification and gang violence. Check out a few questions I asked Christian and Ruben of Si Dios Quiere.
While it was talked about a bit in an interview by Attempted Composure, I wanted to ask about the lyrics; is there one member of the band who tends to bring in lyrics, or is it more of a collaborative process?
Christian: It's collaborative for sure. Usually, both of us have ideas in our heads. Once the music is done, we start adding lyrics over it or coming up with vocal melodies to see what fits.
Sol y Guerra clearly builds off your first EP, A Hell Like No Other, while also expanding the sound of the band as a whole. Were there any musical influences or life experiences that surprised you guys while working on these songs?
Christian: This time around, we incorporated a lot more influences from genres like thrash and death metal. Stuff like Death, Slayer, At the Gates. Personally speaking, I come from a metal background, so it was great to revisit some of the technicality and songwriting styles that come with that.
Ruben: We got more personal with our lyrics and use a lot of our life experiences. On "When the Laughter Dies," I wrote about the death a friend who died in my neighborhood of Little Village. "Sin Justicia" was inspired by the struggles that immigrants face here.
Christian: "Desperate Measures" reflects the lifestyle of being in a gang, and how that can trap you. Like Ruben said, it's stuff that happens to us or to people in our community.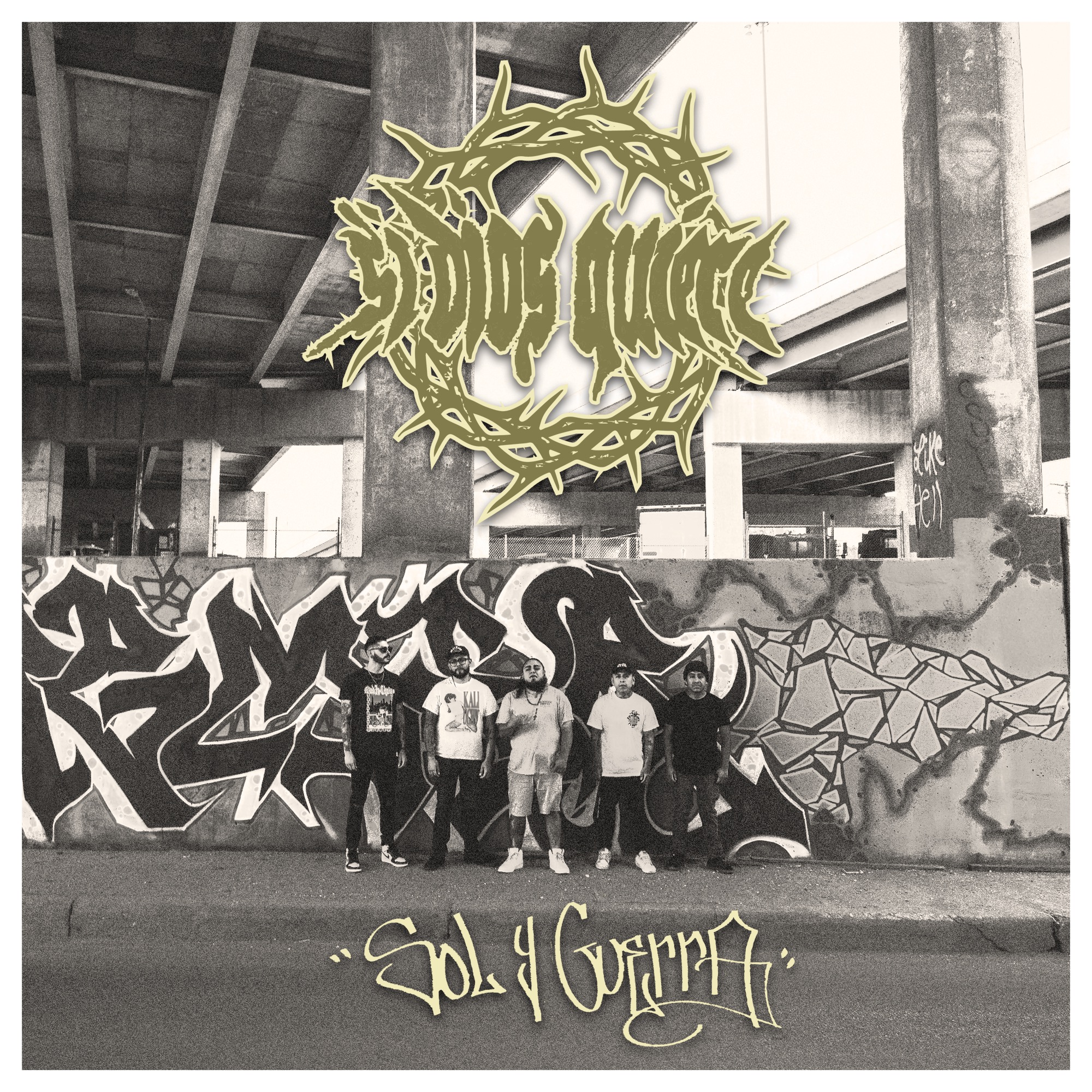 Are there any bands, local to Chicago or otherwise, that you all want to shout out?
Ruben: Face First from Boston. Locally my favorites would be Snuffed and La Armada. There's a lot more but my list would go on forever.
Christian: Those are my Chicago favorites too. Outside of Chicago I'd say check out Enervate, Ozone, Spaced, and Yokai. All sickening bands for sure.
It's kind of a corny question, but I'm always curious; if you could put together a 4-band tour lineup with Si Dios Quiere on it, who else would be on it?
Ruben: Oof... For me it would be Suicidal Tendencies, Agnostic Front, and Sepultura. And yes I'm talking about modern Sepultura [laughs].
Christian: Xibalba, Crudos, and Rotting Out. The Brown and Down tour.
***
Sol Y Guerra will be released both on cassette and digitally tomorrow, January 21st, via New Morality Zine.
aa
Tagged: si dios quiere