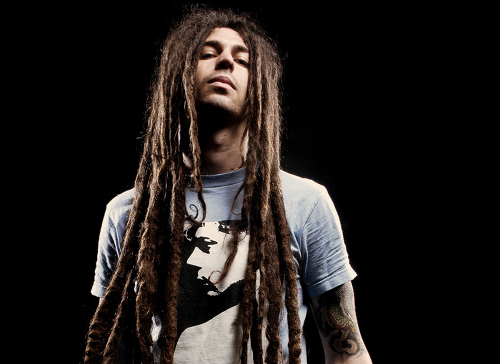 Brian Fair has been a key player in the metalcore and heavy metal movements since the early '90s. He began his journey as a musician fronting Overcast, releasing two studio albums and a fistful of EPs before the New England-based band broke up in 1998. Not losing a single step, Fair then joined Shadows Fall, a then rising metal outfit who had already released one album by the time he joined their ranks.
2000 saw Shadows Fall issue Of One Blood, the group's first album featuring Fair in the vocal booth. The metal community embraced the change, making the album a big success. Century Media (the band's label in the US) knew they had something good, giving the act their full support. Their next two albums on Century Media sold in the hundreds of thousands, eventually leading to major label interest. After releasing their fifth album, Threads of Life, on Atlantic Records, Shadows Fall went the indie label route for their two most recent efforts: 2009's Retribution and 2012's Fire from the Sky.
In 2011, Fair joined forces with current and former members of Overcast, Killswitch Engage, and Cannae to form Death Ray Vision, a metallic hardcore band that has so far released one studio album in We Ain't Leavin' Till You're Bleedin'. Bullet Tooth just released an Overcast discography called Only Death is Smiling and it hit the #65 spot on the Billboard Heatseekers chart, proving that demand for the band's music is as strong as ever.
Currently off the road, spending time with his family, Fair agreed to chat with me about his career so far, and his future plans.
We were both born in 1975, and from everything I've read about you in the past, you've always been very musically open-minded like I have been. I wonder if that has anything to do with the era we grew up in.
You know, I have never really thought about it, but, now that I do, I realize that a lot of the people I grew up with in that timeframe have crazy eclectic musical tastes. Maybe some of it was that MTV began when we were really young, exposing us to a variety of music all at once. Some of it might have to do with the fact that you had to search out new music on your own or had to rely on the music your friends or family were listening to, which is probably also why we were exposed to a wide variety of styles. These days, if you are into a certain style of music you can go on any streaming site and listen to a million of those types of bands. I feel a research paper in our future [laughs].
When did you first start listening to heavy metal and hardcore?
I got into traditional heavy metal very early. My neighbor got me into KISS when I was probably five and gave me all of his vinyl. The first cassette I bought with my own money was Ozzy's Blizzard of Ozz when I was around 6. I also bought Men at Work's Business as Usual album that day, which goes back to the variety of music question you just asked. I then got into punk and hardcore through Thrasher magazine as a little skate rat in the mid '80s. My mom was super stoked to see Suicidal Tendencies and the Sex Pistols next to my Men at Work tapes. I started going to all ages shows in Boston when I was about 14, and it was all downhill from there.
SEE ALSO: 2014 interview with Kyle Bishop (Grade, Acrid, The Black Maria, The Swarm).
Did you play in any bands before Overcast?
The first band I played in that actually played shows was called Frenzy, which started when I was probably 12 or 13. We sounded like a bad mix of Skid Row and the Sex Pistols that did occasional W.A.S.P. covers.
Did you find any resistance from your family once you started growing your hair out, playing in bands?
My parents were both teachers, so as long as I kept up my grades they supported anything I did. My dad drove us to some early Overcast shows because [bassist] Mike D'Antonio was the only one old enough to have his license when we first started. They still want me to cut my hair, though.
Even though you were still teens, did you guys have a clear vision of what you wanted to do stylistically in those early days?
We had no idea what we wanted to do when Overcast first formed, besides playing shows and sounding like Leeway and the Cro-Mags. Things did progress quickly once we started working on more original-sounding material and letting all of our influences seep into the music.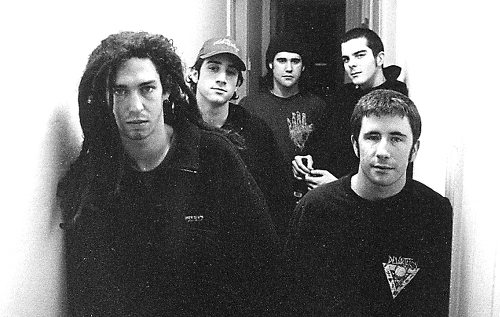 1994 saw the release of Overcast's first album, Expectational Dilution. Many folks point to that record as one the most important releases in the evolution of metalcore. What's your take on that?
I am real proud that people look back at the music Overcast made and think it helped to shape some of the musical landscape in the heavy music world. We were definitely a band that was mixing metal and hardcore at a time when not a lot of bands were doing it, and at a time when some people were very opposed to the idea. For us, it was only natural. Our guitar player, Pete Cortese, was a total metalhead into thrash and death metal with little knowledge of hardcore at the time. Mike and I were total hardcore kids but also loved Slayer and Morbid Angel. All of those ideas and influences show up in that record. You can also hear the youthful energy and low budget that gives it a more "hardcore" feel.
Overcast worked really hard throughout the '90s. Did you notice a large growth from one year to next, in terms of the turnouts for the shows as you toured?
Not at all! If anything, after our first full US tour we realized that most of the country had no idea who we were! Local shows had been good for years, but overall, Overcast got a lot more attention in a historical sense. The scene then was really small and all based on word of mouth, so we were just happy to have the opportunity to release records and play shows. Those were our only goals. The idea of being a successful band was nonexistent at that time.
Now that you've had many years to think about the situation, why do you think Overcast broke up in 1998?
We broke up after that US tour with Shai Hulud and Disembodied because we all realized how much debt we were all in from trying to go on tour! Honestly, at that time, some of the guys were just burnt out on this style of music and from struggling to break even playing shows.
The next chapter of your musical career saw you replacing Philip Labonte in Shadows Fall in 1999. I know you already knew the guys in the group by then, but were you reluctant to enter the situation since you weren't there since the formation of the band?
I was a bit nervous about stepping into a band that had already written material with another singer, especially since I knew my voice and lyrical approach were very different from what they had been doing. What made it easy was that I loved the music and was already really good friends with all the guys. When I went to jam for the first time and they played me "new" songs like "Serenity" and "First Noble Truth," I was blown away and knew we could make some sick music together.
Your first album fronting Shadows Fall, 2000's Of One Blood, was so well received that I know some folks consider it to be the band's true debut full-length.
I didn't really think about it too much, to be honest. I just wanted to put my own spin on the material from before I joined the band and showcase the new direction we were heading in with the new material. Again, at that time we weren't looking at this as a record that would be a "success." We just wanted to create a metal album that didn't sound like anything else out there.
The next album, 2002's The Art of Balance, sold over 100,000 copies. That's like going platinum in underground metal circles! At that point, did you guys realize you might able to make out a living at this?
I think that we did start to realize that this could be a full-time job if we played things right. At that time, we were barely making ends meet financially, but we realized that if we stayed on the road nonstop we could actually survive. It wasn't easy, though. When we were on tours like Ozzfest, we weren't getting paid at all, so if we didn't sell t-shirts and CDs we didn't have money to send home for rent. It was a struggle, but we were having more fun than we had ever had, playing huge shows and getting to tour the world. I have never been more broke in my life, but at least I was a full-time musician!
We were all blown away by the success of The Art of Balance.
When we were recording The Art of Balance, we believed that we had made an album that would appeal to a huge variety of metal fans and felt that if we had the opportunity to get in front of more mainstream audiences we could push things a lot further. We just didn't know if we would have the opportunities. Once MTV picked up the "Thoughts Without Words" video and Century Media stepped up financially to buy us onto Ozzfest, we had those opportunities and tried to make the most of them. Our philosophy was allow us on the stage and we will prove that we belong, and the success of the record and our live shows was proof that we were right. It was great timing as well. Nu-metal had opened up a lot of music fans to heavier stuff, and then they heard a band like us that was pushing it further heaviness- and technicality-wise, but still had melody and hooks, so we swept them up in the "New Wave of American Heavy Metal."
2004's The War Within sold even better than its predecessor. Your label, Century Media, was obviously doing a great job marketing your albums. Why did you decide to move on and sign with Atlantic Records for the next record?
It was a difficult decision at the time, but our relationship with Century Media had changed greatly by that point. First off, the turnover of the staff had been crazy. The A&R guy that signed us was gone, our original product manager was gone, etc.; so a lot of the personal relationships we had with people at the label were no longer there. Also, we had always had a very strange relationship with the European office of Century Media. We had been signed by the American office and for some reason that had caused some inter-office tension between the two and it made things difficult for us as a band. The European office had final say on budgets and expenses, and a lot of potential opportunities were lost because of them denying us the money needed.
Another point of contention revolved around our appearance on Ozzfest 2003. At the time, bands on the second stage had to pay around $70,000 to be on the tour. It was a pay-to-play scenario for all the bands besides the ones headlining the second stage, or on the main stage. Instead of just paying the fee as tour support, Century Media made us sign for an additional EP of originals [Fallout from the War] and a DVD [The Art of Touring] to get us on the tour. That tour blew us up and sold tons of copies of the album for Century Media. We had some really cool ideas for the EP and DVD, but the label wanted to do it as cheaply as possible, so we always felt that the finished product wasn't up to the standards we had hoped they would be, and they dropped the EP at a time that made us delay the release of Threads of Life by almost a year.
There were a lot of business things that never seemed to make sense. We recorded both The Art of Balance and The War Within for super low budgets and both records were very successful, especially for a label like Century Media, but we have never received any royalties from record sales, ever. Atlantic came to us with an unbelievable, band-friendly deal that really made the most sense at the time, so we took a big chance and jumped to the majors.
Your debut for Atlantic Records, 2007's Threads of Life, was produced by Nick Raskulinecz, a guy some people would know from his work with the Foo Fighters and Rush. He's also produced such metal acts as Death Angel and Trivium.
Nick is a great guy and a killer producer. He is a total metalhead, so he was excited to work with us and make a metal album. We also knew we would be working with him at Dave Grohl's studio, which was just an incredible place, so that made the decision even easier.
SEE ALSO: Best Post-Desperate Measures Leeway Songs
I threw on Threads of Life earlier today while I prepped my questions for this interview. I think it might feature the most thrash-rooted material in your entire discography.
I totally agree! Songs like "Failure of the Devout" and "Dread Uprising" are some of our thrashiest tunes ever. It's funny because people always refer to that album as our commercial-sounding album, but besides the ballad, it was just as heavy as anything we have ever recorded. I think people saw that it was on a major label and that we were getting Grammy nominations and stuff and just assumed we had mellowed out [laughs].
What ended up happening with the band's deal with Atlantic Records? Do you look back at the experience as a positive one?
Our time with Atlantic was very strange. At first, it was amazing. They gave us total freedom to make the album we wanted with no interference, and gave us amazing budgets compared to the ones we were used to. It seemed like everything was headed in the right direction. Before the release of the record, the entire company went through a dramatic shift. The A&R guy that signed us was let go, and then they replaced the president of the label, who had been our biggest supporter at the label. All the major labels at the time were sort of collapsing due to the shifts in the music industry, so people were getting laid off left and right.
So, the record drops and we have no support system at the label, and no one really guiding the release. Big labels like that usually fix any problem by just throwing money at it, which they tried, but never spending it with our input or in the right ways. So, to make a long story short, in our deal, which included a ton of up-front money we had already received, we were signed for two albums. After seeing their lack of interest and the crazy turmoil the company was in, we approached them about buying us out instead of spending tons of money to put out a record they don't care about. And they did! We actually got paid a bunch to not make a record, then turned around and worked out an imprint deal with Universal, which owned Atlantic. So, basically, they paid us twice to make Retribution!
SEE ALSO: Best Thrash Ballads
After releasing Retribution (2009) on your own label, you worked out a deal with Razor & Tie for 2012's Fire from the Sky album. I think that album deserved a bit more attention that it received.
Our experience with Razor & Tie was pretty strange. They seemed very excited about the record and made us feel very at home. Then, once things got rolling, we just didn't hear from them much. I think Fire from the Sky is some of our best work, so it was pretty disappointing that it didn't get the push we feel it deserved, but it is what it is.
Shadows Fall did a summer tour in 2014 where you played some smaller rooms than you usually hit. What was that experience like? I know you played some deeper cuts on that trek.
It's funny because it was never meant to be a full-on tour. We had the idea to play a few small shows in the New England area with only local support. We hadn't played out in a little while and wanted to get back onstage and play some headlining shows where we could play some deep cuts and do sort of a career retrospective set. I think it was originally supposed to be about three or four shows. Once other promoters heard about the idea, they contacted us and it just began to grow. It was a super cool experience. We booked it without booking agents, without a tour package, and it was a great success. We got to play a lot of towns that don't normally get national touring acts, and got to check out the local scene in those areas. It felt good to get back to the D.I.Y. style that we had at the beginning of the band.
What's the status of the band now? Your lead guitarist, Jon Donais, is also a member of Anthrax right now, and I know they have an album coming out later this year.
That's a good question! We are kind of in a strange limbo right now. A lot of things happened in our lives at the same time, which made the band take a backseat for the first time in 15 years. Both Paul [Romanko] and I had kids, which completely changed our focus. To me, my wife and daughter are the most important things in my life, and the idea of being away from them for a majority of the year was just too difficult, and the music industry isn't the most stable career financially when trying to support a family. Jon had an unbelievable opportunity to join one of his favorite bands and had to jump at it. It was just time to focus on our personal lives. Shadows Fall had dominated everything we did for over 15 years and it was time for a change. I have no idea what the future will hold, but I know we will play some shows and hopefully make more music in the future.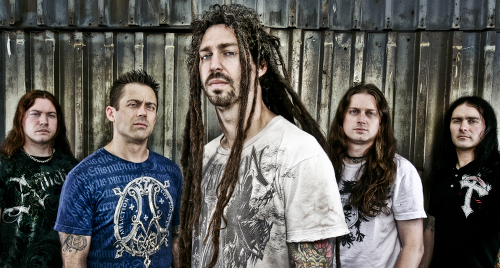 Overcast first reunited back in 2006 and recorded an album in 2008 called Reborn to Kill Again, which featured re-recorded versions of some of the band's earlier material.
After the success of Killswitch Engage and Shadows Fall, Overcast began to gain interest again and people kept asking about possible reunion shows, etc. I had always wanted to do some Overcast reunion shows, not only because I missed playing those songs, but also because we never had an official last show. We just sort of fizzled out. This was a way to dust off those old songs, get together with old friends, and rock out once again. After a few festivals and small local New England shows, the idea of re-recording some old material came up. We had never been totally happy with how the old records had turned out, so this was a chance to breathe some new life into the material as well as finally recording some of the songs we wrote right before we broke up that no one had ever heard.
Bullet Tooth just released Only Death is Smiling, a three-CD collection featuring unreleased songs, demos, and live material from the band.
This discography was the brainchild of Mike D., and he put in an insane amount of work to make this happen. I'm still amazed that he was able to track down so many original recordings and photos. Working with Josh [Grabelle, owner of Bullet Tooth] is always a great experience. He came out of the same scene we did and we have known him for years, so we are always on the same page. Both Josh and Mike worked their asses off to make this a reality, and I couldn't be happier with how it all came out.
SEE ALSO: 2015 interview with Josh Grabelle (Trustkill Records, Bullet Tooth).
Do you look back at any of the early Overcast stuff and cringe?
[Laughs] there is one demo, our first ever recording that was done on an old Tascam four-track cassette machine called Feel the Pain that wasn't included on the discography because it is downright painful to listen to. I sound like a 14-year-old James Hetfield, trying to be hard. There is a reggae break in one song and I think you actually hear a phone ringing in the background of one tune! No one besides the handful of people from Massachusetts that got it in 1991 will ever hear it!
I wanted to ask you about a band you played guitar and drums in called Transient back in the early '00s. What happened with that one? I read that you recorded a demo, but I've never heard it.
Transient is still alive! It's kind of crazy that I have been jamming with those guys for even longer than I have been in Shadows Fall. I think it was in 1998 when Timmy Haze, guitar player in a bunch of early '90s Boston hardcore bands like Endless, Kingpin, and Arise, gave me a tape of two songs that were totally ambient shoegaze kind of tunes. We were both getting really into bands like Spiritualized and Slowdive, so we started jamming on some mellow tunes. Scotty Code from Overcast joined in on bass soon after, and Transient was born. I started out on drums, but once Shadows Fall started touring a ton, I switched to guitar and we brought in our friend Kevin on drums so they could still play shows as a three-piece while I was gone.
We have actually recorded a few demos along the way. They still jam a bunch without me these days. I am living in St. Louis and they are all still in the Boston area. I did recently join them for a show in New York that was a blast, and they are finishing up an album that I will hopefully be able to record some guitar parts for.
Death Ray Vision is a group that features you along with members of Killswitch Engage and Cannae. In 2013 you released your debut album, We Ain't Leavin' Till You're Bleedin'. Do you guys plan on working on any new material in the future? I enjoyed that first record a lot.
Death Ray Vision has been a blast! It felt good to play these fast, short hardcore tunes and just let it rip old school style! We will definitely be doing more down the road as schedules allow. It's tough to get everyone together due to jobs, families, and touring commitments with other bands, but whenever we get a chance we will be out there.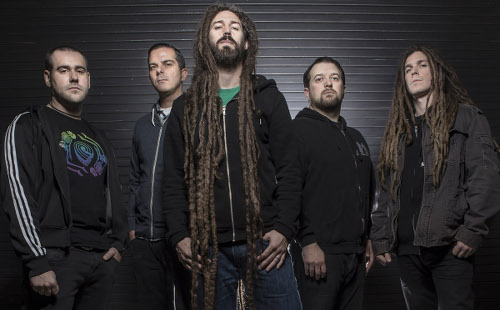 Outside of your music career, what do you keep busy with at home? I know you're a family man.
These days life revolves entirely around raising my daughter and spending time with my family. I have been lucky enough to travel the world and share the stage with many of my musical heroes. Now it is time to stay home and focus on the next stage of my life. Now I just have to figure out what that is [laughs]. I will always be making music. I have a ton of projects I'm working on, and even more in my mind, but for now it's all about working enough to support the family and spending time with them.
SEE ALSO: 2014 interview with Mike Gibbons (Leeway).
Looking back at all of the records you've done to this point, which one would you say best represents you as a lyricist and vocalist?
I feel like each album I have made reflects on who I was and what I was going through at the time they were recorded. I can follow the evolution of my own personal philosophy and beliefs when I look back at the records I have put out. I will say that the title The Art of Balance does sum up what I hope to achieve in life. Balancing all of the ideas, emotions, and experiences in my life and following that path to enlightenment.
***
Follow Brian Fair on Twitter at @brianshadfall.