In the 1980s, the competitive nature of the rapidly growing hair metal scene placed countless guitar virtuosos in the spotlight. Rooted in Los Angeles on the Sunset Strip, bands such as Ratt, Slaughter, Mötley Crüe, and W.A.S.P. rose to fame and redefined rock 'n' roll with a distinct style.
Undoubtedly, the most valuable asset to any hair metal band was a guitarist that could rip solos faster, louder, and better than any other band. The following list (possibly with my own personal bias) is comprised of 5 of the gnarliest shredders that dominated the scene:
George Lynch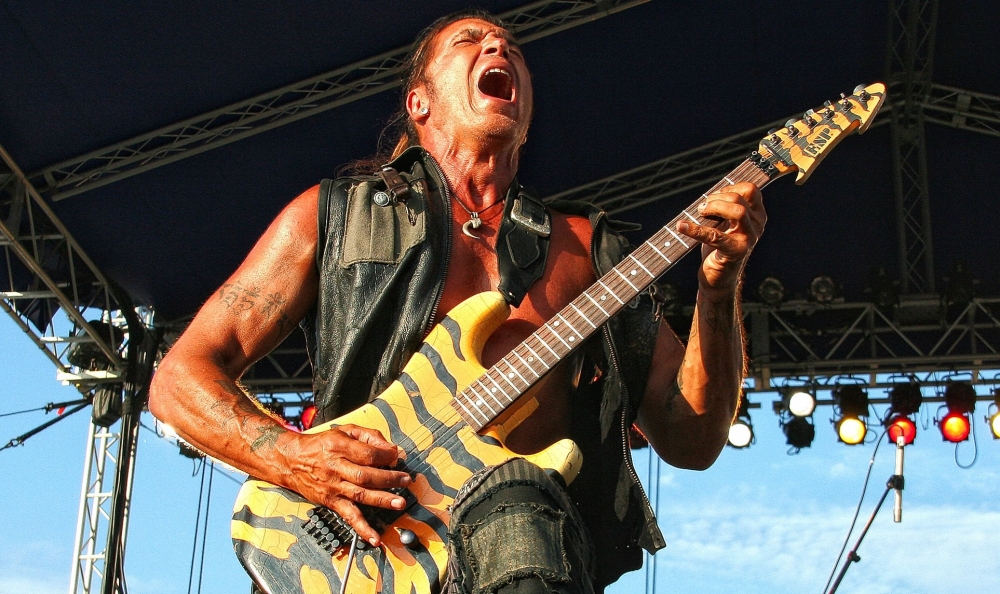 Best known for his work with Dokken and Lynch Mob, George Lynch's style can be easily separated from any other guitarist in the '80s. With his main influence being guitar god Jimi Hendrix, Lynch's style offers a focus more on bluesy and soulful solos with massive bends. Still, Lynch managed to incorporate a plenty of speedy and impressive runs in his solos. Additionally, most hair metal fans forget that he was one of the earliest rippers, as he was starting his career at the same time as Van Halen and Randy Rhoads.
Also, Lynch boasted some of the wildest looking axes in the genre, such as the Skull 'N Bones (shown here), Kamikaze, and Tiger guitars.
Lynch's best guitar work can be found on Dokken's Back For the Attack, specifically in his instrumental masterpiece, "Mr. Scary":
Other excellent examples of his work you should check out: "Wicked Sensation" (Lynch Mob), "Kiss of Death" (Dokken), and "Unchain the Night" (Dokken).
Warren DeMartini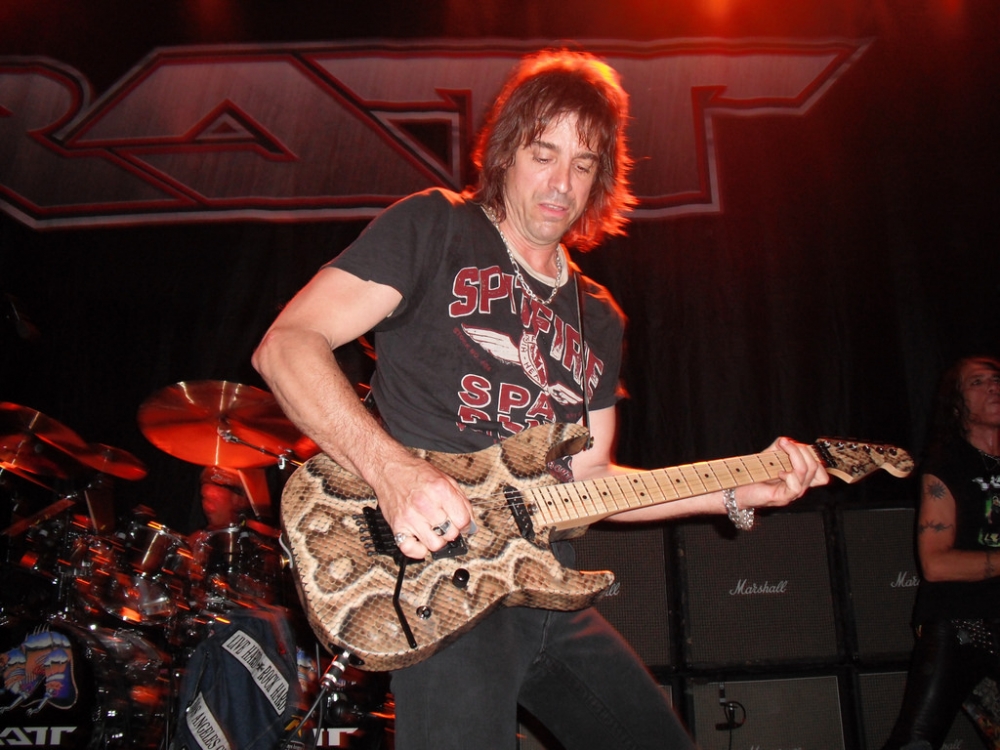 At the young age of 18, Warren DeMartini joined Ratt and soared to fame when the band released the powerhouse of an album titled Out of the Cellar. His complete mastery of the guitar actually made Ratt's rhythm guitarist, Robbin Crosby (RIP), extremely jealous and played a role in the band's demise (amongst a ton of other huge problems). DeMartini's style is an insane mashup of blues and shred, though most Ratt songs stick more to the former. Warren's extensive knowledge of blues riffage is shown off in Ratt's "Way Cool Jr.":
More Ratt songs that showcase DeMartini's skill: "Bottom Line", "What You Give Is What You Get", and "Lay It Down."
Tim Kelly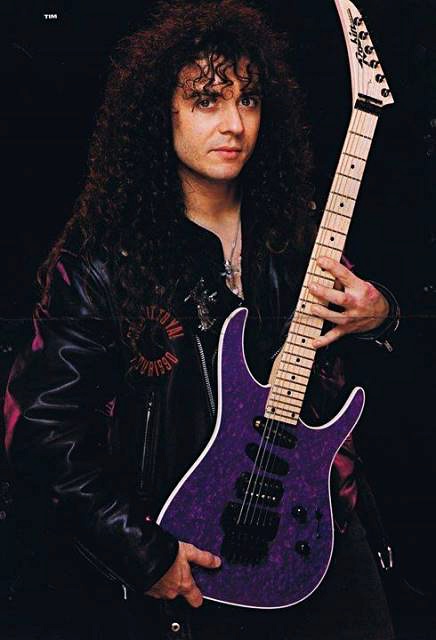 Arguably one of the most underrated (and self-taught) rippers of the '80s was Slaughter's Tim Kelly. A handful of Slaughter's songs have more of a poppy edge, but Tim's fret-burning solos round them off with a heaping portion of straight up badassery. Overall, Slaughter was overflowing with talent and released some unbelievably well-written songs, but Tim's solos undeniably set them apart. Though his life was cut short by an intoxicated truck driver, his legacy of shredding lives on in Slaughter's music.
My favorite display of Tim's killer chops can be found on the band's live album, Stick It Live, on the track titled "Up All Night." This short and sweet record is flawless and will always be my favorite live collection in existence. About a minute and fifty seconds into the live intro of "Up All Night," he provides a perfect example of his style:
And instead of linking other songs, just watch this live video and experience the ridiculous amount of talent that makes up Slaughter.
Reb Beach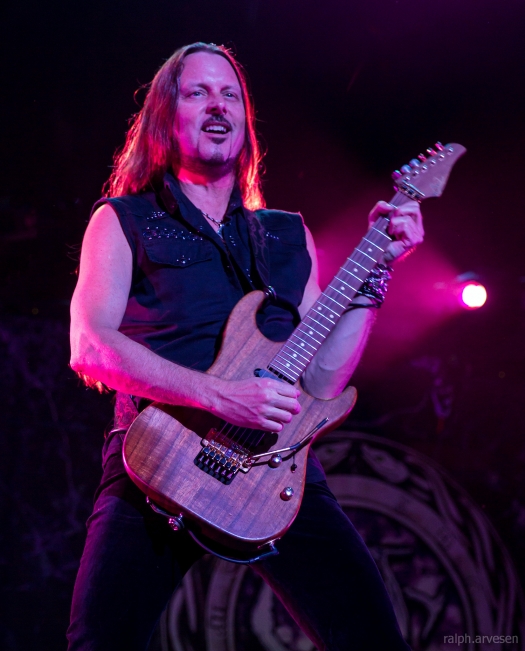 Reb Beach, guitarist of Winger, is definitely one of the most overlooked shredders of all time. This dude deserves so much credit for his unique playing style. Reb never frets with his pinky finger and still manages to rip some of the wildest sounding solos in existence. A true god of tapping, he's set himself apart with his technique of using his middle finger on his picking hand as a replacement for his pinky on his fretting hand. In most every solo he's recorded, he climbs all over the neck in a tapping frenzy, jumping string to string without missing a note. In addition to his gnarly leads, his rhythm parts are easy to distinguish from any other guitarist. I could talk about Reb forever, so just listen to this classic Winger track titled "Seventeen" and have your mind blown:
If you enjoyed that, Reb shows off his style in these other Winger songs: "Hungry", "Time to Surrender", and "Madalaine."
Randy Rhoads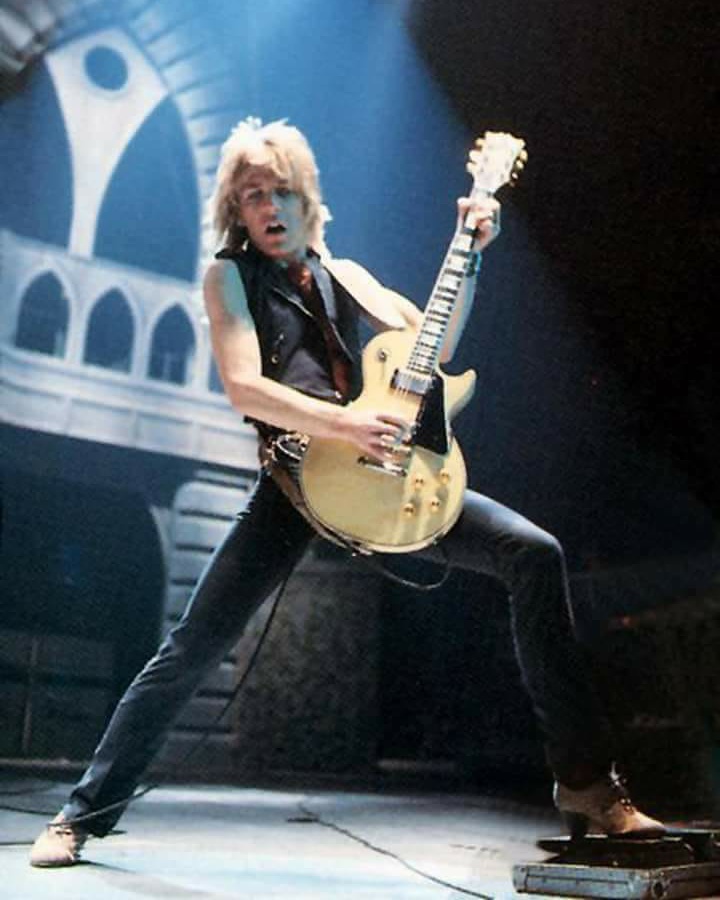 Though my list is in not in a specific order, I would consider Randy Rhoads the most important and influential guitarist of everyone on my list. Rhoads rocked with Quiet Riot for a short time but he is known more for his work with Ozzy Osbourne, playing lead on tracks such as "Crazy Train," "I Don't Know," and "Mr. Crowley." His style consists of a metal and classical mashup which led to some of the most mind-blowingly beautiful yet impressive solos. Unfortunately, Rhoads passed away in an airplane accident at only 25 years old. He left the world with a small amount of musical material, but its importance is greater than most musicians' entire careers.
Tribute — Ozzy's live album featuring Rhoads — will always mean a lot to me as a guitarist. The song below, "Suicide Solution," is from that album and it features his solo from the show that night:
Tagged: dokken, randy rhoads, ratt, slaughter, winger