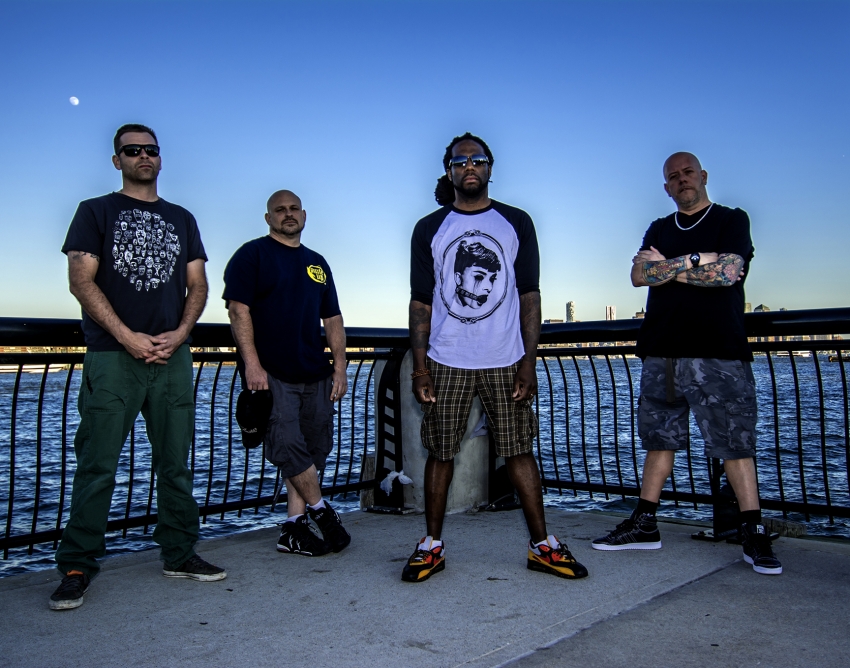 "I knew that there where some full-length feature films shot entirely on the iPhone, so I figured I have an iPhone; let's figure this shit out," says BJ Allen about the music video he just directed for "Push," for his band, Full Scale Riot. Seen below, the "Push" clip embodies the DIY spirit hardcore and underground metal were built on.
The Full Scale Riot vocalist did his homework before shooting the video, which features some maniac building a pipe bomb. "I researched all the different ways people where making movies/videos on iOS platforms and bought those apps. I'm also lucky to have access to professional lighting equipment, so that helped a lot. I knew in order for it to be interesting I would need a really good prop, so I decided to make the bomb out of scraps and recycling I had around my shop. It's just a prop.... not a real pipe bomb!"
Produced by Stress the White Boy at Chopshop Studio, and available now on Bandcamp, BJ offers up some background on "Push". "The song is about recognizing the frustration of different 'movements' happening and empathizing with portions of the different ideologies, while also being mindful of the intensity in which some are being polarized, to one side, or another. To me, its like watching a time bomb, being slowly built hence; the imagery in the video."
Formed in 2014, Full Scale Riot also features guitarist Tim McMurtrie (M.O.D., Rhythm Trip), drummer Evan Rossiter, and bassist Jeff Wood (M.O.D., Dillinger Escape Plan, Shat). With two albums already under their belt, the New Jersey-based group continues to plot both new material and live performances. "We plan to bring our live show to more areas up and down the Eastern seaboard, and we have a 7" in the works with Cataclysm Records. We also have a few surprises for 2019."
Upcoming Full Scale Riot shows:
Sept. 20 — Stanhope, NJ @ Stanhope House w/ Agnostic Front
Oct. 6 — Bangor, ME @ The Downunder for MEDM Autumn Apocalypse (info)
Oct. 7 — TBA
Oct. 28 — Oakdale, NY @ Shaker's Pub w/ Danny Diablo, Point Blank, Crazy Eddie + many more (info)
Tagged: dillinger escape plan, full scale riot, m.o.d., shat