The latest Daughters LP is called, You Won't Get What You Want, but the title has essentially been confirmed as false advertising.
At the end of 2018, it seemed that You Won't Get What You Want was everything Daughters fans both old and new wanted, maybe even more. A rabid sold-out crowd at the Regent Theater only confirmed that if you ask me, but Daughters certainly weren't the only band to be reckoned with.
Cult Leader and Hide provided distinct, fierce support sets offering equal amounts of ferocity and paralyzing passion. Due to the chaos of the crowd, my shots of Daughters set were from within the crowd as opposed to the close the view during Hide and Cult Leader's sets, but I believe the photos will show the chaos all the same. Thanks to all three bands, Stephanie Marlow and Shannon Shreibak of Indie Publicity for arranging my photo pass, and of course the staff at the Regent.
Hide
Cult Leader
Daughters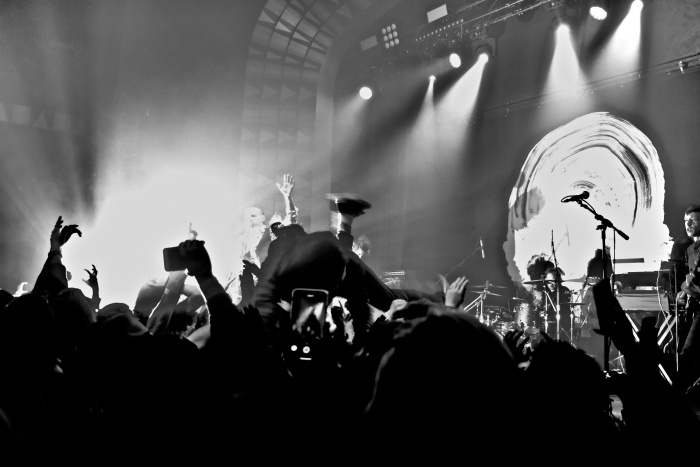 Daughters tour dates:
03/05 – Denver, CO @ Gothic Theatre
03/07 – St. Paul, MN @ Turf Club
03/08 – Chicago, IL @ Bottom Lounge
03/09 – Detroit, MI @ Loving Touch
03/10 – Toronto, ON @ Lee's Palace
03/11 – Montreal, QC @ La Sala Rosa
03/12 – Boston, MA @ Sinclair
03/13 – Brooklyn, NY @ Warsaw
04/05 – St. Petersburg, RU @ Mod Club
04/06 – Moscow, RU @ Club
04/08 – Munich, DE @ Backstage Concerts
04/09 – Stuttgart, DE @ Juha West
04/10 – Paris, FR @ Point Ephemere
04/11 – Saint-Josse-ten-Noode, BE @ Le Botanique
04/12 – Berlin, DE @ Cassiopeia Club
04/13 – Hamburg, DE @ Hafenklang
04/14 – Tilburg, NL @ Roadburn
04/15 – Ramsgate, UK @ Ramsgate Music Hall
04/16 – Bristol, UK @ The Exchange
04/17 – Manchester, UK @ The Deaf Institute
04/18 – Glasgow, UK @ The Hug and Pint
04/19 – Leeds, UK @ Brudenell
04/20 – London, UK @ The Dome
***
If you're shopping for vinyl, CD, and cassette hardcore titles, head to No Echo's partner store, Reverb LP, to see what they have available. Every purchase you make helps No Echo with site costs.
Tagged: cult leader, daughters, hide