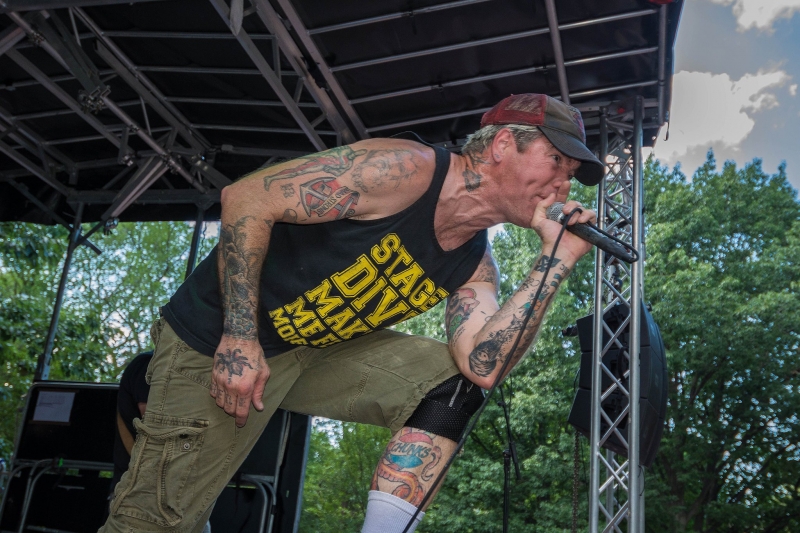 Let's get to business. War Camps is a new hardcore project featuring vocalist Timmy Chunks (Token Entry, Redemption 87, Let Rage!) and guitarist Brian Meehan (Loyal to None, Milhouse, Kill Your Idols, Manalive, Celebrity Murders) that just dropped their debut demo on the world.
"I was skating at Martin Van Buren High School and a mutual friend brought Timmy with him," Meehan tells me via email when I ask him I how he met the NYHC OG. "I knew who he was cause Token Entry were one of my favorite bands.
"He was like, 'I'm gonna skate with you guys everyday, here is my phone number, let me know when and where.' So, we were inseparable for a few years until he moved to Jersey."
The two Queens, New York natives formed a bond that is strong to this day, which is evident on the War Camps demo:
"We've talked about doing something for a few years and never had the time to get it started, but the pandemic gave us that time," says the guitarist.
No Echo asks if he and Mr. Chunks discussed what stylistic direction they wanted to pursue once they decided to work on War Camps:
"Yes, we wanted to go really raw, old school like the Negative Approach 7 inch, and the United Blood 7 inch. Stripped-down hardcore. I don't know if we achieved that with the songs we recorded, but we like where we wound up."
How about the lyrics on the War Camps demo? No Echo asks Chunks about the themes and topics he's tackling on the material. "If I have to pin it down to one 'theme,' it would have to be anger.
"The songs 'Hate You' and 'One More Time' are basically about those people in your life that you misjudged. We all have them in our lives. People you believe we're tried and true but when things get tough you realize they only want what they can get from you and you come to a moment of enlightenment where you realize that these people are dead weight that will only drag you down."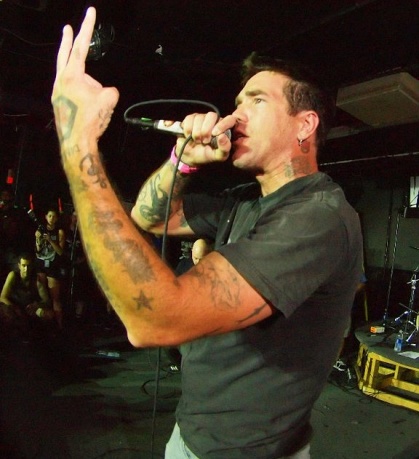 "The song 'To Serve' is in direct response to the George Floyd incident and to all the fucking racist, bigoted, power-hungry cops who can get away with murder."
With Chunks here in Los Angeles, and Meehan in New Jersey, No Echo asks how they managed to get the recording together for the demo. "So, recording was weird," Meehan admits. "I wrote the songs on guitar, I'd record them, send them to Timmy, he sent them to Amery Smith [Suicidal Tendencies, Uncle Slam, BS2000] and he played drums on them.
"Once we hit 8 songs, Tim asked his friend Bill [Reynolds] from Band of Horses to play bass, at that point, Tim started getting his lyrics in order and went into the studio to do a few songs at a time, he'd send me the tracks he did and I would mix them.
"I'm not an engineer in any way shape or form, but for what we are doing, it works."
In addition to War Camps, Meehan is keeping busy with some other musical projects during these crazy times. "We got War Camps going, and will keep writing in the hopes of recording in a room together. The band I play bass in, Pariiah, has a tape coming out on Trip Machine Labs.
"I started a project called Omega Glory who have a 7 inch lathe coming out on State of Mind Recordings soon, and it will also be out on tape as well.
"And from the ashes of Manalive, 4/5th of the band started a new project called Dead Torches who will also have a 7 inch coming out in the near future."
***
Donate a few bucks to help with No Echo's operating costs:
***
Tagged: let rage, loyal to none, manalive, milhouse, redemption 87, token entry, war camps