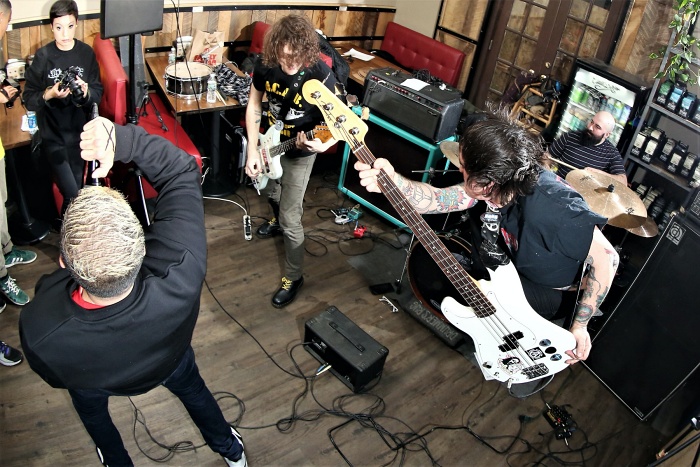 The Boston-based four-piece KIND! veers away from their previous sound that was more loyal to the sounds of regional giants like Mental and Righteous Jams, pushing into territory more akin to melodic hardcore punk, a shift that reflects the changes and personal growth of the band and its members, all while still keeping intact the BHC DNA that has always been woven into their sonic footprint.
Recorded, mixed, and mastered by Trevor Vaughn (XfilesX, The Rival Mob, Wolf Whistle, Clear, Brother, Wound Man) at MA Glory in New Bedford, the six tracks on It's Time to Heal, speak to the needs and frustrations that we all have following the rollercoaster of a year that was 2020, and "charges straight through" into a 2021 that they hope will foster new feelings of determination and personal development that have no tolerance for toxicity.
To that point, the standout track is the third on the tape, in my personal opinion. Titled "End," it's a short pissed message to those emotional vampires that we all know, to the self-important that suck the energy out of any room/scene/conversation they enter, to the naysayers who insist on only spouting snide remarks and negativity.
The crucial takeaway being this: We see through your bullshit. No more fucking games, it's coming to an end.
On New Year's Day the band and WAR MODE, a new label out of Denver, released the tape digitally on Bandcamp, with physical copies soon to follow. Speaking to vocalist Fernando about the new material, he had this to say:
"Basically, these six songs came together after the last EP that we did, and we went off in a different direction. Just trying to really hit on positivity at a time when the negativity of life has really been coming through, you know?
"The healing and growth of us as individuals, all going through our own stuff, and just overcoming and coming together is the premise of the whole thing: it's time to heal. And we just wanted to share that and the message that in times of despair, know that you're worthy and to keep hanging on strong."
***
No Echo has launched a Patreon with 3 tiers offering all kinds of hardcore-related goodies to help support the site:
***
Tagged: kind