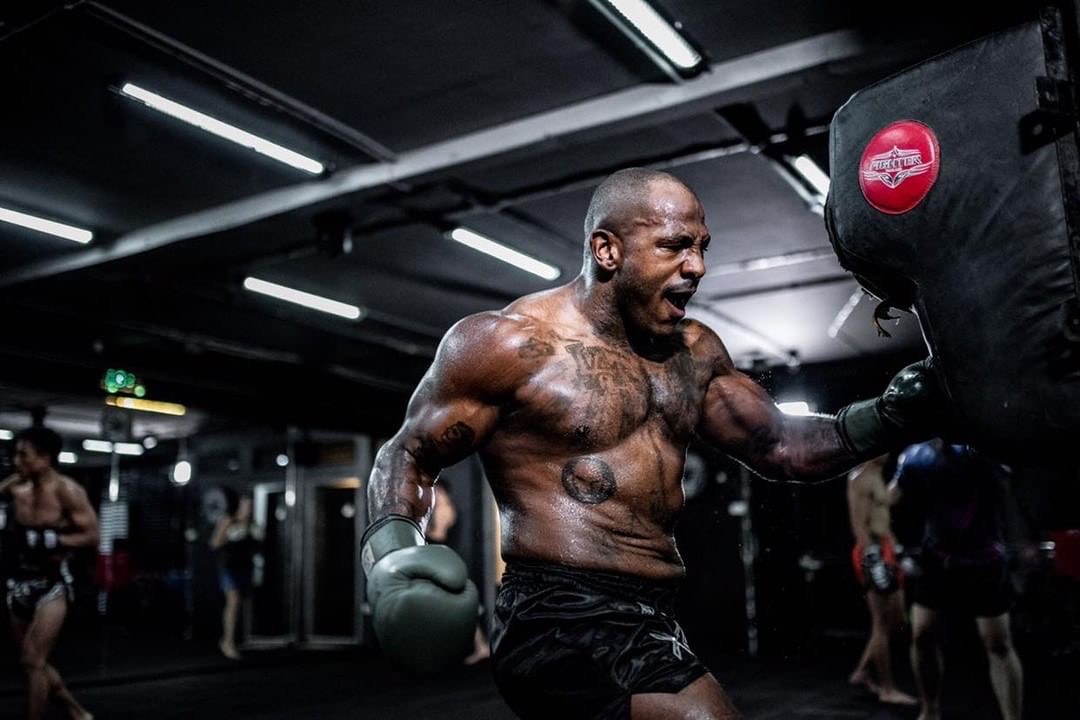 Underground music attracts the disenfranchised, the disillusioned. It's pretty much the general thesis for punk and hardcore anyway. But ours certainly isn't the only underground that attracts those personalities. Among others, combat sports has a lot athletes that find themselves in the ring or cage because they too feel the tug away from the straight and narrow life. And sometimes there's a few who embrace both of these undergrounds.
Mixed martial artist Khalil Rountree, one of the UFC's heaviest hitting light-heavyweights, is one such person. He's drawn to subcultures that stand in dissonance to normality.
For Rountree, the parallels are clear. "I see similarities in it all. The pit is like that cage. Get in there and let it all out. The music is the soundtrack to the person or headspace. The clothing is the costume or expression," he offers when asked about what's drawn him to these undergrounds. To be clear, Khalil is like so many of us in the hardcore underground. He's never quite felt at home in the world, searching for that outlet to put frustration at ease.
"We'd leave hardcore shows with our bodies aching, ears ringing but so happy. A different type of happy, like an emotional release that I couldn't find anywhere else. Especially because I'm such a quiet guy and always have been. I don't raise my voice or scream, even when I'm mad, but at shows I was different. It was accepted and that's what drew me in."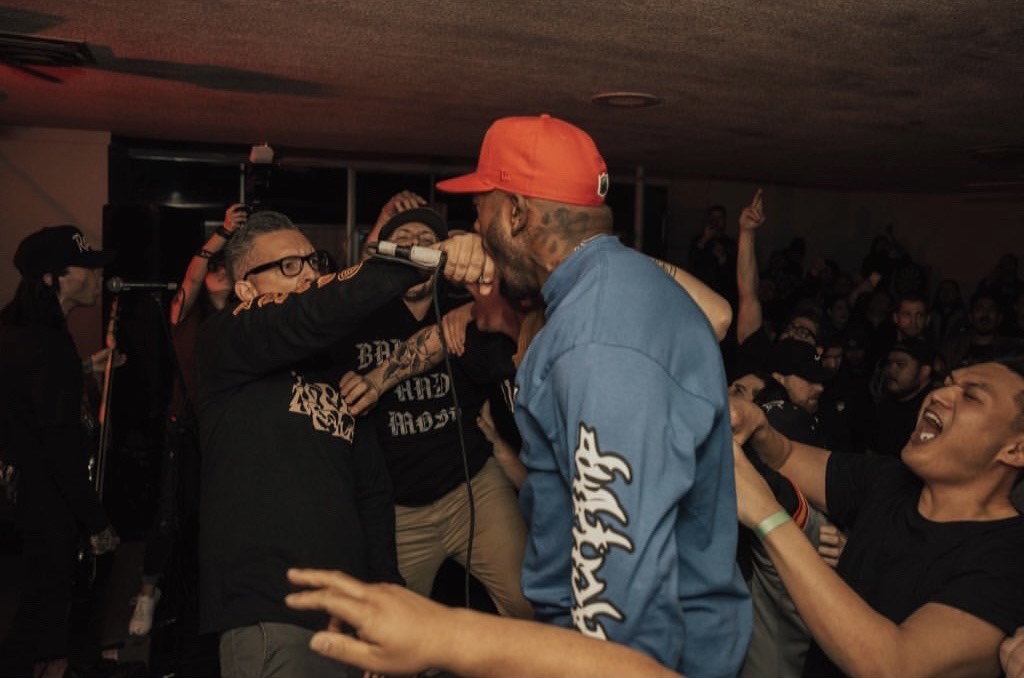 Not all that unusual from any one of our own introductions to hardcore. But Khalil embraced that mindset even beyond the hardcore scene. After finding hardcore and then martial arts, Rountree wanted to expand his horizons in much the same way as many of us. So, he got in the van…sort of. Instead of touring in a band, he traveled the world as a martial artist.
Rountree remembers, "In 2018 I packed up and moved to Paris in pursuit of happiness and wonder and started traveling Europe a bit. It was my first time being outside of USA on my own and it changed my life. I was shocked at first, challenged in many different ways. From taking subways and trains, to seeing signs in different languages, to staying in air bnbs, to looking for training.
"It was all so new to me but I started getting comfortable with it and the fear turned to excitement. I ended up in Brazil and I loved it. The people were friendly, the food was amazing and it was beautiful."
Sure, he wasn't traveling by way of touring. But Rountree was exploring in ways uncannily parallel to so many hardcore kids. And that desire to stay outside of the comfort zone, to push one's limits, stayed with Khalil. "Anyway, after the [Johnny] Walker fight I knew I needed something different. I needed more skills so I chose Thailand. My initial plan was to visit for one month but after the first week I was convinced that I'd be spending the rest of my life there.
"For one, Thai culture is beautiful and one of a kind. The food has the most flavor I've ever tasted and the people will steal your heart with a smile. Street animals like dogs, cats, Komodo dragons. Seeing monks and visiting Buddhist temples, traveling to their islands. I can write all day about this stuff but overall, it was the best thing in my life. It was magic," he reflects.
Magic indeed. Tell me that story isn't familiar though. Perhaps not for training martial arts, but for getting the fuck out of your hometown, for wanting to meet people and get down with other cultures. So, yeah, Khalil didn't tour in a band, but he used martial arts in much the same way many of us use hardcore music to broaden our horizons.
No need to get it twisted either. The narrative isn't as tenuous as it may appear. Khalil's love for hardcore is as real as anyone's. He offers, "I've been heavy on Pointbreak the last few months. Martin has the sickest vocals to me and he flows, plus his lyrics are real and vulnerable in a way and I appreciate that shit. Zulu because I love what they're doing, and Aniah is the coolest dude. I feel like he's the little brother I never had. Dude's a wizard and he's talented and genuine so I support whatever he's a part of especially.
"DARE, they're fire. Xibalba, Jesus Piece, Regulate. And Incendiary is just legendary to me. They embody hardcore, musically, lyrically. I don't know anyone in my circle that doesn't appreciate them." The list goes on for Rountree who also drops Spotify playlists across his social media to show love to bands he's listening to, and to give those bands visibility to an audience they very likely would not otherwise reach. His love for hardcore remains dialed in.
In fact, there's a video circulating on social media of Rountree singing on stage for Terror recently. "I've seen Terror many times but never had the courage to take the mic from Vogel. But this time was different. I was back in my hometown after being away for a handful of years. I hadn't been to a show in ages and it was Terror. I mean that's it.
"They played 'Out of My Face,' and I was so pissed at all the internet trolls crying about me kicking some guy's leg in so it was the perfect opportunity for me to get up and talk my shit," says Rountree.
The show came on the heels of Rountree's most recent UFC victory, a TKO win over Modesta Bukauskas in which Rountree deftly used a counter oblique kick to drop his opponent. "Never met Scott or Terror before but I chopped it up with him after and sent them some Supachamp merch. Thanked him for the lyrics he writes and the messages he's stood by all these years. That shit got us all through a lot and still does. Terror is a Hall of Fame hardcore band. I'm glad someone filmed that moment," Khalil offers. The power and poignancy of the moment is only made clearer because of how much Terror means to Rountree personally.
True to his individuality, Rountree does not want to be singularly defined by his mixed martial arts acumen. He wants to acknowledge the music and subculture that he so loves. Thus, his new brand, Supachamp, is slowly taking shape as his creative outlet. The brand was born out of his past experiences from selling merch for his friends' bands to his love for martial arts to his support for hardcore and hip-hop culture.
He explains, "I played guitar in a metalcore band from 14-16. I painted at the same time and more. Hip-hop was what led me to pursue graffiti and after high school I got a job selling merch for Molotov Solution and Impending Doom which led me to start training MMA because I really wasn't getting the attention I needed. I was lost, man. Sick of living, smoking two packs of cigs a day, taking pills and shit. It was whack, and I wanted to be a better person.
"So, it's inspired by all of that. Supachamp is me now, and what I will be. I rose up out of all that shit and I'm a world class fighter now, and who knows what I'll be later. So, in the mean time I still sell merch, just differently."
A quick look at what Supachamp cultivates, and one clearly sees the inspiration there. Rountree manages to artistically incorporate hip-hop, hardcore, and martial arts into the brand in both subtle and popping ways. Beyond showcasing new clothing drops, the brand's Instagram is a growing repository for hardcore culture, repping Pain of Truth and other bands, sharing playlists, and posting flyers and live show footage.
Frankly, what makes Khalil Rountree's story so novel is that it's actually not really novel at all. He's a hardcore kid who worked tirelessly at his craft, and has managed to live a life according to his own rules. If that isn't a part of our collective ethos, what really is? And true to that spirit, Rountree does not want his life as a mixed martial artist to cloud out who he truly is.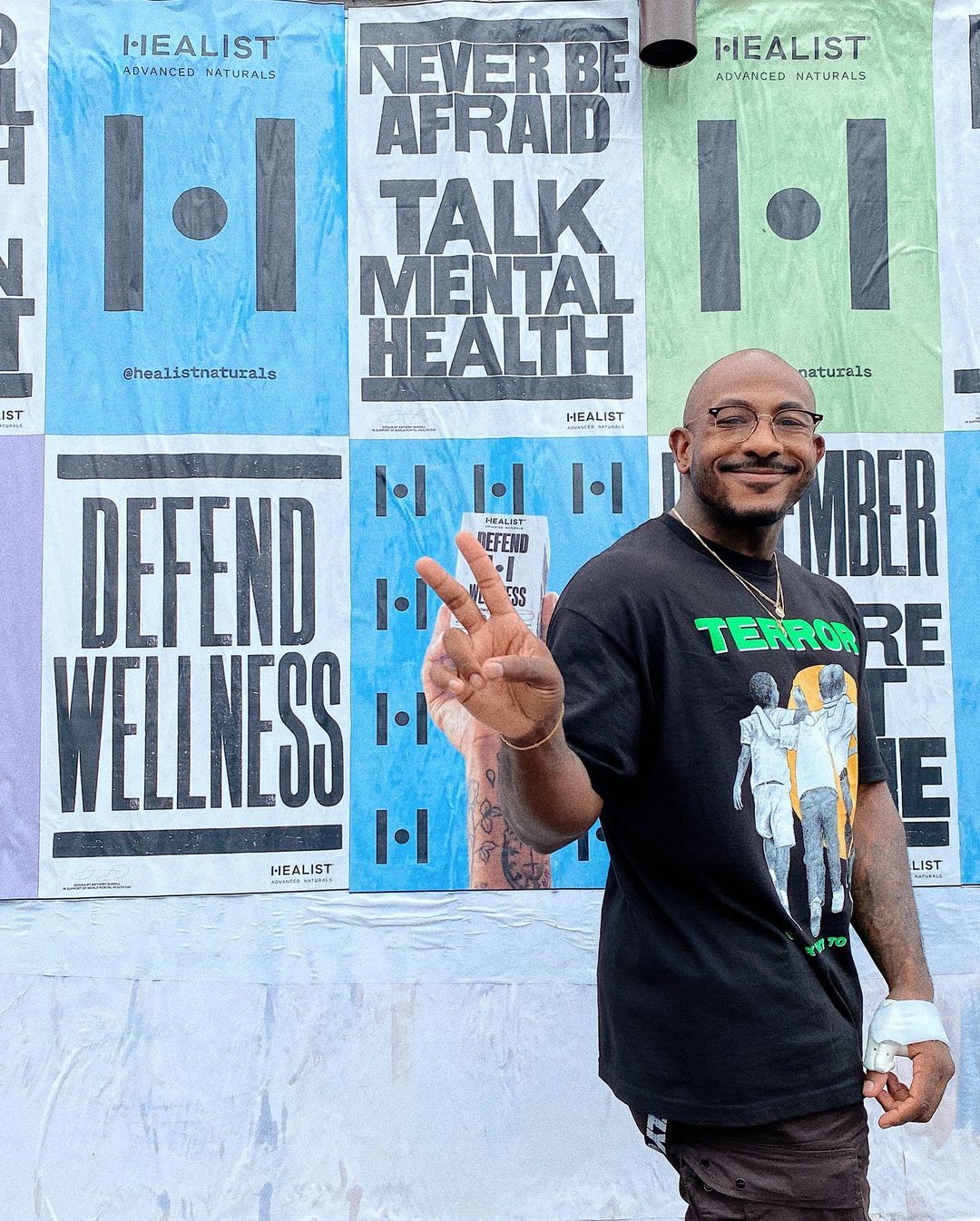 When asked what's the biggest misconception about him as a fighter, Khalil responded bluntly, "That I want to talk about fighting, care about other fighters, or want to watch fights with random people. In shorter words, that I give a fuck."
***
Follow Khalil on his personal and Supachamp Instagram accounts.
***
Help Support What No Echo Does via Patreon:
***