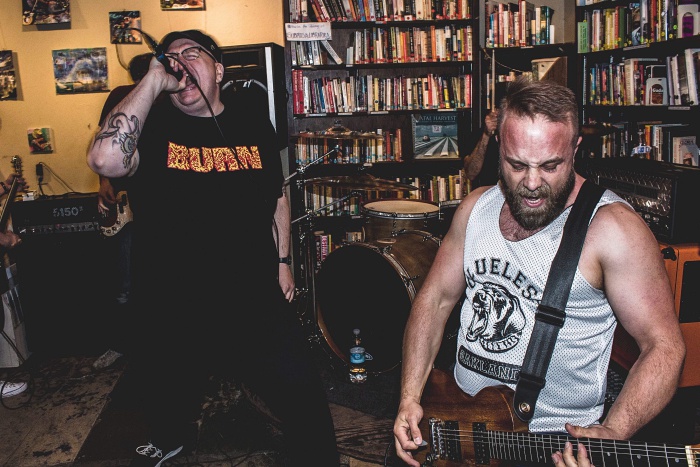 Just a few weeks after profiling them on this very site, Tuning have inked a deal with Unity Worldwide Records. It turns out No Echo played a tiny part in the Bay Area hardcore outfit's new partnership with the label behind releases by such bands as Winds of Promise and Don't Sleep. "As a regular No Echo reader, I saw the feature about band and checked out the 2 promo songs," Unity Worldwide Records co-founder Sven "Billy" Guenther told me via email today. "I was digging it a lot because the sound reminded me of classic hardcore punk bands such as Verbal Assault, Endpoint, Split Lip, Majority of One, Dag Nasty, Comeback Kid, and Suppression Swing. Fast forward to mid-December, Andy from Coretex contacted me and wanted to tell me about a new band called Tuning and I told him, 'yeah I read about them!' He told me that he got their promo pack and sent me all their new songs. Right away, I was sold and Andy made direct contact between [vocalist] Jeremy [Smith] and me. The rest is history."
"I sent our recording to a few people and got some positive feedback, but Andy at Coretex was really amped and asked if he could send it to his friend, Sven," Jeremy from Tuning told me. "Literally within 30 minutes we were talking with UWW!"
Unity Worldwide Records will be releasing a Tuning album this coming April. The cover art will be done by Ryan Besch, an artist Jeremy knows from his work with one of his his previous bands, Dead Hearts.
Sven also offered the following pearl of wisdom: "I think that the whole Tuning story shows the importance of websites like No Echo in sharing information, giving bands a platform, and in the end, bringing bands together with labels. I have to thank No Echo and Coretex for bringing me together with the guys in Tuning!"
Who am I to argue with the man? Follow Tuning on Facebook and Instagram.
Tagged: tuning