Touch is a hardcore band from Hungary who clearly know their way around a hook. That doesn't mean that the Budapest-based outfit isn't delivering mosh-worthy bangers, because they certainly are. No, what I mean is that Touch understand how to craft actual songs, not just a flurry of great guitar riffs without any cohesive gel bringing it all together.
The band's forthcoming album, The Darkness Reflects, finds the quintet delivering 9 tracks that all can stand on their own via energetic performances, smart arrangements, and memorable melodies all bursting through with NYHC-tinged grit and bouncy grooves throughout. One of the standout moments on the LP comes in the form of "Determinate," a choice cut that exemplifies all of the stuff I said about Touch above:
"The song is about how we are not entirely in control of our decisions or thoughts," said the Touch guys via email to No Echo. "If you dig deep you can see that we are led or manipulated by others, and we may not even recognize it. A self-laid path doesn't exist, it's just an illusion. We hope this song inspires listeners to no let their time, minds and choices be controlled by others."
Prior to the new album, Touch's discography includes two EPs: 2016's self-released Illusion of Truth and 2017's Rearrangement on Chiller Than Most. They've also put in the road work, touring throughout Europe and opening hometown shows for such bands as Turnstile, Praise, and Give.
Seen below, the cover art for the new album was done by theiir longtime friend and collaborator, Pali Cinka. Cinka has also done recent work for Young Guv and Higher Power, among other bands.
The Darkness Reflects is being released in North America by Version City Blues, a label owned and operated by Defeater vocalist Derek Archambault. "I first heard Touch in 2016 with their demo and quickly asked them to be added to Defeater's upcoming show in Budapest," Derek told No Echo. "Guitarist Alakszai Laszlo and I spoke at great length that night about their band, where they pull musical and lyrical influence from and what got them into hardcore and punk.
"Laci told me his first proper show was one Defeater played at Dürer Kert in 2009 with Have Heart, Comeback Kid, Shipwreck, and Rise & Fall. Our connection and friendship has spanned years, many more shows around Europe together and now the first Touch LP."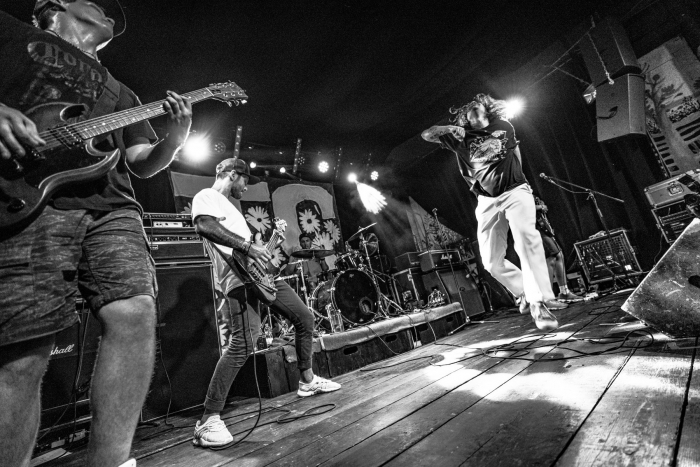 Today (Nov. 12), Touch will be playing a show with Terror, Death Before Dishonor, Jesus Piece, and Lion's Law in Budapest, and on Nov. 18, they'll be sharing a bill with Ceremony at the same venue, Dürer Kert.
The Darkness Reflects will be out on Dec. 20 in North America via Version City Blues and 9 Lies throughout Europe.
***
Donate a few bucks to help with No Echo's operating costs:
Tagged: touch