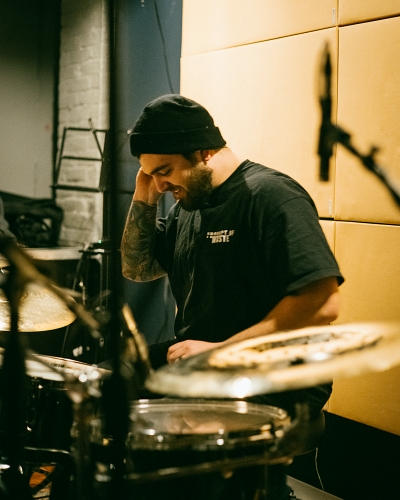 Allow me to introduce you to The Same Mistake, the hardcore brainchild of musician George Lucarelli. "The project essentially started out of frustration," the Cleveland-based multi-instrumentalist tells me over email. "I was tired of pursuing projects that did not make me happy. I was writing so much material that was not being used in the way that I had envisioned and I needed to make the music that I wanted to hear.
"A friend of mine had heard some vocals I did in my previous band and he suggested that I try to do full songs so I wrote the songs over two days and tracked them at home. The most ideal situation for me was to play everything myself and then do the vocals. I felt like that was the best way to convey what I wanted to do and hear without worrying about other opinions or influence."
Some of the bands No Echo readers might know George from include Last Gasp, Erase Them, Normy, and Highway Sniper. He offers the following when I ask him about The Same Mistake's stylistic wheelhouse: "Vocally, I think I take a lot of influence from Andrew Neufeld [Comeback Kid]. I've gotten a few comparisons to him, which I think is real cool.
"Musically speaking, I was just listening to bands like Down to Nothing, Turnstile, Incendiary, Hatebreed, etc. I think the sound I was going for was just like real fast parts then really bouncy and heavy in certain areas. I wanted to blend all of the things I like in one. I decided to play in a tuning that I'm not as familiar with and just hash out ideas and not overthink any part of the process."
The Same Mistake's recently released 3-song demo is a hell of a listen:
"The majority of the lyrics are related to anger and anxiety," George tells me.
"I feel alot of anger towards people from my past or even towards myself. I think I keep them pretty on the nose and straight forward. I want to kind of write about some things I've kept bottled up for a while. In a way its like letting some of those things go."
The Buckeye State has always delivered the goods when it comes to hardcore, and The Same Mistake keeps that tradition burning. "I think the local scene around here is thriving. Cleveland has some really cool bands. Shows have been really fun since they have come back around. Some bands I really enjoy are Live It Down, Captive, Wallcreeper, Visions of War, and Atomic Witch."
If you prefer owning hard copies of your music, George tells me that a cassette version of the demo is imminent, and he's also in the middle of recording a proper The Same Mistake EP. Lastly, he's putting together a full-on The Same Mistake lineup to play shows in the near future.
The Same Mistake on social media: Instagram | Bandcamp
***
Help Support What No Echo Does via Patreon:
***
Tagged: the same mistake