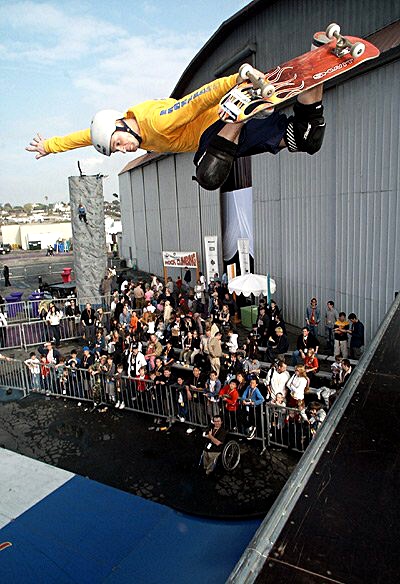 The dude floating in the photo above is Jeff Ferris during his pro skateboarder days. But why am I posting about him here? Well, it turns out that Jeff is a longtime member of the hardcore community going back to the '80s and '90s when he played drums in the Arizona straight edge bands Counter Punch and Stand to Reason. After a few attempts at reuniting with his former band mates through the years, he decided to go the solo route with Dyed in the Wool.
Featuring Jeff on all instruments and vocals, Dyed in the Wool finds the scene vet writing and performing the straight-up hardcore he grew up on. Tracked in Jeff's North Hollywood home, Keep Fighting Everyday is a new EP from Dyed in the Wool that will be dropping soon. To showcase what the project is all about, he's hooked me up with a track called "The Deeper I Go" for you guys to check out:
"'The Deeper I Go' is one of 7 new songs, including a cover of Battalion of Saints' 'My Minds Diseased,' on the EP," Jeff tells me. "We all face challenges in life, some are challenged much more than others. This song is a reminder to keep pushing through those times, no matter what."
Stay tuned to Dyed in the Wool's Bandcamp for info on the Keep Fighting Everyday EP, plus you can hit up Jeff via Facebook if you need more info.
Tagged: dyed in the wool