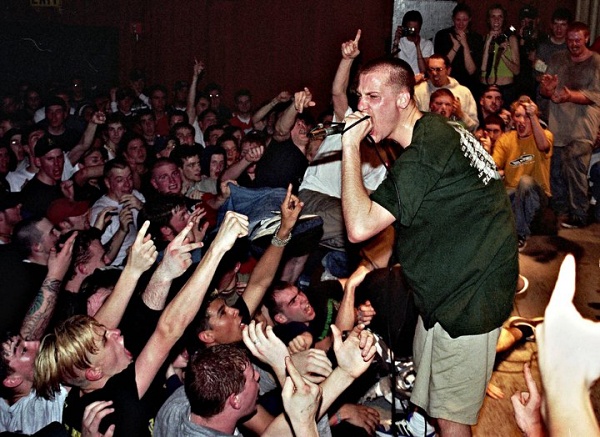 When I first started going to shows in the early '90s, Slugfest was a band I would see often. They would quickly become one of my favorite bands, Every show was high energy. Not just from the crowd going off but from the band on stage. Everyone in the band would be going off as hard and possibly harder than the crowd at times.
Unbeknownst to me at the time this was the second coming of Slugfest. They existed for a short time prior with a different lineup and released a demo entitled Build Up, which I honestly do not like very much. What I was witnessing was an updated version of the band named after a video game they saw on an episode of The Simpsons.
The only two members remaining from the original lineup were the brothers Scott Vogel and Jay Galvin. Joining them now was John Gieb on second guitar, Plowe on bass, and Tim Redmond on drums.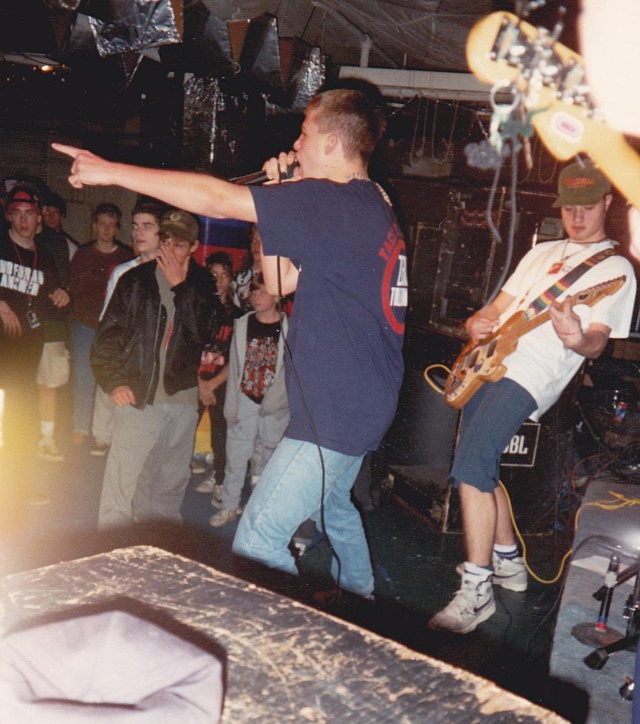 They were a powerhouse live and would eventually release the Music to Dance To… demo. Fortunately it's a cassette I was able to hold onto. I would listen to it a lot.
Slugfest would play a surprisingly insane show in Lockport, NY and the audio ended up being the Live in Lockport demo. Not only is it a decent quality live recording but it was a set that featured some great between song banter. Something I find a must for a good hardcore live recording.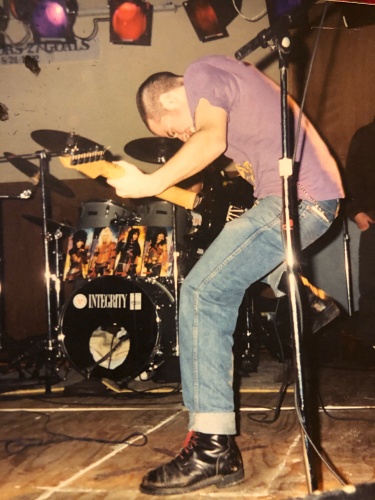 They would continue to play shows regularly for a couple of years. Eventually John left the band and Flipowitz (from Against All Hope) took over on second guitar. This lineup would record the Buried Alive 7" that was released on Structure Records.
Sometime after the recording Jay quit, which did leave the future of the band in question as this was his and Scott's band from the beginning. They played one show with Sandy from Chokehold on guitar. Soon after, Plowe left the band.
Tim who was also from Against All Hope played bass for their last couple of shows at The Icon as Jay was about to come back into the fold Tim was asked to play drums in Snapcase, which brought about the permanent end of the band with the exception of one reunion show a few years later. They did record 4 more songs around that time at Watchmen Studios with Matt Dente on bass.
A CD was released by Initial Records of the 4 new songs and the Buried Alive 7". They also released a 7" of the last show. Both of these releases were later collected and put out as a 12"/CD by Safe Inside Records.
While seeing Slugfest live was always fun and I really enjoyed their music it only occurred to me recently how they probably shaped my attitude about hardcore and what it should be more than any other band.
I remember being a metalhead going to hardcore shows. I was aware I did not fit and I know there were people there making fun of me and my friend because we really didn't fit but I never let it bother me. It did mean a lot however the first time we got a shout out at show because we were at every one and it was from Scott during a Slugfest set at The Skrapyard.
I also remember when my friend and I got our first band going, At one of our earliest shows Scott, Jay, and their friend Joe Lucca (Living fanzine, Copper) were there and watched us showing their support because we were at all of their shows.
Jay was yelling to me from the side of the stage, "Lots of bouncing!" We were not a good band but they still supported us and it meant a lot, I've tried to carry that same attitude and support all Buffalo bands since then.
***
Donate a few bucks to help with No Echo's operating costs:
Tagged: 90s hardcore week, buried alive, despair, slugfest, terror