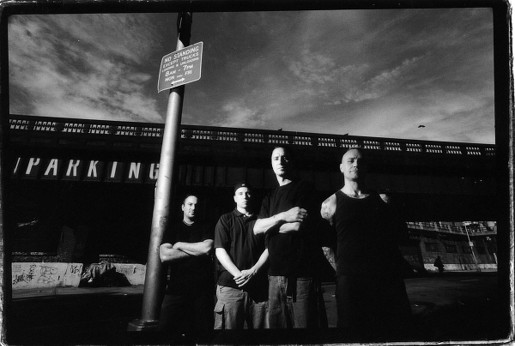 While the lifespan of most hardcore bands would probably fall somewhere under the two- to three-year mark (that might even be generous), Sick of It All is currently touring the world in celebration of their 30th anniversary. Since forming in Queens, NY back in the mid-'80s, the band has seen—and ignored—every trend the hardcore scene has lived through, always remaining true to their vision. More importantly, Sick of It All has remained among the most consistent acts in their genre, releasing a steady stream of albums and EPs rich with irresistable hardcore anthems.
As a fellow Queens native, I wanted to pay tribute to Sick of It All's 30th anniversary with a list of my picks for the best songs off of each of their studio albums. As a side note, I left off 2011's XXV Nonstop album since it included a mix of both classic and new material. Please remember, these are my picks. If you feel like I missed the mark, feel free to list your picks in the comment section below.
"Clobberin' Time/Pay the Price," from
Blood, Sweat and No Tears (In-Effect Records, 1989)
Few hardcore bands could pull off a track with a KRS-One spoken word intro and make it sound legit, but the Blastmaster's "Fresh for '89, you suckas!" brag at the beginning of "Clobberin' Time/Pay the Price" still works all these years later. Rich Cipriano's ominous bassline sets the musical part of the track, which finds SOIA showing off both the punkier and NYHC sides of their approach.
"Just Look Around," from Just Look Around
(Relativity Records, 1992)
A Cipriano bassline also sets the tone on the title track to Sick of it All's sophomore album, Just Look Around. The song moves along at a slower pace than anything the band had done up to that point, and the rhythm is lethal in their hands.
SEE ALSO: 2016 interview with Don Fury (Producer: Judge, Quicksand, Gorilla Biscuits, Underdog, Inside Out).
"Scratch the Surface," from Scratch the Surface
(EastWest Records, 1994)
Though they might have signed on with a major label, SOIA kept true to their gritty sonic roots on 1994's Scratch the Surface album. On the title cut, the group throws down a rock-steady groove that drummer Armand Majidi rides for all it's worth. Anyone who has seen Sick of it All perform live already knows what kind of dancefloor destruction goes down whenever they bust out "Scratch the Surface."
"Closer," from Built to Last (Elektra Records, 1997)
Another groove beast in SOIA's discography, "Closer" features some cool guitar nuances from Pete Koller throughout the verses. Craig Setari's swollen bass tone also figures prominently in the song, which brings to mind Quicksand in its groove.
"Falling Apart," from Call to Arms (Fat Wreck Chords, 1999)
Leading off with a simmering guitar and bass drum pattern before revealing a menacing call and response vocal line, "Falling Apart" is a mean son of a bitch. All in all, the entire Call to Arms album is an underrated gem in Sick of it All's catalog.
"America," from Yours Truly (Fat Wreck Chords, 2000)
SOIA usually includes material that leans more street punk than traditional hardcore on their records. "America" certainly is one of those kinds of songs, and the combination of Lou Koller's gruff vocals and the melodic guitar lines during the verses is grade-A stuff.
SEE ALSO: When Hardcore Bands Went Hard Rock
"Relentless," from Life on the Ropes (Fat Wreck Chords, 2003)
"Relentless" is the appropriately opening track from Life on the Ropes, Sick of it All's seventh full-length record. The song features various tempos and arrangement dynamics, but it's the crash cymbal-assisted mosh part during the chorus that gets the gold here.
"Always War," from Death to Tyrants (Abacus Recordings, 2006)
Assisted by a monstrous Tue Madsen (The Haunted, Vader) mix, Death to Tyrants stands up as one of SOIA's heavier albums. "Always War" includes chaotic verse sections and a gang vocal-driven chorus, which then gives way to a fast hardcore part before finishing off with a pit-friendly riff.
"Long as She's Standing," from
Based on a True Story (Century Media Records, 2009)
"Long as She's Standing" is another song that offers up the more tuneful-leaning nature of Sick of it All's songwriting style. That figures in during the track's verse, where each of Lou's lines gets answered by a chorus of melodic vocals that infuse a hookiness factor to the whole thing.
SEE ALSO: Queens, New York: A Look at NYHC Ground Zero
"Stand Down," from The Last Act of Defiance
(Century Media Records, 2014)
Fueled by its charged lyrics about police brutality, "Stand Down" is meat and potatoes NYHC that few can do better than SOIA. The "Think about us!" vocal refrain in the song is hard as hell.