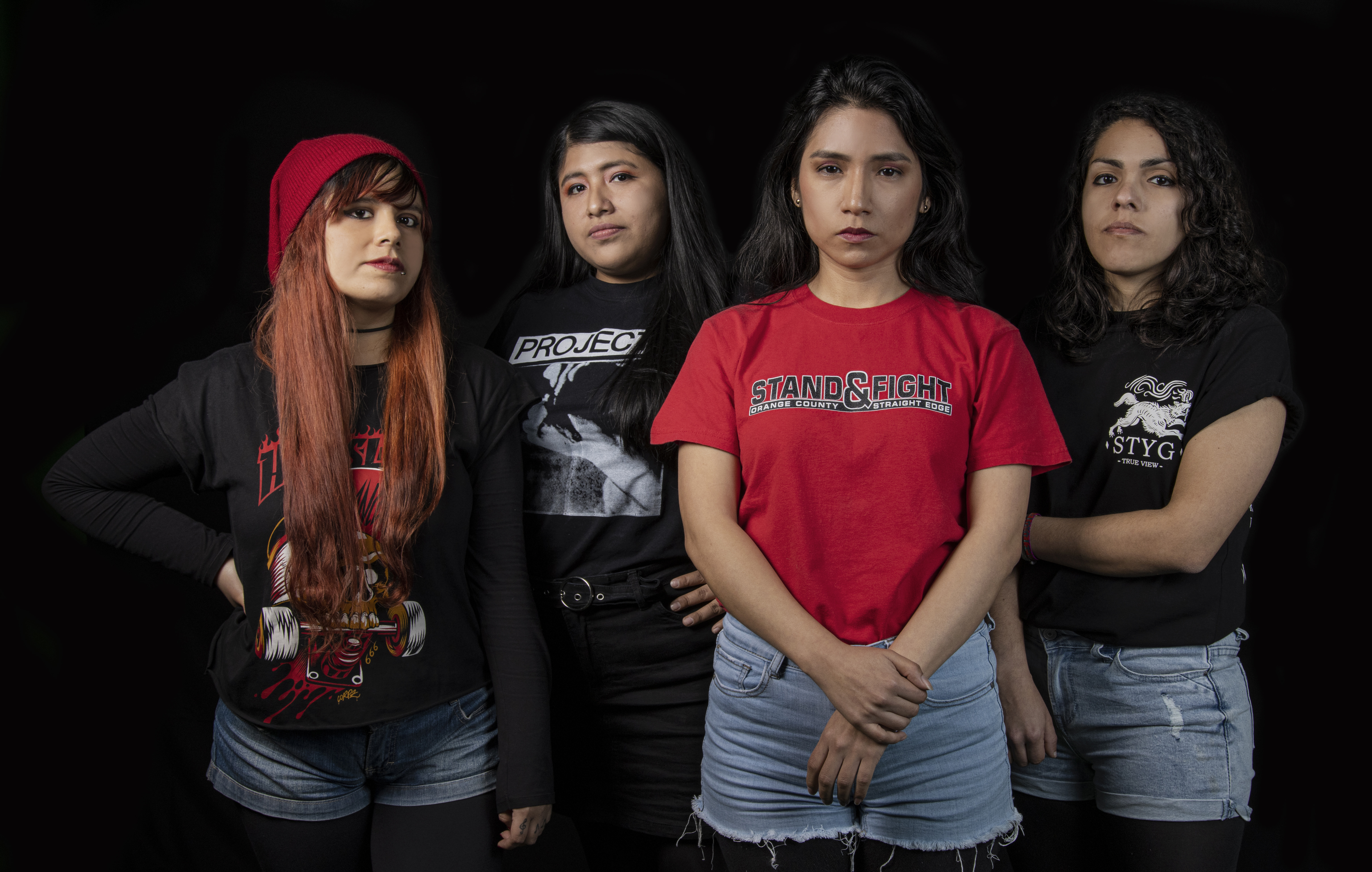 Tomar Control are a four-piece hardcore punk band from Lima, Peru that formed in 2014. The band have worked diligently for the last near-decade, making a name for themselves not only in the Latin American hardcore scene, but around the globe.
Playing a traditional style of hardcore akin to bands like 7 Seconds, Youth of Today, and BOLD, the all-female lineup stands out in a genre dominated by white men.
Since their inception, Tomar Control have released two full-length records, a split with Boston hardcore band Spirits, and appeared on a number of international compilations, including the long running Youth Crew series.
Lyrical themes that accompany their music showcase the band's commitment to feminism, straight edge, veganism, and DIY. The foundation for these ideals were grown within their local hardcore scene and created deep desire to share these principles with the outside world. In the past, the band has been known for providing animal rights activism and vegan education to Lima's youth.
Earlier this year, Tomar Control announced their upcoming 7-inch, Incendiaria, which the band describes as "the result of all our anger against the state, police abuse, the power of the church and discrimination against immigrants." Incendiaria was recorded at Echa Records in Lima, Peru earlier this year and was given the mixing and mastering treatment by legendary hardcore producer, Don Fury.
The lead single, "Secta," showcases a different side of the band's sound. As previously mentioned, Tomar Control has been known for their Youth Crew styling, but this track represents a departure and features a heavy hardcore groove not previously heard in the band's music. No Echo is proud to present the second single from Incendiaria, "Migrar":
In addition to the forthcoming 7-inch, Tomar Control are working to expand their touring schedule. Having previously completed treks in Argentina and Chile in 2016 and Mexico in 2022, the band have recently joined the My People Booking Roster and are embarking on their very first European tour this summer and have started a GoFundMe to help with the costs.
The tour includes many appearances in Germany, including My People Fest in Berlin, an Edge Day fest in Magdeburg, and a post-Fluff Fest show in Dresden. They will also be joined by FAIM, NØ MAN, and Dying For It for several dates on their tour.
Pre-orders for the Incendiaria 7-inch can be found at the My People Records website and will be shipping worldwide in July.
***