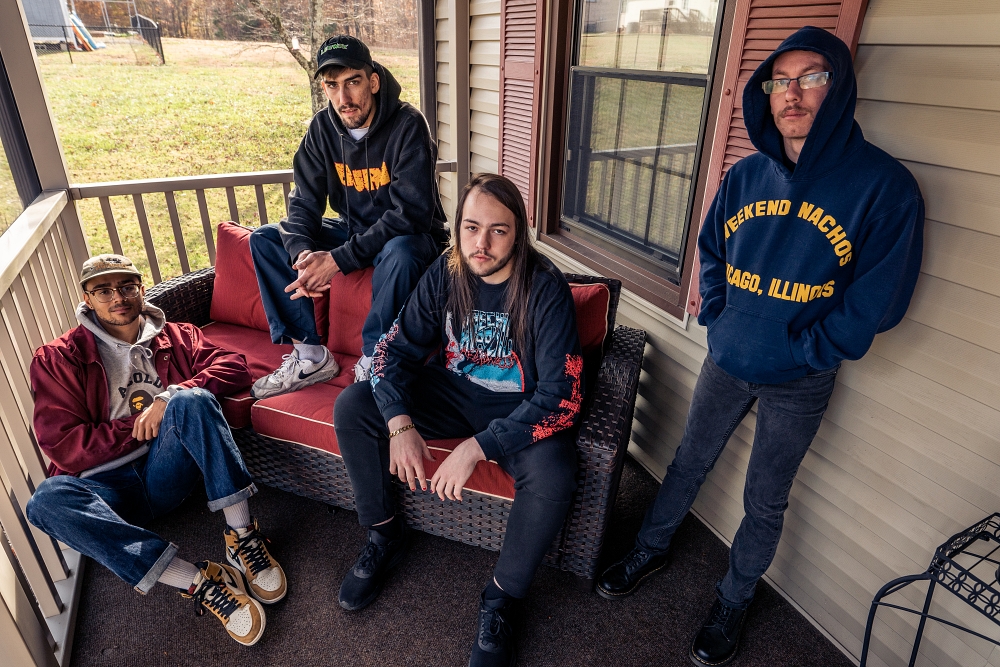 Rapid Fire is a brand new band from North Carolina—an unlikely state who has been producing some rising hardcore bands as of late. Guitarist Ricky and drummer Eli approached vocalist Mike about joining their new project at a Crown of Thornz show in Richmond, Virginia in fall of 2021. Shortly after, bassist Logan rounded out the lineup.
Collectively, Rapid Fire features both current and former members of Final Expression, Vital Sense, Seventh Seal, Tired of Everything, Nuclear Desolation, and Isolated A.D.
Rapid Fire is about to release their self-titled debut EP with Safe Inside Records, a label also known for releasing titles by the likes of FAIM, Chemical Fix, and Internal Affairs.
I chatted with Mike about Rapid Fire, Tar Heel State hardcore, and the band's Lockin' Out-era Boston hardcore influences. Oh, we also have the premiere of the entire EP.
North Carolina has not exactly been a hardcore hotspot in the past. That's seemed to change in the last few years with bands like Magnitude, Excide, No Longer At Ease, and your labelmates, Fading Signal. What do you think has contributed to that shift for all of these great groups to be popping up?
The hardcore scene in North Carolina, more than ever, is being put on by the kids, for the kids. I feel that, in the past, we relied on the old heads to bring bands here and put shows on, but I see such a fire in the eyes of this generation of hardcore kids that entices them to do it themselves and start bands because of their love for the music and how it affects their lives.
I'm only 26, and I've been going to shows for half my life at this point, but I'm seeing kids upwards of 8-9 years younger than me who are only a year or two into this shit wanting to play their part and get involved, and I think that's fucking incredible.
Sometimes a scene can crop up purely out of circumstance and there's a right place/right time dynamic that exists, which I am assuming is present in an area like North Carolina. Are there multiple scenes within the state or does everyone seem to gravitate towards the same spots or city/cities that have shows?
It definitely used to be a little separated, but right now, North Carolina hardcore is a collective throughout the state. Unfortunately, the state is big and doesn't have a ton of venues, but it seems like everyone is down to travel for even the small, local shows, and that's been making the biggest difference over the years. And not just shows, but bands are separated by hundreds of miles as well.
For example, look at Invoke and Magnitude. One from Wilmington, and the other from Charlotte. 200 miles apart; a 3.5-4 hour drive from one to the other. But they play and attend shows all over the state, as do the rest of the bands from here. It's awesome, to say the least.
Your self-titled release is short—four songs, most of which clock in at just over or under a minute, which is great because it keeps the people coming back for more! My favorite song on the release is "Never There." Can you tell us about the lyrics of this song and what they mean to you?
"Never There" is about the personal reflection on relationships with people that ended and at first not understanding why, but then realizing that they weren't the people you once thought they were. With platforms like social media making it so easy to form "relationships" with people anywhere and everywhere, I think it's easy to get lost in the idea of who someone is, and never really consider what someone's true colors are.
If someone's there for you one day and then gone the next, instead of yearning for them to enter your life again, consider that they left because they were a bullshit excuse of the person you may have thought they were.
How did your relationship with Burt Jenkins and Safe Inside Records start?
Jordan H. of Fading Signal is a close friend of mine, and I knew I wanted them featured on a track on the record. We brought them to the studio, they did their thing, and on our way back home, they got a call from Burt. Jordan told him what they were doing for the day, and Burt asked to hear the record.
They sent it over to him, I got a call from Burt the next day, and the rest is history. We all love the bands on the SIR roster as well, so we were ecstatic to hear that Burt wanted to work with us. Any person/label that wants to work with our Fading Signal family is someone we trust and believe in.
Hand drawn artwork is a hardcore tradition that seems to not get as much light in the digital age. Jon Ruggerio from Buffalo—who has also done work for bands like Rejection Pact, Raw Life, Soul Blind—did the artwork for this release. How did y'all link up with him?
I've been paying attention to Jon for years (here's his Instagram), and I'm always impressed by what he comes up with for other bands/projects. I also love hand drawn album artwork (Breakdown's Runnin' Scared artwork is one of my favorite record covers of all time).
When we were talking about who we wanted to do the cover, Jon was one of the first people I brought up, and we all collectively thought it was the best decision to get up with him. We're super appreciative of his time, effort, and execution.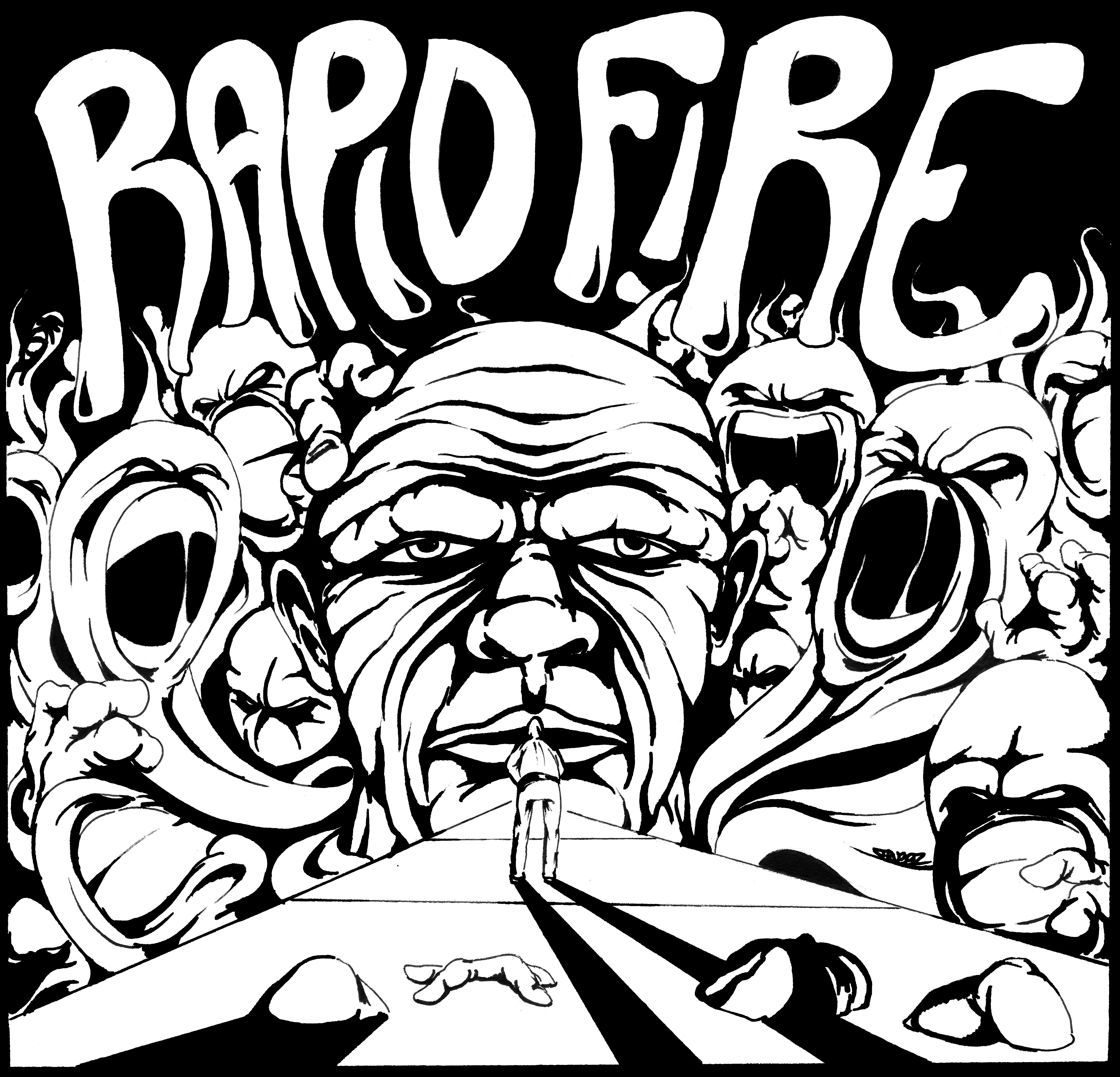 Are there any specific influences you were trying to channel (I hear Terror, Down to Nothing) or were you just trying to put together something that came naturally to you all?
Instrumentally, Boston hardcore was something we were really pulling from. Bands like No Tolerance, The Rival Mob, and Stop and Think are all bands we love, and I think that really shows when listening to the record.
Lyrically, I wanted to speak as straightforward as possible, without any poetic bullshit to cloud what I'm saying. While I think that type of lyricism has its place, I wanted to write like how Greg Mental or Joey Righteous Jams would. "Fuck you" means "fuck you," and that's all there is to it.
What can we expect from Rapid Fire in 2022?
More North Carolina shows, maybe a tour here and there, more music, and more fun over anything. We love hardcore, and will keep supporting the scene in any ways that we can.
***
The Rapid Fire EP will be available across all streaming sites this Friday (February 18) via Safe Inside Records.
Rapid Fire on social media: Instagram
***
Help Support What No Echo Does via Patreon:
***
Tagged: rapid fire