Best known for his work as a vocalist in such groups as As Friends Rust, Culture, and Morning Again, Damien Moyal has been part of the hardcore community since the early '90s. For the last few years, he's made numerous appearances on No Echo via Damien Done, a band that initially started as a solo endeavor from the Michigan-based musician.
Damien's latest passion project is one that should appeal to a large swath of our site's readership. LORE is a new zine focused around Trauma, a short-lived thrash/death metal outfit from Miami, FL. The zine consists of 44 pages of interviews, flyers, photos, and artwork from the band. The box set version of LORE also includes a remastered version of Eve of the Mindblast, Trauma's 1992 demo.
The attention to detail for this debut release of the project is truly inspiring, so I spoke with Damien about the process and what else we can expect from LORE in the near future.
How long did you have this idea brewing before you actually acted on it?
No, It came about pretty spontaneously. I'd been wanting to do a zine again (I haven't made one since 1999) and right around the time that I started giving it more serious thought, one of my oldest friends (from my adolescence in Miami) sent me a track from our mutual friend's thrash/death metal band's demo from 1992. I hadn't heard it in ages, and thought a zine that focused on demos would be an interesting read.
Whether or not it's even a band you're familiar with, there's a certain magic in those earliest recordings that's very relatable. The kinks haven't been worked out, some people in the band may not know each other that well, the band is truly a culmination of individual influences because it hasn't had a chance to be shaped as a single unit yet. A zine that dives into those earliest days just felt like something I'd like to read, so that became the angle.
We all know how important the debut issue of a zine is. Why did you decide to focus on Trauma for the first issue of LORE?
Well, since the track I mentioned above was Trauma's, I just went with it. I got ahold of that mutual friend, Zeek, who wrote the songs and played guitar and sang in Trauma. We hadn't spoken in nearly 30 years, so that was very cool. He knew where the original DAT was from their only recording, the Eve of the Mindblast demo. I had it restored and remastered by Dave Williams (of Crusades and Surrender) and had a limited run of tapes produced.
I guess I knew it was risky kicking this thing off with the story of a demo that was relatively unheard outside of South Florida, but I really liked the idea of shining new light on an old effort. Kind of going back and more formally capturing a moment that might otherwise disappear entirely. What's special to me about this Trauma demo is that it was recorded live because the band couldn't afford to spend days layering tracks, redoing takes or editing.
They went in, banged out 4 songs, and the engineer (Richard Serotta, who incidentally went on to work with Gloria Estefan and Jonathan Richman, and got some Grammy recognition) gave it a quick mix and that was that.
So it has this raw, analog sound that really expresses the moment — and one that within a year was almost entirely absent from death and thrash metal, as the demo was recorded just before digital, hyper-edited recording started coming into vogue.
Also, the fact that Zeek bought a guitar for the express purpose of starting Trauma — and both learned to play it and wrote the songs for the demo in just a few months — is pretty impressive, as some of those riffs are just stellar. It's got all the endearing attributes of a first band's first demo, but some really great execution and flashes of genius along the way. It sounds like teenagers on the cusp of adulthood trying to reconcile both.
What did the members of the band think about your concept when you approached them? Was that process an easy one?
I think they were caught off guard by it, but psyched that someone was interested in blowing the dust off of the demo and compiling interviews, memories, photos and flyers to help tell their story. A couple of them still make music, but others don't, and I'm sure none of them expected any of this to resurface.
Working together was a breeze. Interviews came together quickly, and between the band and couple of friends from our old circle, we were able to scare up most of the flyers and some great pics and video.
The box set version (limited to 50) was a total surprise to them. They knew about the zine and the cassette, but not the buttons or patches or the custom box. I really want these issues to be experiential and display-worthy, and I think the band agrees that this first issue turned out.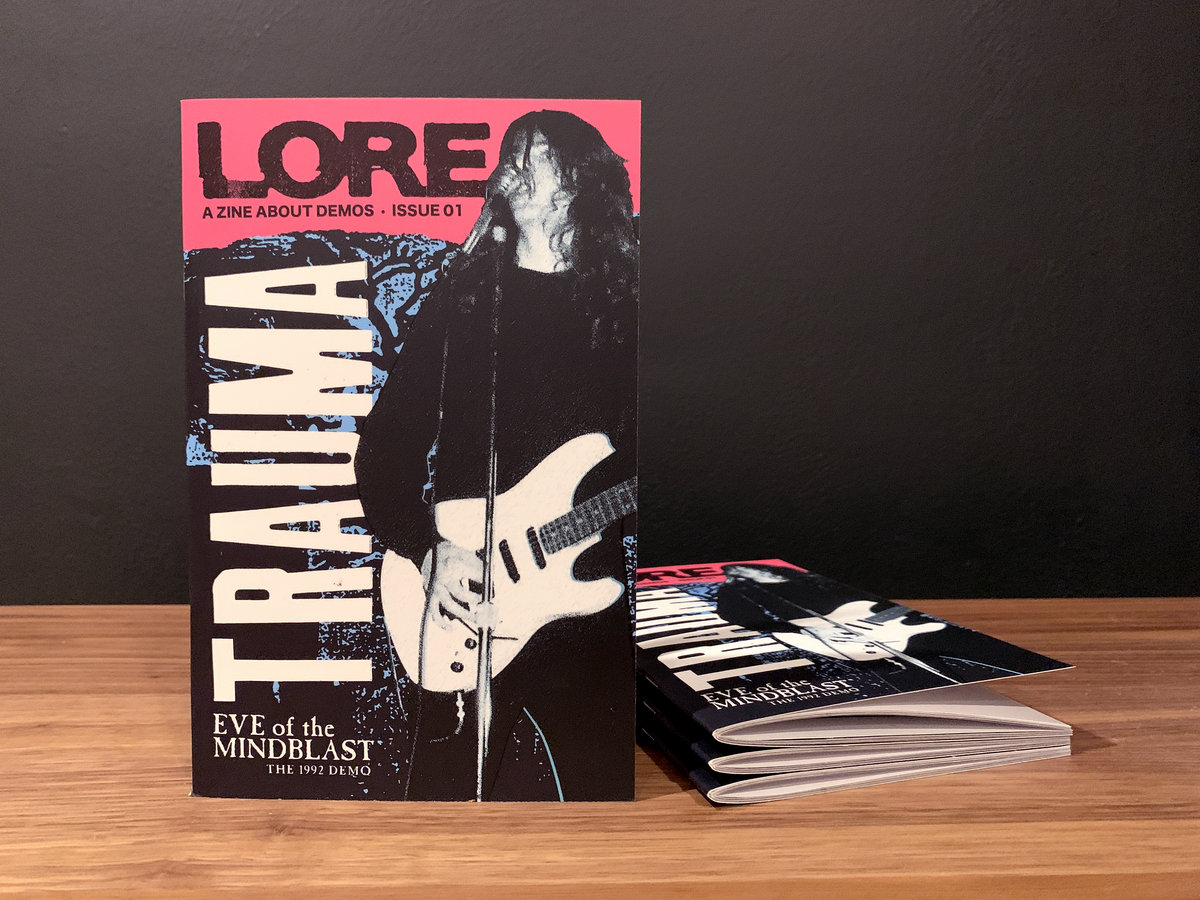 Are you working on LORE #2 yet? Can we get a hint of who you're going to be focusing on next time out?
I am working on Issue 02 now, and it focuses on Timescape Zero's Welcome to Kali Yuga demo, also from Miami, Florida and also from 1992. Timescape Zero was much more active than Trauma in that they played a lot over course of several years, did multiple recordings, and had/have a cult following that extended beyond Florida borders.
Nonetheless, that first demo remains an underrated gem of South Florida hardcore, and one whose importance to the metallic sound that would come to define South Florida in the '90s cannot be overstated. That demo had already been remastered as well, and I'm excited to help get it into more ears.
These first two issues have a lot of nostalgic importance to me, but that's not where the zine will stay. I'm looking to cover more known/infamous demos (or rare demos by known bands) moving forward, so I think there are a lot of very cool directions this project can go.
Pick up a copy of the LORE zine and/or box set on Bandcamp. You can also download Trauma's entire remastered version of the Eve of the Mindblast demo on the LORE Bandcamp page.
***
Help Support What No Echo Does via Patreon:
***
Tagged: culture, damien done, morning again, on bodies, shai hulud