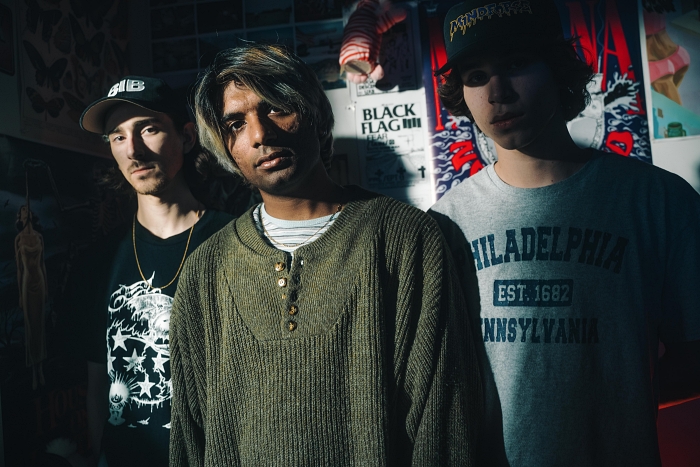 With a band name like Gravedweller, most No Echo readers would probably expect to hear something either death metal or metallic hardcore-sounding, but that definitely isn't the case here.
Formed in Dallas, Texas in 2017, Gravedweller have a penchant for writing songs that meld '90s alt-rock-like melodic hooks and shoegazy guitars. It's an altogether sugary and fuzzy combination.
After releasing an EP in 2018 and playing shows throughout their region, vocalist/guitarist Noah Bhatti relocated to Austin during the pandemic lockdowns. With new drummer Tony Navaira joining the fold, Gravedweller traveled to Pennsylvania to record their forthcoming sophomore EP, Tissue.
Produced by Will Yip (Title Fight, Angel Du$t), the Tissue EP won't be out til this summer, but No Echo got the jump on the music video for a track called "Losing Me" to whet your appetite:
"I wrote and recorded the demo for 'Losing Me' while I was moving out of my apartment," Noah tells No Echo. "My friend was there and before I wrote and demoed the track, I was moving my guitar equipment but before I moved it out, I was just messing around on guitar and started to hum a melody.
"I decided we needed to take a break from moving so my idea of taking a break was to start writing a song. I've been talking with my friend earlier that day that I really wanted to take my music with Gravedweller further and start to do things with the band again."
Noah continues: "It only took me about an hour to record and write 'Losing Me.' When I played it back for my friend who was helping me move, he said this is the one that will help you start new again. He urged me to send it to a reputable producer so I could get this song along with other demos I had professionally done.
"The first person I thought of was Will Yip as I have been a fan of almost everything he has worked on while I was growing up. I sent it over, Will liked it so we recorded 'Losing Me' along with 5 other tracks in October of 2021."
The Tissue EP will be out this summer. Stay tuned to the band's pages below for upcoming show information.
Gravedweller on social media: Facebook | Twitter | Instagram
***
Help Support What No Echo Does via Patreon:
***
Tagged: gravedweller