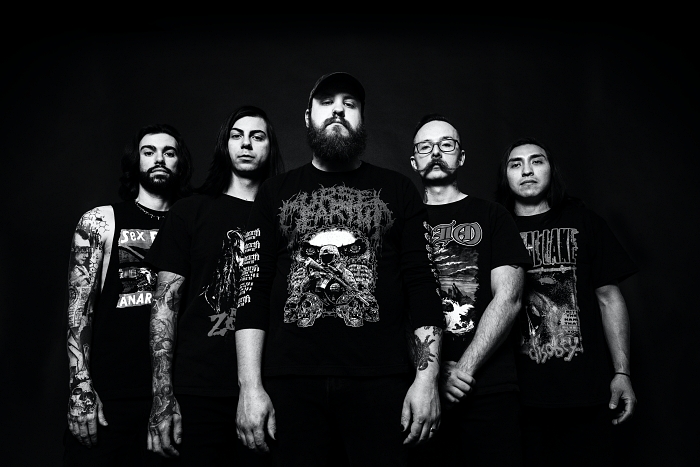 Based out of the San Fernando Valley, aka God's Hate Country, Living Cursed is a quintet bringing forth a brooding yet blasting metalcore sound. They bring to mind the '00s era when bands such as Bury Your Dead, Black My Heart, and On Broken Wings were influencing a new generation of musicians with their brutal songwriting styles.
Forming back in June 2019, Living Cursed started as a side project of guitarist Jeremy and drummer Scott. At the time the members lived together with bassist Adam and while they all played music they didn't get their start in the heavy side.
Scott explains, "Jeremy and I were fucking around with dad rock at the time, like Nickleback sounding shit. Then I was going through a bout of insomnia and I started playing faster, heavier, hardcore style drums to tire myself out. Then Jeremy came in with his guitar and we wrote the riff to our song 'Puke.'"
Soon after their jam Adam joined on bass and they gained a second guitarist with Mario but it wasn't until a year later that vocalist Cameron joined on. Living Cursed was lucky enough to be able to practice throughout the pandemic, honing in their sound and making each song they wrote heavier and heavier. Jeremy saw the band's time as beneficial to the band, stating, "That's why I've always described us as like a grizzly bear; we were in hibernation for so long and now we're out and ready to rip and tear at anything that stands in our way."
In the two years since they formed the band has whipped up enough material for their current release, the EP Nothing Left to Give:
Consisting of five songs which have been pieced together by the bands favorite riffs and heaviest parts of a whole collection of songs they had. "We had about 12 songs originally and over time we just broke those down and made what we have now out of the best parts and arranged them all together," explains Scott.
The EP sound can easily be described as "breakdowns stacked on top of breakdowns on top of breakdowns," that aforementioned sound that in the early '00s was pioneered by East Coast legends Bury Your Dead and perfected by On Broken Wings. Most of Living Cursed's members hail from the Commonwealth in fact, making the influence all the more significant.
Jeremy explains Living Cursed's influences came from the brutal scene that blossomed in the Northeast. "When I wrote the riffs, I really wanted to capture that Northeast beatdown hardcore sound. I was really thinking of 100 Demons, Hatebreed, Acacia Strain, Bury Your Dead, you know?" These influences shine through almost immediately when first listening to their song "Desolation," showing the members appreciation and improvement of that sound.
Vocalist Cameron adds: "We were both in the same boat because I also had played in technical bands, the 'musicians band' if you will, and then when we met up we were like let's just play mosh music. I tried my hardest to bring out my inner [Bury Your Dead vocalist] Mat Bruso."
Living Cursed captures the sound by not only bringing the old-school mosh influences but also those outside of the genre, keeping the songs unpredictable which is this music's trademark. "Jeremy and Cameron have similar tastes but the rest of us don't really draw from that stuff, for instance, I'm more of a punk rock drummer. So it's interesting how we take the different things we like about metal to create this sound."
Asking some of the other members about their personal influences yielded a wide variety of sources. Guitarist Mario states,"Arch Enemy and Children of Bodom were always embedded in me. Always came from the neo-classical world, so you'll see some of those bits of harmony in there to make it tasteful but still mainly focusing on the aggression." Adding these more technical bands brings in a sense of harmony and precision into Living Cursed's attack.
Bassist Adam brings an even further amount of flavor into the mix as well. "My dad introduced me to Slipknot when I was like 8 years old and they still influence everything I do with music," he says. "Going into this project I was listening to the new Devil Wears Prada EP and Wage War, just a lot of the older metalcore bands. I also come from a classic rock background so that's gonna get thrown in there a lot."
Vocalist Cameron reveals that he came into this project with a lot of weight bearing down on his shoulders built up over the last few years and by writing the feelings and emotions down it alleviated a lot of that weight, adding to their EP's title, Nothing Left to Give. "Our song 'No Good,' the entire chorus was just everything that I was feeling at the time 'My word is no good, my name is no good, my will is no good, my faith is no good.' It's like I have nothing left to offer, I've been used up. I think that song as a whole embodies the entire theme of the EP."
Jeremy also added lyrics to the EP that share the struggles that were reflected in Cam's lyrics. One of the songs in particular he penned lyrics to was "Desolation," which he says, "For me, my favorite lyric has gotta be, 'As much as I would have loved to give up I knew that I wouldn't have that type of luck.' It's almost the quintessential New England saying growing up in a blue collar household. I try to tell it through the metaphor of Atlas, you gotta carry the weight of the world and you'd love nothing more than to drop that motherfucker and let it all fall down, but you can't. You gotta sack up and be a man."
Nothing Left to Give is out now on streaming platforms, released by the band themselves and as of right now there are no physical release plans as the band wants to save up cash for merch. Cameron jokes that Living Cursed would like to release the EP on an older format. "We had a joke going where we wanted to release it all on VHS tapes. Basically become a VCR dealer in the process. But as of right now we got merch and the video for 'Puke' coming a few weeks after the EP drops."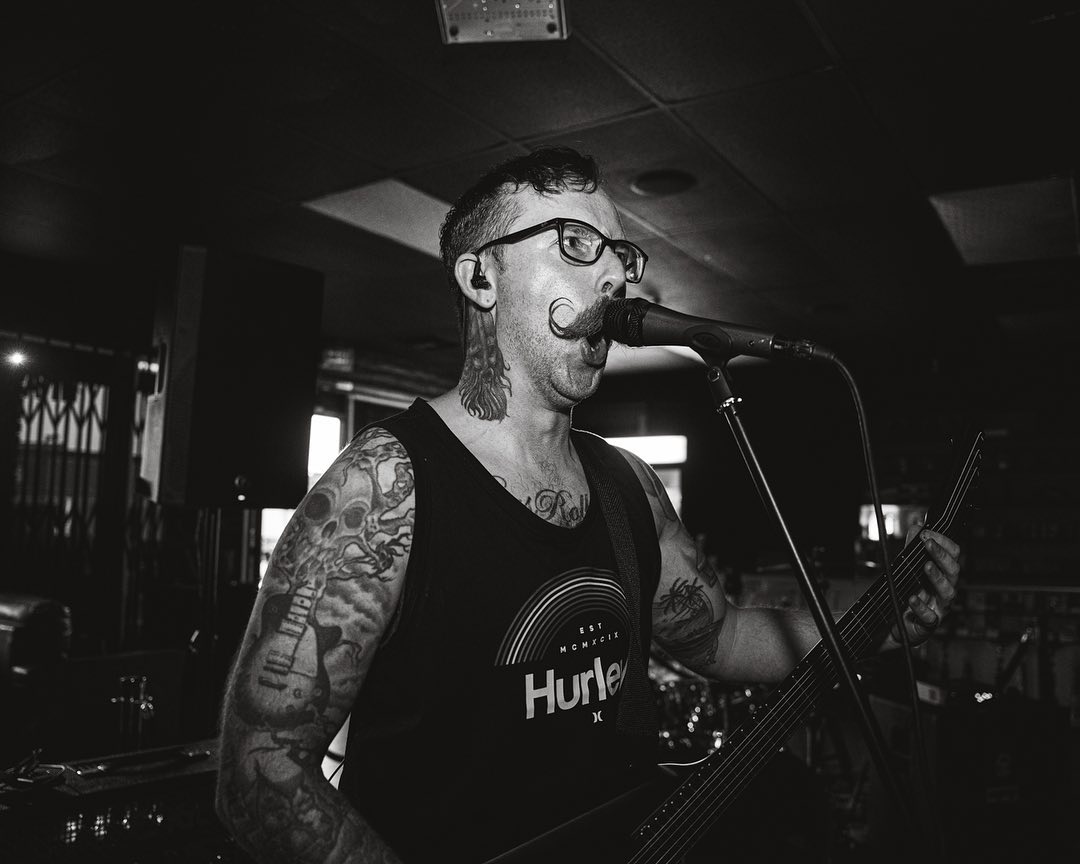 As of right now, Living Cursed has played two shows and are hoping to gain the opportunity to gig more frequently despite the limitations within the scene. Jeremy admits, "There's not a big metal scene out here in the San Fernando Valley. There's the big bands that everyone knows and they've got a big support behind them but after that there's not much of a community out here. You gotta get yourself on shows and there's very few venues out here.
"We're the new kids on the block but we're ready to pay our dues and we just hope anybody will give us a shot." Many of the venues near the band's local area did not survive the pandemic, which also didn't help the situation.
Living Cursed would like to shout out Rebuild/Rewind and Solid Three Incher. They also add: "Anyone who will give us a chance to play a show with them. Anyone who's down to get together and listen to some heavy riffs and all that!"
***
Living Cursed on social media: Facebook | Instagram | Twitter
***
Help Support What No Echo Does via Patreon:
***
Tagged: living cursed