I'm convinced the fire Arizona hardcore keeps belching out is the natural response to our brutal summer heat. Maybe there's something in the water, for how little of it there is here, anyway. Hard to say, but Tucson's Slow Descent is the spastic, dissonant metalcore you've been scanning the desert horizon for. With a feral sound combining the towering chaos of Norma Jean and Converge with the crust of Cult Leader, Slow Descent is poised the brand their X's on your skull.
Today we have the distinct pleasure of debuting Hung Over Hell's Fire, their five song debut of serrated metalcore glory. Comprised of drummer Nick and brothers Buggy and Dan, Slow Descent is a passion project and it shows in each crushing riff and panicked breakdown Before you dive ears-first into their aural bombardment, take a moment to check out what makes this Arizonan trio tick. AZHC forever.
What is the story behind Hung Over Hell's Fire?
Nick: Hung Over Hell's Fire is ultimately about knowing your true enemy. There is a lot of evil in this life, and if we are not fighting for each other, then we are losing. This EP is our personal motivation to stand side by side, and together stand up against those enemies.
What is each of your favorite songs off your EP?
Dan: "Witch Hazel." It's the first song we ever wrote. It sets the tone for the entire record, and it has riffs I've had in my pocket for years.
Buggy: "White Lily." I love playing all of these songs live, but my absolute favorite moment of every show is the end of this song when Dan and I have alternating parts. It's my favorite part to perform live and my favorite part to listen to on the record.
Nick: "Red Geranium." I really love all the drum parts I wrote for this release, but that one has a few of my favorite breakdowns on the whole thing. I mess with the tempo at the end a little bit when we play it live, just based off of the room's energy.
How has straight edge influenced you all as musicians?
Buggy: I've been sober for coming up on five years, and I didn't have anybody who was all that supportive of me for the first couple years. I started embracing the term straight edge and learned to be proud of myself for the work i've put into my own life. Being a straight edge band in 2019 is pretty cool, because the path has been paved for us by some pretty incredible bands that are still around playing shows, that were founded in the '80s. It's pretty cool to be three sober people who like to play heavy music for the love of playing heavy music. On the occasions where we meet like minded-people, it feels like we're all family. Our music isn't always about sobriety, but we understand that if it wasn't for our sobriety, we couldn't have written this music at all.
Nick: I was in high school when I started playing music. A lot of people I knew were obviously into partying and stuff, but my best friend and I didn't take part in that at all. I spent a lot of my time playing drums, jamming, skateboarding, whatever. I wasn't actively claiming edge at that point, but if I had been living the party lifestyle I definitely wouldn't have met the people I met or spent the amount of time playing as I did. I often think about how crazy it is that all these decisions from early on introduced me to my friends - who are also straight edge, like similar music, and can get along with me this well.
Dan: Straight edge has given me a community that I haven't found anywhere else. Growing up, I wasn't really into the party scene like most of my friends were, and I didn't find other people who shared my mindset of living without substance until fairly recently. I have common ground with people I haven't met through the straight edge. Sharing that positivity about sobriety with other people makes me feel at home.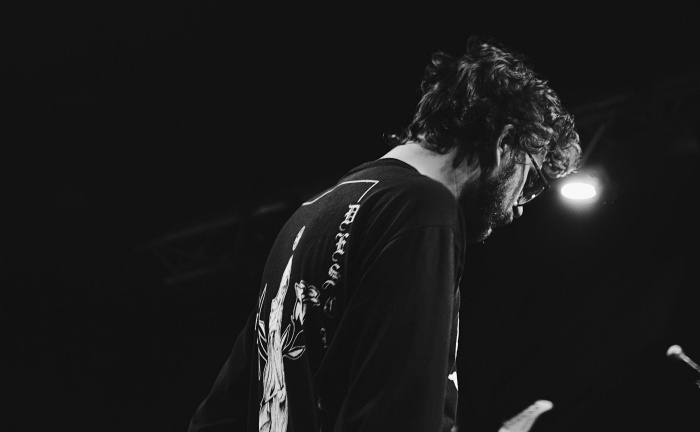 Hung Over Hell's Fire is available now on Slow Descent's Bandcamp page. Follow the band on Facebook, Twitter, and Instagram.
***
If you're shopping for vinyl, CD, and cassette hardcore titles, head to No Echo's partner store, Reverb LP, to see what they have available. Every purchase you make helps No Echo with site costs.
Tagged: slow descent