The Lacerated story starts in late 2019 when vocalist Jade and guitarist Leo formed it as a side project during their time together playing in a different band. After recording a pair of demos, they put everything on hold till they figured out what they truly wanted to do with it.
Lacerated started up again in 2021 during a dark period in Jade's life. "I was dealing with a lot of trauma and depression, and I started writing lyrics and recording demos to process through them," the singer tells me. "We eventually settled on the name Lacerated and recorded our demo, Fragile Sense of Existence. After I slowly found members, we started playing shows as a 4 piece in October 2022, and after some lineup changes we're now a 'rotating' 5 piece [laughs].
"What really drew us together as a band was how quickly we all clicked and could bounce off each other musically, I had never experienced that before and I'm truly so lucky to be in a band with such amazing musicians/people. We have grown very tight in the short time we've been a band and that makes me very happy."
Based in Los Angeles, Jade explains the Lacerated sound. "We're very influenced by early '00s metalcore/hardcore. Bands like Eighteen Visions, Poison the Well, Converge, Zao, as well as newer bands like Old Wounds, Wristmeetrazor, and Sanction. We're also heavily influenced by '90s screamo bands such as Orchid, Pg. 99, and Usurp Synapse. And of course, we all love hardcore.
"We all came from different scenes and music backgrounds, but that early metalcore sound and our love for it really connected us. So our sound is basically an amalgamation of that, with a lot of other outside influences."
That sound can be heard on Lacerated's recently released The Beauty of Agony EP:
"The Beauty of Agony was tracked completely with our producer, Jack Ritter," Lacerated drummer Robbie explains. "We recorded live drums in a rehearsal space in Van Nuys and the rest at Jack's home studio."
Jade offers up some insight on the songwriting found on the EP: "As for lyrics, I wrote a lot about my struggles with gender dysphoria for this release, as well as just the struggles of being queer. As a transfemme living in the US, it's scary to see what is happening every day to people like me.
"All of the hate and violence that plagues this country truly fills me with rage. I took all my frustration, anger and sadness at this society and country and put it into my lyrics. And the way they collided with the music just came out beautifully. We're so proud of this release and how strongly these songs speak."
While guitarist Leo joins the conversation with Jade and I, the subject turns to Lacerated's region and the underground music community there. "The SoCal scene is one that is very well known, and we are super proud to be a part of it. It's popping off like crazy and shows no sign of slowing down. This scene is home to countless amazing bands, and we've had the opportunity to play with a ton of them. Much love to our friends in Fatal Wounds, Greenwitch, Marrow, and Ozai.
"We also just played our first Vegas show, and that scene is one that welcomed us with open arms, so shoutout to Roman Candle, Dreaming Maria, Dredge, and LVHC for making a second home for us."
Lacerated wanted to share the following in this piece:
"This is a band that stands for queer rights and representation, and we support all LGBTQ+ and marginalized peoples. If you have a problem with that then you're simply not welcome at our shows. And if you do have a problem with us, come say it to our faces."
***
Hit up the Lacerated Linktree to find all of their social media pages.
***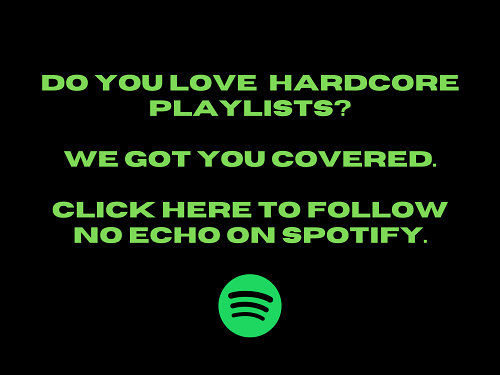 Tagged: lacerated