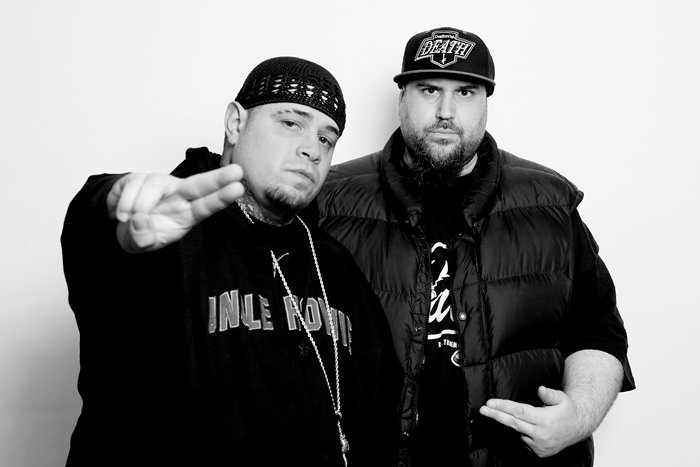 Hip-hop and heavy metal together... Instantaneously, those groups who made the combo-platter of these two rebellious genres almost laughable in the '90s come flooding to mind, yet somehow, the trend continues in new and horrid ways as we speak. Have you seen all the metal t-shirts walking around on the backs of non-fans these days??? Please, don't get us started. Nevertheless, there are the proud few who have been combining the very best of these cultures for decades in the most proper manner, without ever attempting to serve any and all masters.
Fiercely indie hip-hop enthusiasts, as well as a forward-thinking number of metal fiends know what's up. We're talking specifically about Brooklyn emcee, ILL BILL and his Philly brethren, Vinnie Paz.
Whether it be as members of their respective groups, which include: Jedi Mind-Tricks, Non Phixion, La Coka Nostra, Army of the Pharaohs; as solo artists, or together as the aptly monikered duo Heavy Metal Kings, these two brutally skilled rappers always keep their beats nasty as fuck; all the while managing to employ themes and lyrical content that even the most morbid metal aficionado would be proud to adopt as the soundscape to a grim Ouija board sesh.
On the eve of the release of Black God White Devil; Bill and Vin's second full-length as Heavy Metal Kings, No Echo is proud to serve up the premiere track and video from their sophomore long-player—a tribute to their favorite King—entitled "Mercyful Fate," which features and was co-directed by Bill's Non Phixion teammate, Goretex.
Want to know how hip-hop x metal really sounds?! Check the video out below, and try not to hurt anybody as you take it in!
Heavy Metal Kings' Black God White Devil will arrive in stores on Oct. 27 via Enemy Soil, and wherever real hip-hop is sold. Exclusive Heavy Metal Kings pre-order bundle packages are available at the Jedi Mind Tricks online store, and on iTunes.
ILL BILL currently co-hosts the metal/hardcore radio show Merciless with Howie Abrams every Thursday from 3-5pm Eastern on Bushwickradio.NYC. Vinnie's podcast, Broad Street Breakdown, can be heard anytime at Broadstreetbreakdown.com.
Tagged: goretex, heavy metal kings, ill bill, jedi mind tricks, non phixion, vinnie paz