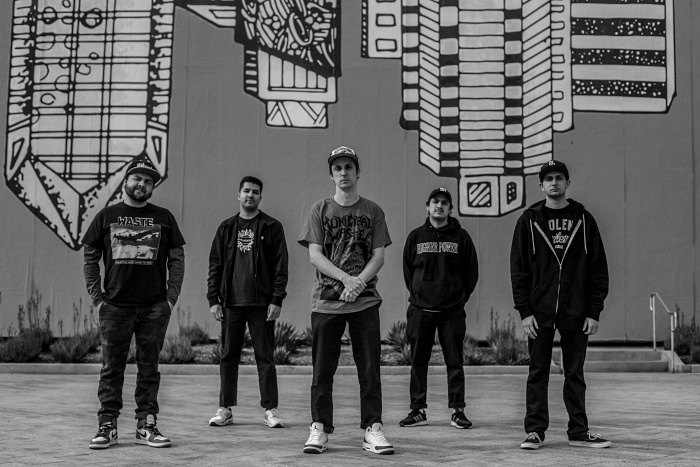 Frontside is a San Diego-based band influenced by hardcore bands like Rotting Out and Guns Up! and such punk legends Descendents and Dead Kennedys. Since coming together in late 2015, the group has been hustling their butts off, not only playing throughout their region, but also dropped two self-released EPs: No Love (2016) and Heat (2017), as well as a live cassette in 2018. Frontside's track "Streets in My Veins" was even featured on the soundtrack to the mobile game, Tony Hawk's Skate Jam, which is pretty kickass, if you ask me.
It's no surprise that Safe Inside Records (Bystander, Slugfest, Dying for It) just added Frontside to their stable of artists. The first offering from the new union will be Society's View, the SoCal hardcore unit's debut EP for the label. No Echo is pleased to bring you the premiere of the EP's title track below:
"Lyrically, 'Society's View' is a straightforward song written out of frustration from the constant pressure to abide by the societal norms of today's world," says Frontside guitarist Jorge A. "At some point, we as individuals have been told by society to diverge from our goals and it insists that we are not on the right route. Whether it's the lifestyle we have or the choices that we make, someone is always going to give their criticism. This song rejects those critiques, embraces one's individuality, and I personally feel that the first verse captures that message."
The Society's View EP will be out soon via Safe Inside Records. Follow Frontside on Facebook, Twitter, Instagram, and Bandcamp for more info and upcoming shows.
*Homepage photo by Frank Gomez
If you're shopping for vinyl, CD, and cassette hardcore titles, head to No Echo's partner store, Reverb LP, to see what they have available. Every purchase you make helps No Echo with site costs.
Tagged: frontside