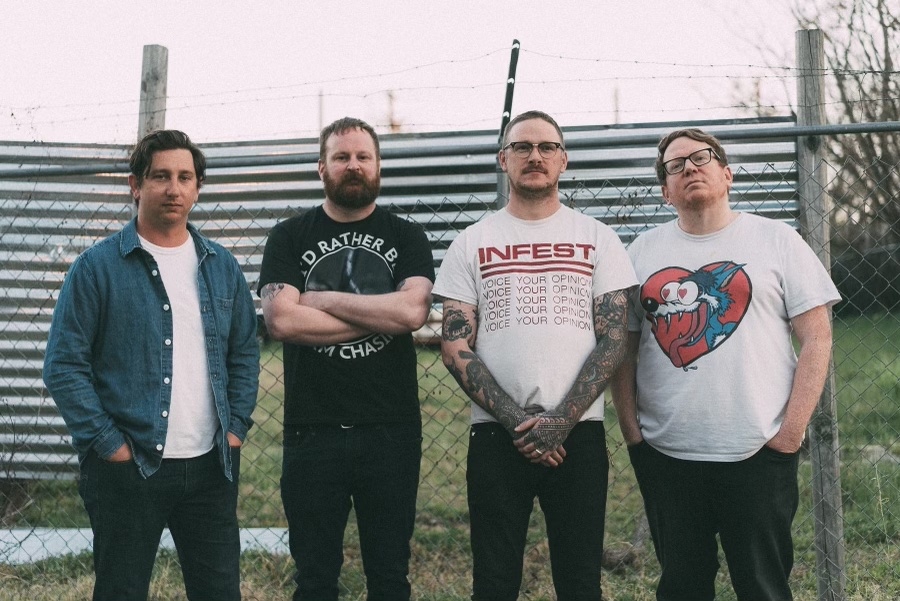 With a sound that has been compared to the likes of Kiss It Goodbye and Coalesce, Easy Prey was founded in 2015 by guitarist Cole Stockton (Mall Walker, Riverboat Gamblers) and drummer Matthew Bolick (Mall Walker, Gentlemen Rogues).
The lineup was completed once bassist Doug Cohenour (Bum Out, User Error) and vocalist Chris Moynan (OK Pilot) joined the fold. Easy Prey went on to release two records—2018's Teeth) and 2020's Relentless Struggle—before being slowed down by the pandemic. Kinda.
Instead of waiting around for shows to start up again, Easy Prey spent the time and focused on crafting material in their rehearsal space for their next album. The hard work can be heard on Unrest, the band's forthcoming debut album.
With the band joining the Hellminded Records family, No Echo has teamed up with the label to present the premiere of the Jordan Gracey-directed music video for "The Outcome, Not the Influence," the opening track from Unrest:
Easy Prey vocalist Chris Moynan shared the following about the song and its lyrics:
"We chose 'The Outcome, Not the Influence 'as the first single and opener off the album because it felt like the most immediate song, a count in and then straight into it. Our now friend, Jordan Gracey, had reached out to us about working on a video together, and started working on ideas and how we wanted it to look. We just wanted a performance video, no frills, something clean. Austin's ever-changing downtown skyline felt like a suitable backdrop for the song; a city growing out of control of the people who live there, and communities being priced out of their neighborhoods.
"The theme of the song was really based around the idea of, on paper, certain actions seem like positive change through a capitalist lens, but, in reality, it rarely benefits the larger demographic and pretty much always benefits the wealthier minority. In all honesty, you can read this in a handful of ways, some more obvious than others, but basically the influence to make something different or better can often be fairly innocuous but the actual outcome can be a lot more insidious.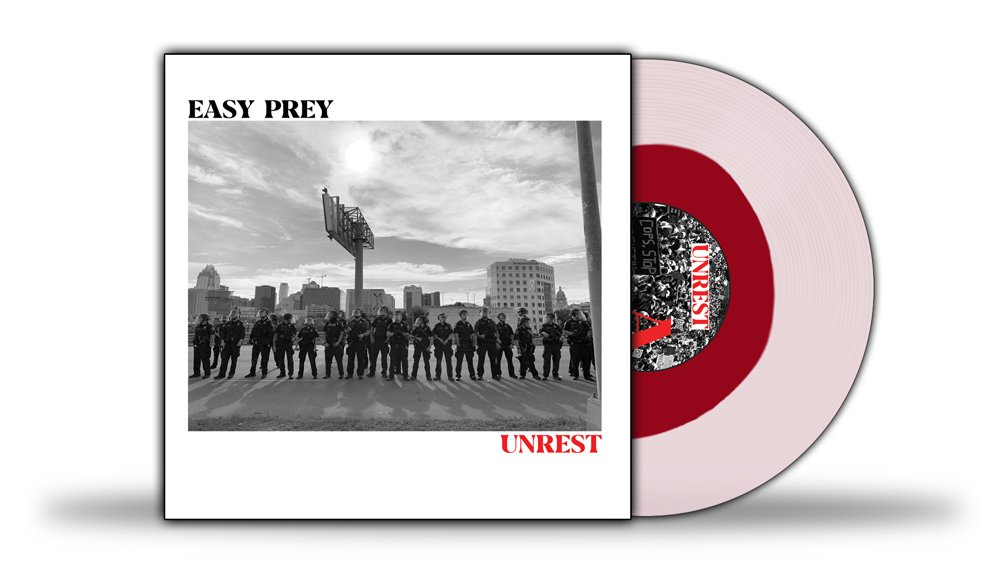 Guitarist Cole Stockton added: "This song is centered around the idea that the system that is causing so much pain and inequality all around us is not broken, but is designed to do just that. Modern society revolves on a series of outrages; as things bubble to the surface or become out of vogue people become dissatisfied or enraged and act shocked that it happened.
"The true nature of our world is that it is entirely transactional, and almost everything is by design. The real challenge is to not get optimistic, something I'm very guilty of. Optimism seems like it's always creeping in from the edge of your vision—you see people do good for each other and begin to get hopeful, but unfortunately it doesn't last. But on the bright side, everything ends eventually."
Unrest will begin shipping in late August and is available for pre-order now via Hellminded Records.
Easy Prey on social media: Facebook | Instagram
***
Help Support What No Echo Does via Patreon:
***
Tagged: easy prey