Death Cults is a Brooklyn-based post-hardcore outfit comprised of musicians from such bands as Pilot to Gunner, Hunters, and Primitive Weapons. The band's sound is aggressive yet filled with tons of melody, bringing to mind bands like Jawbox and Seaweed. Death Cults vocalist/guitarist Justin Scurti is an old friend and gives me the skinny behind the group's formation. "I knew of Patrick [Hegarty] being a huge fan of Pilot to Gunner in the mid-'00s. [Pilot to Gunner guitarist/vocalist] Scott Paden was friends with Joseph Grillo (Garrison, Instruction), who I knew from my tour managing work. Joseph and I were in the process of starting a new band and he was able to recruit Scott to play bass with us. That relationship led me to becoming friends with Patrick who I really admired as a guitarist and song writer.
"Fast forward over 10 years and I posted on Facebook that I was home from a 2-year tour with Interpol and dying to play new music. A couple of hours later, Patrick texted me and said he was jamming with our friend Jack who also played drums with me in I Hate Our Freedom and Pat Lavin who was the original bass player of Pilot to Gunner. I showed up with a borrowed guitar (mine was being fixed) and the rest is history."
It's only fitting I mentioned Jawbox above since J. Robbins produced Death Cults' forthcoming debut album. "Recording with J. was a dream come true. Aside from leading one of my favorite bands (Jawbox), he recorded so many records I've loved. I've watched all my friends record with him and at one point every member of I Hate Our Freedom had recorded with him—Scott Winegard with Texas Is the Reason, Tucker Rule with All Eyes West, Joseph Grillo with Garrison)—and both Patrick and Greg recorded with him for Pilot to Gunner, as well as Greg recording with other bands he's been in," says Justin.
Was the Jawbox vocalist/guitarist a taskmaster in the studio? I bug Justin for his honest opinion on the matter. "J. was super laid back and so easy to work with. He gave me the confidence to play guitar the way I wanted and when it came to singing—for the first time—he was patient with me and extremely supportive and made sure that I was on the right track. Magpie Studio was extremely comfortable and we had a great time recording there with J. We let him mix when he had the time and he emailed us the songs as he finished. We then would collectively give him notes while he was working. It's easy to trust a guy like J. to know where we were coming from and what we were going for and in the end to use his judgement and discretion to finish our ideas."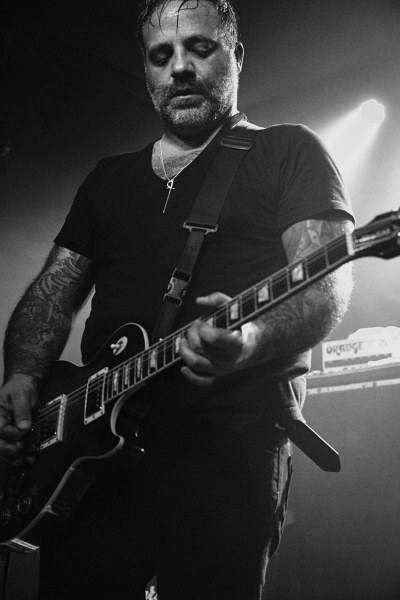 As mentioned earlier in this piece, Death Cults can be classified as post-hardcore, but there's a strong sense of melody to everything they're doing. I was curious to find out if the guys discussed what stylistic direction they wanted to pursue or if that happened more organically. "In our initial texting, I told Patrick I didn't have any real riffs or even my guitar available. He said he had that covered. When I asked what sorta sound he was thinking he wrote back, 'more rock/bluesy stuff. Like riffy Black Keys or Black Rebel Motorcycle Club but with a little Jehu vibe mixed in which is my specialty I guess.'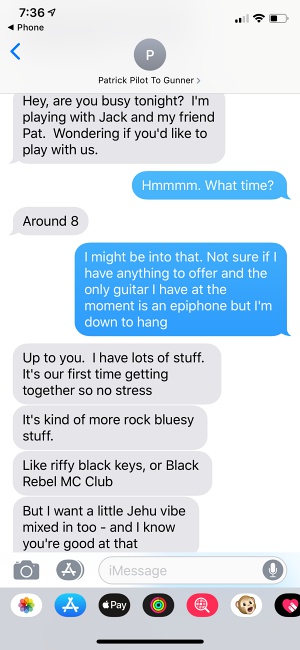 "From there, it was super organic. I cursed and was bummed it took a decade for Patrick and I to play music in a band together as opposed to our bands playing shows together. I met Pat Lavin that first night and quickly realized we had about a million mutual friends and that he would instantly be the 'secret weapon' on bass that Patrick and I could dance around with our guitars."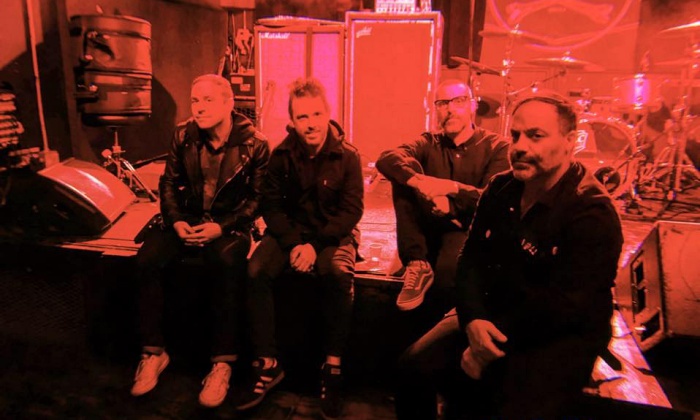 Justin tells me a bit about some of the shows Death Cults have opened and how the different crowds have reacted and received them. "Our very first show was opening for Samiam, who I have had the pleasure of playing with a number of times in I Hate Our Freedom. I was so nervous to sing live for the first time. When we got to sound check and I heard my voice for the first time, I was shaking with nerves. But when it came to playing our set, I settled in and the crowd of old and new friends really took to it and made me way more comfortable. When it came to playing our second show with The Van Pelt, I was way more confident as we had more time to work on our songs and I went in with the knowing that we were in to something.
"We've been incredibly fortunate to play with so many established and amazing bands and we've never taken that for granted. Every show has been an opportunity to up our game and get better and fit in with the very pro bands we are opening for.
"Getting a call asking if we would play with Hot Snakes because John [Reis] wanted us to play was the highlight of my musical career for me."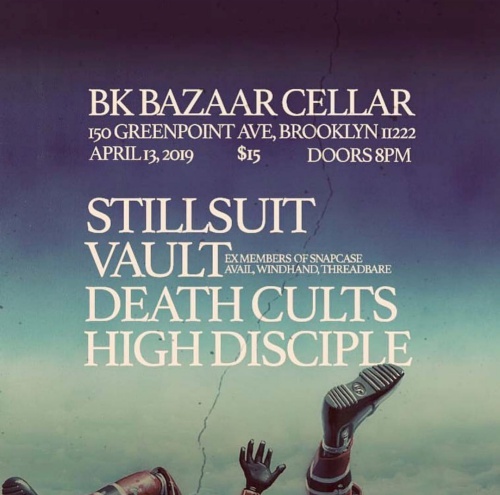 In addition to their album and upcoming live dates—including a gig in their homebase of Brooklyn with Stillsuit, it looks like Death Cults will remain busy but they'll be picking their spots carefully: "The plan is to keep playing shows as often as possible. Ideally, touring for short stints would be welcomed. We're a band of four grown adults with careers, so we can't just get in a van and tour tirelessly, as much as I would love that idea. I would love to get out to the West Coast on a run and then also support the record in Europe, where our label is based. Until those opportunities come up, we are setting up dates to record our next record already.
"We've got a good batch of songs that we have started playing live that I think is really showing us what the Death Cults sound is. It's taking everything we've borrowed from the post-hardcore of Fugazi, Quicksand, and Drive Like Jehu, but mixed with our first love of music... '80s hard rock and heavy metal."
The Death Cults album will be out soon via Arctic Rodeo Recordings. Head to Bandcamp to check out two songs from the record and make sure you follow Death Cults on Facebook and Instagram.
***
If you're shopping for vinyl, CD, and cassette hardcore titles, head to No Echo's partner store, Reverb LP, to see what they have available. Every purchase you make helps No Echo with site costs.
Tagged: death cults