"To keep it simple, we play hardcore for the punks; fast, energetic, and no bullshit," says Travis, the drummer of St. Louis band Better Days. I love people that get to the point, and Travis seems to as well. "We're strongly influenced by some of our favorite bands like Kill Your Idols, Good Riddance, Reach the Sky, and Gorilla Biscuits."
Listening to Better Days' debut EP, Away Team, you get to hear Travis' words in action. The material is both hard-charging and melodious, with plenty of parts that beg for crowd participation. "From our demo to this release, our sound has been getting faster and more stripped down," guitarist Kevin Tomorrow tells me. "In the Summer of 2016, I had quintuple bypass surgery, so while I was laid up for a couple months, I started writing a bunch of songs that were more aggressive than what we were previously doing.
"A few months later, our old guitar player bailed, so I moved to that role. We added Owen on bass and Kevo on second guitar as well. From there we decided to scrap everything we've ever done and start over. Owen brought his love of later '80s fast hardcore, and mixed that with his natural technical playing ability. Kevo (formerly of Resolve) brought in his love of NYHC, dive bombs, and Youth Crew."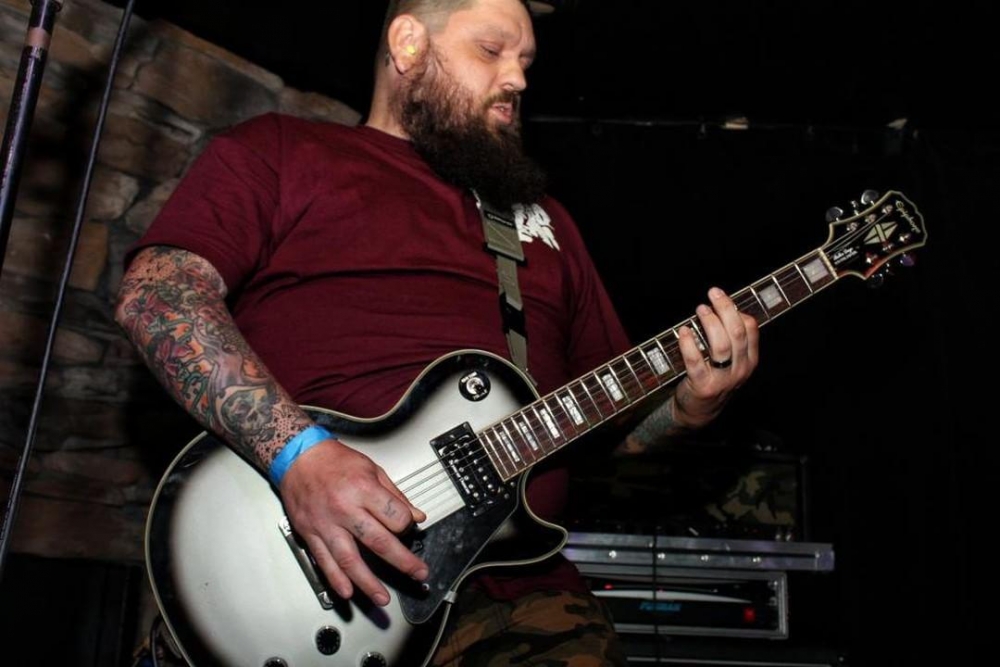 The aforementioned Away Team EP won't hit stores for another few weeks, but CoinTossRecords has hooked the site and its readers with an early preview, which you can check out below. Travis offers up some background on the record: "The theme is based around the Heaven's Gate cult. We brainstormed with Indy at CoinTossRecords and Charles Chaussinand (Test of Time, Bystander) and came up with what we feel is a real unique layout. We're all into true crime and the occult, so it was easy for all of us to agree on the theme. All credit goes to Charles for putting the layout together, we're really happy with what he came up with."
If you notice, the song titles on Away Team are all movie titles, so it's only natural that I press them about that. "There's no correlation between the theme of the record and the song titles," Kevin tells me. "When it comes to the titles, we've always just named them after inside jokes."
Travis also chimes in: ""We all love '80s and '90s action movies — the cheesier the better — so we kind of decided every song we write from here on out will just have a different movie title. It's certainly dumb as hell, but it keeps us all entertained."
Like everything else they've done in the past, Kevin tells me that the Away Team project was a family affair for Better Days. "We try our best to maintain a consistent DIY ethic, and we work a lot with the same people -— mostly in St. Louis when it comes to recording, screen printing, designs, and booking. Everything we have ever recorded has been done by Gabe Usery at Encapsulated Studios, designs are done by Chris Mollet of Youth Energy, screen printing with Nathan at House of Eight Legs, and Travis is part of a local booking collective — all based in or around the St. Louis metro area."
The EP's forthcoming release is just the first part of a bigger plan for the dudes in Better Days. "We're doing a short run of shows to promote our record in October," Travis reveals. "We'll be joined by our friends from Redding, CA Dying for It — everyone check them out. 2019 should see us heading to the West Coast around February, then hopefully out East in the Summer."
Travis wants me to make sure he gets to say a few more things before I let him go. "We'd like to thank Indy at CoinTossRecords. He runs a great label, and has our best interest at heart. We are truly honored to be affiliated with him and the bands he's worked wit. We cannot thank him enough. Hopefully we continue working with him in the future. Lastly, shout out to St. Louis Hardcore, Time & Pressure, Dying vor It, Decline, and Gateway City Hardcore. No cowards in 2019."
Away Team will arrive Sept. 1 via CoinTossRecords and can be pre-ordered here. Pressing information: 15 test press, 100 red/swirl, 200 purple, 200 white.
Tagged: better days