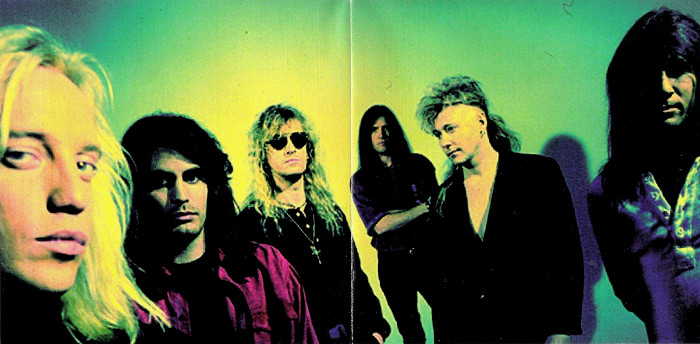 It's a shame that "Cherry Pie" is the song most people think of when you mention Warrant. I can't stand that song. Even though he wrote it, late Warrant singer Jani Lane also had huge issues with "Cherry Pie." He was frustrated that the massive success of the throwaway song (he wrote it in a few minutes after Warrant's label pressured him for something more commercial) overshadowed his other material. Lane was right. Outside of Nikki Sixx, Lane is the most talented songwriter the '80s Sunset Strip scene ever gave us. Despite this, "Cherry Pie" remains the vocalist's best-known song.
In 1992, Warrant followed up Cherry Pie (the album) with Dog Eat Dog, an album that achieved gold status in the States, but didn't stop Columbia from dropping the band from its roster. Signing with CMC Records (Dokken, Styx), Warrant's fourth album, 1995's Ultraphobic, featured three new members in the fold: drummer James Kottak (Kingdom Come, Scorpions), guitarist Rick Steier (Kingdom Come, Wild Horses), and keyboardist Dave White. The membership shuffle doesn't hold the record back. It's no surprise since Warrant—at least in my estimation—was always Lane's show anyway.
Sonically, Ultraphobic found Lane working grunge-inspired guitar riffs into his songwriting, especially on tracks like "Followed," "Family Picnic," and "Chameleon." The stylistic choice never comes off forced thanks to the singer's penchant for weaving huge hooks and memorable guitar riffs throughout each song. "Family Picnic" was the album's lead single and is far-removed from Warrant's glammier early work. The track's main refrain is an earworm, featuring a call-and-response-styled guitar riff courtesy of Steier and Erik Turner.
"Crawl Space" is a funky track that offers up one of the strongest choruses (and that's saying something!) on the album. "Sum of One" features a psychedelic verse that tears open into a hard rocking chorus and thrashy bridge section before breaking down after the guitar solo. The groove-heavy riffing on "Undertow" wouldn't have sounded out of a place on Skid Row's Slave to the Grind album. Many of the lyrics on Ultraphobic were inspired by Lane's divorce from Bobbie Brown, the video model who appeared in the "Cherry Pie" music video." The opening verse on "Undertow" says it all: "You speak from both sides of your mouth / I tried to work it out / You hated me all along / I tried to get along."
"Chameleon" is a stunning, ballad-like track that holds up as one of Lane's best songs. Co-written with Steier and bassist Jerry Dixon, "Chameleon" is the kind of song I would play for someone who dismisses Warrant as hair metal also-rans.
Speaking of Warrant's finest moments, Ultraphobic closes out with the best song Lane ever wrote: "Stronger Now." That's a tall statement, I know. After all, this is the guy who wrote "Uncle Tom's Cabin," "Thin Disguise," and "I Saw Red." But the gorgeous simplicity of "Stronger Now" is undeniable. Give it to someone like Taylor Swift or P!nk to cut, and "Stronger Now" would become the smash single it was always meant to be.
I know if you're reading this, there's a good chance you already own the album, but if you've never given it a chance, Ultraphobic deserves a spin.
***
Ultraphobic is out of print on CD, but you can still grab it on iTunes.