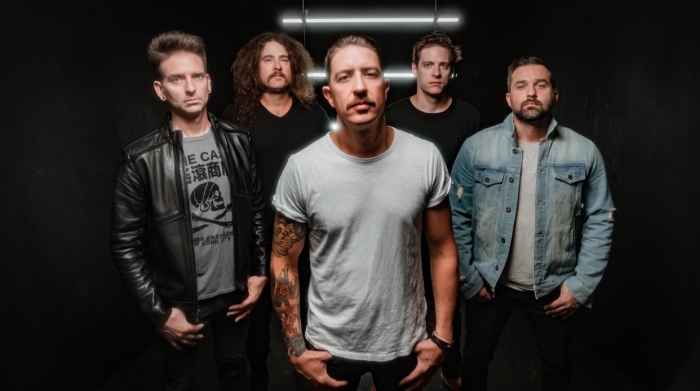 Last month, metal band Inimical Drive dropped a music video for their single "Reckoning" off their 5-song EP Enemy released on August 21st, making it the first batch of newly released material in 3 years.
I had the pleasure to catch up with their vocalist, Joel Colby on the process of the latest EP, quarantine, and life on the road.
Please introduce yourselves to the No Echo readers.
Inimical Drive is based out of St. Louis, MO and has been a band for around 18 years. My name is Joel and I'll be answering the questions today.
Tell us how Inimical Drive came into existence.
We are about as garage (actually, basement) band as you get. The original members had known each other for years and decided to mess with the idea of writing our own songs. Before long we found ourselves in small bars and venues around town.
We never actually considered that we would make a real run at music but here we are years later with much of the original fan base we had from the beginning.
What genre of metal would you consider to be your sound? Also, who are your influences?
I would say we fit (or used to) into the metalcore genre probably more than anything. The newer generation of metalcore seems to lean more djent in the music while holding the melodic and aggressive vocal combos. The original metalcore sound influenced us more and was thriving while we were cutting our teeth.
Killswitch Engage, Eighteen Visions, Atreyu, It Dies Today, and Avenged Sevenfold are some of those influences. We are a bit older so we probably sound a bit more rock and roll than some of the bands in the genre now. After the Burial, Acacia Strain, and Architects are some of the newer influences that are on rotation for us.
How has the quarantine been treating you all?
It has been weird for sure but honestly it has given me a bit of a reset. Personally, if I have found a stronger connection in my relationships and with the music. I have been able to focus on getting the EP together for release and managing the press and support for the record. No doubt we are all ready to get back to live shows but I think we'll be more ready than ever.
Recently, you dropped a new music video for your single "Reckoning." Can you give us a little background on the video, the song itself, and what it means for you?
Upon completing "Reckoning" in the studio, I think we knew it would be the first single. The vibe of that song sort of set the tone for what we wanted to get across on the EP. J.T. Ibanez directed the video and really captured the energy of the song. It was exactly how I wanted it to come together.
Lyrically, the song discusses some of my personal struggles with repeating destructive cycles and calling myself out for failing to live up to my own words. "Head in my hands and I am lost again; fading. This is my reckoning."
Since your last new released material was back in 2017, tell us about the writing process for your latest EP, Enemy. What were some of the challenges you faced and what ultimately helped you guys to see your vision?
This EP seemed like it was never going to happen. We had some struggles before starting the record that left us on a bit of hiatus. During the early recordings we lost our good friend and producer and were left with uncertainty as to what to do with the record. We landed with Jack C. Daniels at Sicktones Studio and finished the EP as we originally intended.
We set out to release the record and BOOM... 2020. Once we knew it was safe to at least put a single together we decided to move forward. It has been a struggle but we are glad to have gone through it and to be able to give people something during these weird times.
Over the years since starting out in 2002, you have played countless shows so I'm certain you guys have some stories to tell. Do you have any memories or experiences that you want to share?
[Laughs] Well, I can say that there are way too many to tell and some that should probably stay as ridiculous memories. Let's see if I can sum this up. A 1985 Pace Arrow RV with custom paint hauling as many as 13 people and hundreds of beers across the country, breaking down at least 50% of the time. Great gigs at incredible venues and horrible bars where promoters didn't even show up.
At times, seeing more gentlemen's clubs than actual venues. A true party on wheels that branded a reputation and a hashtag that we still use today #ipartywithinimicaldrive.
I have to ask, out of the five song EP as a whole, which song do you each individually enjoy most of all and why?
Speaking for the band I will say it this way. "Sacrifice" is the newest song on the EP and we think shows more of our influences than we have ever shown. "Reckoning" is a band favorite for the overall feel and probably defines our growth as a band more than any other.
"Enemy" is the farthest and most diverse we have ever pushed and holds a lot of meaning because of how many versions and forms it has taken on since the original demo.
"From the Ground" is clean and melodic and a fan favorite live while "Nothing Less" has the original Inimical Drive feel going from big and heavy to big pop-sounding chorus. Each song has its own distinct characteristics and we are happy that people find something different that ultimately makes up our sound as a whole.
Do you guys have any advice to any musician who wants to start making music or start a band? Something you wish someone had told you?
We always just went with it and figured it out along the way. We have an old-school band mentality. Be a band and just do it. We know great musicians and songwriters that have songs that never see the light of day. Aside from that, be sure to connect with your people.
The team of people around us are our family and the connections we have made have literally changed our lives. Don't ever lose that. Oh, and party. Never forget to enjoy the party.
***
Inimical Drive on social media: Facebook | Instagram | Bandcamp
***
Donate a few bucks to help with No Echo's operating costs:
***
Tagged: inimical drive