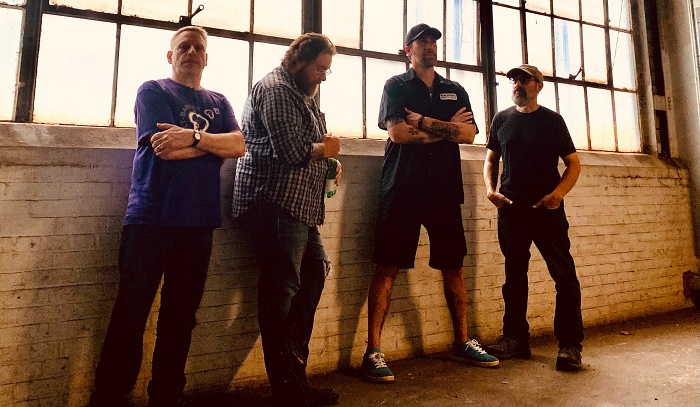 With a rich punk history that helped nurture such bands as Bouncing Souls, Lifetime, and Screaming Females, New Brunswick, New Jersey has been fertile ground for great music. Based out of the same city, Atom Driver is cut from that same tradition.
Formed in 2016 by guitarist/vocalist Mark Segal (ex-Boss Jim Gettys), bassist Justin Ingstrup (ex-Good Clean Fun), and drummer Mike Polilli (Buzzkill), Atom Driver fuses elements of noise rock, post-hardcore, and metal into one hard driving yet catchy sonic stew. That version of the group dropped three EPs (2017's Slackjaw and In the West and 2019's Here They Come, the Hornets).
Last year saw Atom Driver expand into a 4-piece with the addition of Chris "Crispy" Corvino (Deadguy, Second Arrows) in the lead vocal position. With the refreshed lineup firing on all cylinders, the band entered the studio to record 6 new tracks for their forthcoming EP, Anything Alright.
Citing such influences as Hot Snakes, Motörhead, and Mclusky, Atom Driver will be releasing Anything Alright tomorrow (November 19), but No Echo got the early jump for our readers today:
Recorded by Joseph Dell'Aquila at Exeter Recordings, and mastered by Bill Henderson at Azimuth Mastering, Anything Alright will be released via Nefarious Industries tomorrow, November 19th.
Hit the pre-order link right here.
***
Help Support What No Echo Does via Patreon:
***
Tagged: atom driver, deadguy, good clean fun