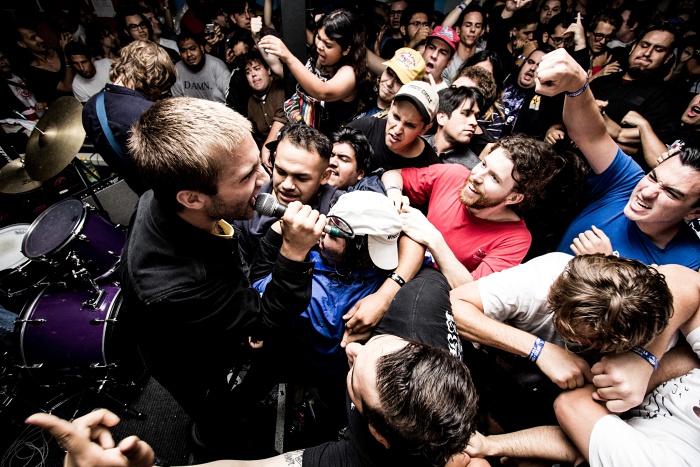 Wide-Eyed Noise, a great DIY record label out of California, has set up an all-day hardcore and punk fest at 924 Gilman Street on March 9. The fest, aptly titled Mutiny on the Bay, will play host to a slew of great bands from all over California. Headlining are Run for Cover artists Fury, and Cali heroes Strife.
Oakland standouts, Discourage, are also slated to play the fest. The band plays a skillful hybrid of Boston-inspired Youth Crew ala In My Eyes and more locally inspired hardcore in the vein of Carry On. After releasing a split cassette with Kind Crew on Wide-Eyed Noise, Discourage offered a great 7" EP on CoinTossRecords last year.
Strife's Andrew Kline will be rocking double-duty on stage at this fest as his other band, Berthold City, is playing as well. Kline is the vocalist in the band which also features members of Internal Affairs and Allegiance. The writing style of the members' other projects shines subtly through in Berthold City's music, but there's also a distinct homage to Judge and Raw Deal mixed in there.
Festival headliners, Fury, rock along with high-energy riffage combined with vocals that deftly tow the line between melody and screaming. Their highly anticipated debut for Run for Cover Records should see the light of day later this year. In the meantime, check out their LP, Paramount, on Triple-B.
Not to be overlooked are fest openers, Tuning. The band plays melodic hardcore that draws from archetypal East Bay sounds, but with a heightened sense of aggression as well. After releasing a two-song demo, the band recently recorded nine songs for their debut LP on Unity Worldwide Records which will see US distribution through RevHQ and CoinTossRecords later this year.
Rounding out the all-day fest are Cell Rot, Wake of Humanity, Cutting Through, Firearm, Dying for It, Jawstruck, Natural Selection, Clocked, and Crucial Measures. The lineup offers great variety and the fest has a great DIY vibe. This is one not to be missed.
Tickets for Mutiny on the Bay are available here.
***
If you're shopping for vinyl, CD, and cassette hardcore titles, head to No Echo's partner store, Reverb LP, to see what they have available. Every purchase you make helps No Echo with site costs.
Tagged: berthold city, cell rot, crucial measures, cutting through, dying for it, firearm, fury, jawstruck, natural selection, strife, tuning, wake of humanity