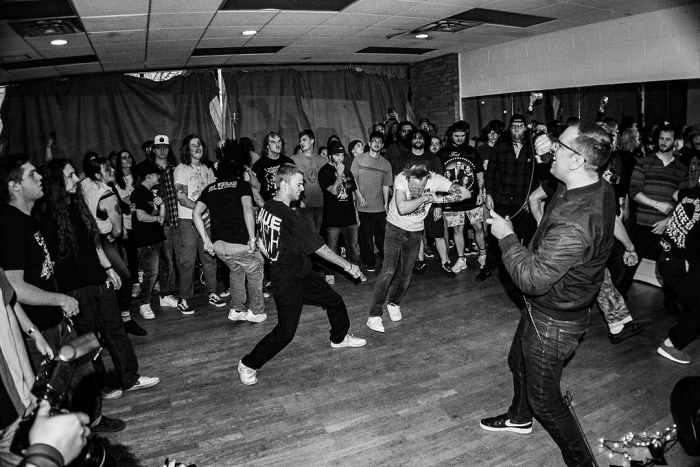 Band: Maze
From: Grand Rapids, Michigan

Their formation story:
(Jake, vocals): "Maze technically started in early 2020 with Brad, Caleb, and I but it was put on indefinite hiatus because of the pandemic. All of us had another band we were involved with beforehand so when it was safe to go to shows again, we all spent some time getting things back up and running with our primary bands. I still felt like Maze could have been something if it hadn't been brought to an abrupt halt.
"In November of 2022 I drunkenly posted on my Instagram story that I wanted to front a band and sure enough, Caleb hit me up again saying that he'd be down to start a new band with me. One thing led to another and we got most of the old lineup back and decided to pick up where we left off. We recruited our friends Jared and Allison to play guitar and bass and we started in earnest in early 2023."
Their sound in their own words:
"Maze has something for everybody who is into the new wave of hardcore punk. We've got songs for the moshers, songs for the creepy crawlers, and songs for dancers of all kinds.
"The first thing we did when we started was make an inspiration playlist. That playlist included bands like: Concealed Blade, Hard Stripes, GEL, Exit Order, and Warthog."
Latest release info:
"Maze just released a two-song promo for our forthcoming EP and it was recorded by our friend Jonny at Transient Aggression Studios. Our first track, "Lost Inside the Maze," is an overture of sorts to the general themes and vibe of the band. It conveys being 'lost inside the maze" as the fear we feel as we suffer through life's misfortunes, both circumstantial and self imposed.
"Every song that comes after this is all put into the context of being "lost inside the maze' as we explore the different ways humans have come up with to cope with this feeling of fear and powerlessness. 'Finality' is about those who believe that the false promise of eternal life that is touted by mainstream religions is enough to save them from their misfortunes, and how they don't realize how much of themselves they have to sacrifice just to believe in it.
"We're very proud of these tracks and if everything goes to plan, we will be releasing the full EP later this year."
Future plans:
"We've only just begun and there are plenty of shows to rock and songs to write. Since most of us have other bands that we were involved in before Maze began, we treat this band as an outlet to try different things that we couldn't do otherwise. We have plans to record a music video for 'Lost Inside the Maze' with our friend Stevie (The Art of B on YouTube) and I can't wait for people to see what we're cooking up for that."
What other bands from their region should we check out?
"West Michigan is popping right now with some excellent hardcore and punk bands and show turnout feels like it's at an all time high. We'd specifically like to shout out Felon Class, Levity, Tunnel of Love, Wept, MDOP, The Sissy Boys, Nymph, Pink Pout, Split Up, and Bitter Truth.
"We'd also like to shout out Free Space for booking some really great shows and getting the community involved via a of school street team. If you're a band looking for a show in Michigan, hit them up!"
***
Maze on social media: Instagram | Bandcamp
***